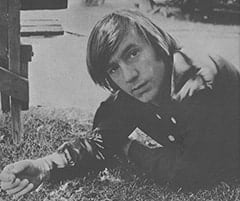 Would you believe that at the age of ten, Peter could play piano, guitar, banjo—and French horn? Well, he did!
When Peter Tork was about ten years old, his mom Ginny, dad Jack, brothers Nick and Christopher, and little sister Elizabeth Anne all moved to Connecticut. Peter enrolled in Coventry, a private school where (though he was to flunk out of college later) he was a very bright student and the delight of his teachers. Recently, one of them wrote me a very long letter. In it, she said, "I was more than pleased to have Peter as a student. His brilliant mind and original slant on things made him stand out of a class of exceptionally bright youngsters."
Peter's "sermon"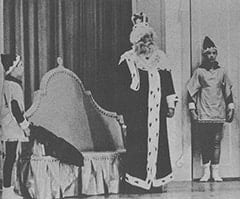 "I remember once," the teacher's letter continued, "when I asked the class to put on an original play for the Thanksgiving school program. The students were instructed to do something pertaining to Pilgrims. Finally, it was agreed that we would portray the Pilgrims going to church, in the same setting of a reproduction of the famous painting that was hanging in the classroom. I said to the class, 'If we choose this topic, we will need to select a preacher. Everyone suddenly went glum. Guess no one wanted to be a preacher. I asked for volunteers, stating that whoever took the part would have to be willing to deliver a sermon. Well, one person volunteered—and that was Peter Thorkelson. He produced and delivered an amazingly good sermon with little or no help from his parents or me. I've often wished I had kept a copy of it."
About a year after that, Peter performed his next "starring" role in the theatre. Both he and Nicky played pages in an original drama about a king and queen which was put on by the Storrs, Conn., PTA. It was a fabulous production and both of the boys loved every minute of it.
Puppets in the attic
About this time, Ginny and Jack decided to buy a farm. They picked a 16-room, pre-Revolutionary house on Wormwood Hill in Mansfield Center (the Thorkelsons still own the house and presently are living in it). Of course, Anne, Chris, Nicky and Peter adored the place. It had a barn—a great place for shows, circuses and even trapezes. It had an attic, which was the perfect place for Nicky and Peter to put on their puppet shows. The shows were quite marvelous and the boys even had musical arrangements scored right into their productions!
I might mention at this point that Peter had taken his first music lesson at the age of ten, and at that time he had already started to play French horn, piano, guitar and banjo. When Peter was graduated from the New University High School in Storrs, he received honors in mathematics and was awarded a $400 scholarship!
That winds up my story for this month. Next month I'll tell you all about Peter's past as a "gambler" and take you through his Boy Scout and high school years, with a series of exclusive family photos never published anywhere before. So stick around and I'll see you in the November issue of 16 Magazine. It goes on sale September 21, so reserve your copy now!