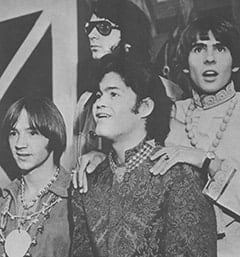 You wouldn't believe the things that happened to the Monkees in Paris and London. So get set for the wildest ride you ever had—cos you're about to take a trip that'll double you up all over!
Nobody was prepared for the impact of the Monkees on France—least of all the unsuspecting people of Paris, who were about to have their historical cool blown completely by Micky, Davy, Mike and Peter's unscheduled "live-in" there.
The Monkees were on their way to their London concerts and stopped in Paris for a few days to televise a Monkees segment, which you will see on the show this fall. The hotel in which we all stayed was the luxurious George V. It's more like a private estate than a hotel. All the rooms are furnished with precious antiques, and there are bowls of fresh-cut flowers everywhere.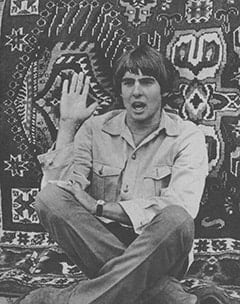 David Jones was enchanted by his suite at the George V. David, who is already famous for his generous concern for others, wasn't about to let the several rooms he occupied alone remain that way long! So, every night while we were in Paris, Davy had a love-in! I only wish you could have been there. Everyone who was hanging around was welcome to drop in from 8 P.M. on and stay as long as they wished. Usually, there were some 15 people lounging about the place, and Davy invariably was a charming host, entertaining his guests with his great humor or with long, serious, private conversations.
Davy has an endearing habit of just "picking up" people as he goes through life. For instance, early one evening when he was entering the hotel he spotted a cluster of a dozen or so young girls who were obviously fans. He told the policemen to let them through the barriers and he invited them all to his suite. What a time they had! Later, in England, he saw two girls standing in the lobby of the hotel where he was staying with tears rolling down their faces. He couldn't speak to them then because there was too big a crowd, but later he sent the security guards down to bring them to his suite and, along with Neko, myself and other close friends of Davy, the girls enjoyed a wonderful evening of a Davy Jones' love-in.
Just keep your fingers crossed, young ladies—cos Davy does this everywhere he goes, and one day you may share a conversation and Cokes with Davy in private—and you too may get a personally autographed picture from him!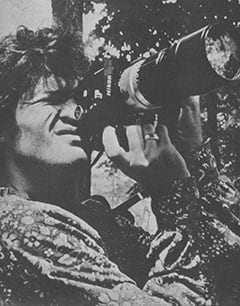 Micky's suite at the George V in Paris was decorated in a style completely different from Davy's. Micky carries candles and incense with him everywhere he goes, so he had all the curtains drawn, his beautiful candles glowing and the sweet smell of incense wafting through his rooms.
I am about to reveal the secret of "Micky's Passion". It started very simply and we hardly noticed it at all. None of us ever dreamed it would turn out to be such a serious and expensive mania. Don't get nervous; it's not an illness (at least, I don't think you would call it that)—it's Micky's passion for taking pictures! Micky has always loved photography and just before this trip he bought an Instamatic Kodak (as did all the guys) and hundreds of rolls of film and flashbulbs. It was a pop! pop! here and a pop! pop! there—and everywhere that Micky went it was pop! pop! pop! If you were lucky enough to see one of the Monkees' live concerts, you know what I mean. Micky took pictures of the audience, the guys and even himself while he was on stage performing!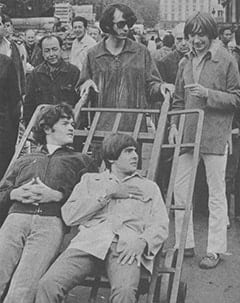 His "illness" reached its peak in New York City, when he trotted off to one of the local camera stores and bought the following: a Nikon camera with a regular lens, a wide-angle lens, a telephoto lens, a strobe-light attachment, and a motor drive so that he could take a picture a second! The whole shebang cost him well over $1000, but I think it's gonna be worth it—because Micky is a great photographer. By the way, he did a special layout with his Instamatic which will appear in 16's Fall Spec. It goes on sale about October 10, so be sure to reserve your copy at your neighborhood newsstand.
Paris was a gas and the guys had gangs of fun shooting a sequence for their upcoming TV series while we were there. Some of the footage was filmed in Paris' famous Flea Market—where you can buy all kinds of second-hand stuff from junk to precious objects of art. Davy got a groovy handwoven rug, a military coat and an old black top hat in the Flea Market, and Peter bought a second-hand violin. Other sequences for the Monkees series were taken in a Paris public swimming pool (the boys wore old-fashioned bathing suits for the filming), in an amusement park, in a produce market, and near the Eiffel Tower.
Monkees climb the Eiffel Tower!

Permalink
The boys went mad at Paris' famous Eiffel Tower. This tower, which was built in 1889 for the Paris World's Fair, is 984 feet high and has three observation platforms and a restaurant. At one point, when Mike, Davy, Peter and Micky were shooting sequences on the grass at the foot of the tower, a policeman came over and chased them off—for real! The boys jumped on a pedestal which held a statue and the policeman proceeded to shout and jump up and down, saying some very nasty things in French. The Monkees hopped down and began to run around the gendarme in circles. The poor cop looked like he was going crazy. Finally, the boys ran all the way to the elevator in the Eiffel Tower, got off at the restaurant stop, hopped out and began a mad romp up the spiral iron staircase to the top of the tower. The tourists—who had come to see the view of Paris—were agog when they saw four shrieking, flying Monkees instead. Best of all, the camera crew caught the whole thing, and you will see it when the Paris segment of the TV series is shown this fall. (By the way, at one point during the filming the guys did some really funny bits on miniature Hondas, so be sure to watch for that.)
The flight from Paris to London took 50 minutes. When we arrived at the Royal Gardens Hotel in London, about a thousand fans were clustered in the park next to the hotel waiting to meet Mike, Davy, Peter and Micky. One of the funniest sights I've ever seen was Micky Dolenz standing on the balcony of his room above the crowd, behaving like a symphony orchestra conductor. The kids themselves were funny too. Every time Micky lifted his arms, they would let out a wild shriek—and as he slowly waved them down, the volume of his teenage audience would diminish!
Shopping was number one on all our lists in London, but Mike out-did everybody. Since he has only five cars, he decided that it was time to get one more! He took Phyllis to a local salesroom and bought a special Radford Mini-Cooper, which features tinted windows, a stereo cartridge player with radio, a souped-up motor, an air-conditioner, leather bucket seats, power brakes, a semi-convertible top and a big sign that says "No Smoking"—as Mike can't stand the smell of cigarette smoke. The other guys went nutsy in King's Road, buying mostly Eastern Indian "love" jackets, bells and beads—these things being the latest craze in England, as you probably know.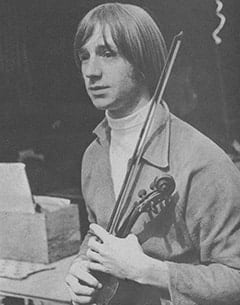 I am about to reveal the real Peter Tork to you, but don't tell I told cos he's very secretive about his secret! Peter is a sincere lover of his fellow man (and woman, of course). He really cares about other people. He is good and he is aware, and he loves to help people find truth, beauty and enlightenment. He isn't pushy about this of course, but if he sees the opportunity to help somebody elevate their mind or expand their awareness, he does everything he can to assist them. It's his way of giving love.
Before we left London, a funny and groovy scene took place on one of the Monkee balconies at our hotel. There were about 800 fans gathered below and Peter went out and had a conversation with them. At one point, he simply lifted his arms and said, "I love you all"—and the whole crowd shouted, "We love you, too."
Davy joined Peter on the balcony, and when the crowd became quiet Peter and Davy sang one of their favorite new tunes, Of You (written by Bill Chadwick, who is in charge of the instruments when we're on tour). Finally, Davy led the whole crowd in singing God Save The Queen. It was really a kicky time. I wish you could have been there with us.
Once again, it's time to go. Look forward to seeing you next issue. The December issue of 16 goes on sale October 19. See you then.
for not including in this issue of 16 Mrs. Catherine "Grams" McGuire Straus' latest chapter in her story of her grandson, Peter Tork. There just wasn't space for it. But it will appear in the next issue of 16—the December issue, on sale October 19. Don't miss it!