By Peter's "Grams," Mrs. Catherine McGuire Straus
When three-year-old Peter, his new little brother Nicky and his mom Ginny arrived in Berlin, Germany, where Peter's dad—Lieutenant H. John Thorkelson—was stationed, they were very pleased with the rustic house on the edge of the city the Army had provided for them. They were also very pleased that they had two German maids! Though the Thorkelsons were never poor, they had not had servants before, and it was a real luxury to the family to have Anna and Hilda there to wait on them hand and foot. One memory that still stands out in Peter's mind, even though it happened many years ago, was how Anna and Hilda put sugar in all the food they prepared for the family. Peter thought that must be some strange German way of cooking, but Ginny confided the secret to me years later: it was the only way Anna and Hilda could get Peter and Nicky to eat the unusual German dishes they prepared.
Peter's brush with death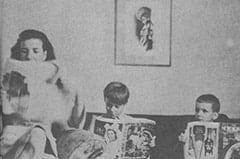 The most interesting character in Peter's life in Germany was Herr Derrich, the family chauffeur. But Herr Derrich was more than that. He was an exciting man who knew how to tell the kind of fantastic stories that would keep little boys spellbound for hours. Naturally, he was very dear to Peter and Nicky. But Herr Derrich became dear to the entire family for quite another reason—when Peter was four and a half, Herr Derrich saved his life!
It happened one afternoon when Ginny and John were away from the house. Peter was playing hide-and-seek with Nicky, and in the excitement of running to hide he thought that one of the glass doors leading to the porch was open. Well, it wasn't—so when one speeding boy met one immovable closed glass door, the results were nothing short of catastrophic! With glass shattering all about him, Peter drew back and looked at his left arm. All that he could see was blood. Naturally, he started screaming at the top of his voice.
Herr Derrich came running, and when he saw what was happening he lifted Peter into his arms, jumped into the car and rushed to the nearest doctor. It seems that Peter had actually severed one of the main veins in his arm, and had he been alone in the house at the time of the accident, he would have bled to death! Anyway, our boy was taken care of, put back together and stitched up. But he still bears the scar from that ghastly experience to this day.
Peter's first "best friend"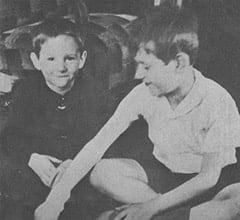 Peter is very fortunate in that he has many good friends these days, but his "very first best friend" was a lovely German boy named Ule (pronounced Oo-lay). Ule was seven, two years older than Peter, but that made no difference. They went swimming and sailing together on the Wanssee in Berlin. Ule perfected Peter's German (which, alas, Peter has forgotten, along with the French that he also used to speak perfectly). In fact, Peter and Ule did all the wonderful things that two growing boys can do together, and though the years have passed they have not dimmed Peter's memory of his German friend. He has not heard from Ule in years, but maybe now that Peter is a Monkee his "first best friend' will see him, recognize him and seek him out again. Peter surely hopes so.
When Peter was six years old, the four Thorkelsons finished their time in Germany and headed back to the States. They settled in the thriving metropolis of Baraboo, Wisconsin (population 500), where Peter's father finished a year at the University of Wisconsin and got his Ph.D. in Economics. But the "lure of the East" was very strong to the Thorkelsons and after visiting with us again and again, Ginny and John packed Peter and Nicky up one more time and headed for Connecticut, where they were to settle down for a while.
It was during this period that the most exciting adventures of Peter's life began—and I'll get to those in the next issue, as the true life story of Peter Tork slowly unfolds for you here in the pages of 16. You'll be surprised, for instance, to learn that Peter was an actor long before he took up music—and we have photos to prove it! See you next month. The October issue of 16 goes on sale August 22.