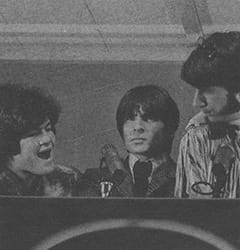 Well, PETER TORK is really out of the MONKEES. His final appearance with them will be whenever the MONKEES' TV Special is shown. It's a sad turn of events. When it was all over, PETER received a sentimental gift from DAVY, MICKY and MIKE—an old-time watch with the inscription "TO PETER TORK, from the guys down at work." The three MONKEES made their first television appearance since their series on NBC-TV's "Hollywood Squares," the daytime game show, during Christmas week. DAVY made his first solo TV debut since the series on "Laugh-In," as you can see for yourself on page 34 of this issue.
You'll probably be seeing more of DAVY than any of the other MONKEES in the months to come. Why? Because MIKE and MICKY will probably do recording and behind-the-scenes type work while DAVY is eager to try his hand at varied TV appearances, movies and possibly another stage role. Because of his super versatile talents, the offers have been pouring in from producers.
Didyaknowthat SHELLEY FABARES, late of the Donna Reed Show and a couple of Elvis' movies, is divorcing her husband, LOU ADLER. LOU is not moping, for the past several months he's been seen regularly around town with Mod Squad's PEGGY LIPTON. Together they attended the west coast premiere of the American tribal-love rock musical "Hair," along with such celebrities as the SMOTHERS BROTHERS, LIBERACE, JOANNE WORLEY, GOLDIE HAWN, RUTH BUZZI and JUDY CARNE and some of the other Laugh-In stars and a host of movie stars too numerous to list. It was quite a night at the newly-opened Aquarius Theater!
As if appearing topless at their New York club appearance wasn't enough, the TURTLES are slowly, but surely, chalking up some "firsts" in and around the record business. For example, MARK VOLMAN, who believes "without my hair I'd be just another pretty face," has insured his frizzy locks (in the amount of $100,000) against fire, theft or loss due to illness.
Next, in January all five TURTLES began sky diving lessons in San Diego, Calif. Also, JIM PONS and his wife have recently moved to a new home in Hollywood. Their former residence, they claim, was haunted by ghosts. When they left, after several months of putting up with strange noises, broken dishes and bizarre occurances, the landlord admitted they were the only occupants to stay longer than one month.
Eager to put another notch on their victory belts, the TURTLES have challenged the MONKEES to a basketball game which will precede the regular LA Lakers professional basketball game at the LA Sports Arena. The TURTLES have enjoyed an undefeated "season" playing other rock groups in both football and basketball.
BRITISH NEWS: One of Britain's most highly rated and successful groups, TRAFFIC, disbanded in December. The group's original organizer STEVIE WINWOOD said, "We feel that today's scene is moving very much away from permanent groups and more towards recognition for individual musicians." 20-year-old STEVIE will soon begin work on his debut solo LP.
Although the BEATLES had planned to give three charity live concerts in England at Christmastime, they had to shelve those plans until mid-January because of difficulties in bookings. If they do appear in January, PAUL McCARTNEY has promised: "the concerts will be free and we may do the show in a television studio." Meanwhile, RINGO STARR begins work on his second solo film in February, RINGO'S film is called "The Magic Christian" in which he is cast as PETER SELLER'S adopted son.
Do you dig the new double BEATLES' album? One of the cuter songs on the LP "Honey Pie" was written by PAUL even though the names LENNON-MCCARTNEY appear on the label. PAUL says, "My dad's always played fruity old songs like that, and I like them. I would have liked to have been a 1920's writer because I like that top-hat-and-tails thing."
Even though some gossipmongers have stated that ELVIS PRESLEY and his lovely wife PRISCILLA are having marital problems, it's just not true. PRISCILLA with their daughter LISA MARIE flew out from Tennessee to spend Thanksgiving with her husband and stayed at their Bel Air mansion until ELVIS wound up filming on his latest film (number 30) "Chatauqua." Together, they all flew home to Memphis for Christmas. By the way, if you dug ELVIS' TV special in December, he too was so pleased with the ratings he's talking with producer, Steve Binder, about making another TV'er in the Spring.
If you checked out the story in our January issue called "The Tiger Predicts", one of his predictions is almost coming true. The Tiger said DINO would be giving up show business to go to USC. Well, he's not giving up show business completely, but next fall he will be attending the University of California at Los Angeles (UCLA) on a Tennis scholarship. He'll spend summers and vacations doing movies and will continue to record with DESI and BILLY in his spare time.
Just last month, January, JON PROVOST taped a special for a major television network. It's a Ford special entitled "Sourwood Makes Good Honey." It's the story of a young boy and how he tends to his grandfather at the time of the old man's death. JON is the sole star along with MELVIN DOUGLAS as the grandfather. It is scheduled to air in the early fall; and you can look for JON'S movie "Has Anybody Seen Chris?" to be out soon.
Well, the six-man band, THE ASSOCIATION, has become a seven-man band. Re-joining the happy bunch is GARY ALEXANDER, who now prefers to be called JULES. So remember, when we talk about JULES ALEXANDER, we are talking about the former GARY. Okay? JULES left the group a year or so ago to "do his own thing" and when he'd had enough of that, he realized how much he missed his buddies, their groovy sounds, and life in front of an adoring audience. So, fuzzy-topped JULES is once again an ASSOCIATE and that's a gas!
It was a weird night at the Forum when the DOORS made their first Southland appearance since their successful European tour. Why weird?! Well, JIM MORRISON was in his usual strange mood and he didn't bother to get out of it for the DOORS' show. He sang a couple of the DOORS' hits like "Light My Fire," but even that was a drag because it went on much too long and therefore lost its impact. Like one writer said, "As MORRISON seemed content to wallow in the pleasure of his own talent, the audience became hostile."
JIM actually sat down on the edge of the stage, and merely sat for several minutes without a word. Then he began reciting his own poetry like "I am the Lizard King, I can do anything…" The audience came to hear music, DOOR music that they had heard on record and obviously liked. But they didn't get too much of that, just MORRISON'S egotistical rapping. Finally JIM said to the audience, "We can play music all night, if that's what you want, but you don't really want that, do you? You want something more, something different…" Well, they didn't. Many people walked out long before the "concert" ended and it's my bet they'll never pay as much as $6.50 to see the DOORS act again. In the future it would be wise if the DOORS' concerts were advertised not as "concerts", but as "Recitations by JIM MORRISON." Much more of this and the DOORS' stage days will be numbered.
I wrote last month that MAURICE GIBB was the last of the single BEE GEES, but by the time you read this he may not even have that distinction. In late December LULU and MAURICE announced their engagement on LULU'S TV show in England. They plan to marry some time this year, probably in Scotland, LULU'S home. If you remember, LU and MO dated last year, but LULU broke up with MAURICE when it was printed in the London papers that MAURICE had received a leap year marriage proposal from LU. After several months apart, they began dating again, and obviously they felt stronger than ever before about each other.
While LU was dating DAVY JONES she had told the press that she felt she was too young to marry. In December she said, "When you find someone you love you want to get married. I only said I was too young before because I hadn't found the right person."
Other engagements announced in December were that of CYNTHIA LENNON, JOHN'S ex-wife, who plans to marry a wealthy Italian, ROBERTO BASSANINI, 26. BASSANINI is the son of an Italian hotel owner. Also, NANCY SINATRA announced her engagement after Christmas to JACK HALEY, JR. who produced her Emmy-winning TV special "Movin' With Nancy." They plan to marry as soon as possible and may already have tied the knot by the time you read this. This is NANCY'S second marriage and JACK'S first.
GOLDIE HAWN has just signed for her first serious movie role as an actress. She'll star as WALTER MATTHAU'S mistress in "Cactus Flower." "It's my first big movie role," said GOLDIE, "and it's the most exciting thing that's ever happened to me." She has been in another, "The One and Only, Genuine, Original Family Band," in which she was a chorus dancer.
At SPANKY'S (of OUR GANG) wedding to MEDICINE CHARLEY in Miami, Florida on December 31st, TINY TIM gave the bride away! The ceremony, with 300 of SPANKY'S friends attending, was actually all in fun since she and CHARLEY were married last August 30th.
When HENRY FONDA narrated the opening festivities of Disneyland's holiday parade, daughter JANE FONDA, and son PETER were on hand . . . look for RYAN O'NEAL and his pretty wife LEIGH-TAYLOR YOUNG in "The Big Bounce," in which they co-star . . . HERB ALPERT bought the two-and-a-half acre house in which CHARLES BOYER once lived which he is demolishing and rebuilding. The ALPERT family plans to move in in about two years . . . BRITT EKLAND, 25, was granted a divorce in January from PETER SELLERS, 43. They have a four-year-old daughter, VICTORIA . . . MIA FARROW is purchasing a lavish estate on Martha's Vinyard, a resort island off the coast of Massachusetts . . . THE BEATLES are house-hunting in Los Angeles. In January, they sent a representative from Apple Corps. to scout for a six or seven-bedroom house in Beverly Hills, and they're willing to pay $250,000. A small sum when you realize that their new album is expected to gross 22 million dollars for Apple Corp. in the United States alone!