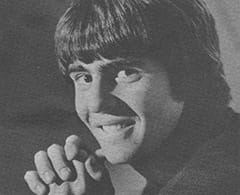 THE BEATLES held a press conference in London recently and added some insight to their mysterious and varied work with Apple. GEORGE told the gathering of press people that even though they appear to be doing less than they used to, they're actually doing more. Only now the public doesn't see everything they do.
Talking about their latest cartoon film "Yellow Submarine," which was given poor reviews by the British critics, RINGO said that the film was a thing for the children and that GEORGE hadn't even seen the whole film through. "Kids are the most important people in the world today. They are the future. We do things for children. The cartoons illustrate some of our songs, that's all."
DAVY JONES took off on another "secret trip" a few weeks ago, this time accompanied by DAVID PEARL. He had heard about a fabulous antique shop in a little town in Northern California, so one Saturday morning he got the urge to go antique hunting and just took off.
They returned toting a huge trailer carrying a brand new bed to replace his famous round one. It's a huge, antique, four-poster bed that sits very high off the floor. DAVY told me, "My round bed was groovy, but it sat so low on the floor that it was too hard getting out of bed. Once there, you just didn't want to get up!" He said the new bed is so comfortable that he'll probably have just as much trouble getting up as he did before!
THE NITTY GRITTY DIRT BAND spent three months in the wilds of Baker, Oregon filming their part in the musical "Paint Your Wagon." For the spectacular movie, a whole frontier town was built, which made working with stars like LEE MARVIN even more exciting.
When the DIRT BAND first arrived on the scene, they had the choice of staying in a hotel in Baker, or staying in a trailer right beside the set. Well, it takes 20 minutes to reach the set by car from Baker. Relishing that extra 20 minutes sleep each day, JOHNNY McEWEN chose the trailer. But when he arrived to move in, he found a big chipmunk had beat him to the bed, so rather than uproot his furry friend, JOHNNY slept outside, under the trailer every night!
MICK JAGGER and MARIANNE FAITHFUL and CHARLIE WATTS spent several weeks in Hollywood recently while MICK mastered the STONES' next album "Beggar's Banquet." While here MICK had some confusing, but interesting things to say.
"Do you enjoy watching other performers?" he was asked. "No, not really. I find it very boring. The worst listeners are performers. I just can't watch other people, 'cause I hate not being on stage. I can't go somewhere, look at the stage and not be on it. And I get so angry that I'm not on the stage that I can't see anybody else." When asked about performing live for the first time a few months ago at the NME Poll Winners' Concert in England, MICK said, "It was groovy. But I don't like performing."
Did he want to be a ROLLING STONE for the rest of his life? "Yeah. For the next thousand incarnations. I'm not a Rolling Stone, though I'll always be part of a group. I am a solo performer. We're all solo performers. We're not really a group. A group is a group and they do it together and there's nobody who sticks out and they live in the same dirty apartments and love the same chicks. We do a lot of that but we're not really a group, so it's not a strain."
CELEBRITY OF THE MONTH: is the group THE GORDIAN KNOT. These groovy guys probably have the best reputation in Hollywood for consistently giving the greatest show ever. They have been house bands at both PJ's and the starpacked Factory. Now they have their first album out and it's a real gas! On stage they mostly perform the latest hits, but on their new album you can hear them do their original material, which is beautiful. Don't miss it!
Do you remember the HOLLIES' last hit "Jennifer Eccles"? When they wrote it, they chose the name JENNIFER for GRAHAM NASH'S wife's first name and ECCLES because it had such a catchy sound. Were they surprised to find a real live 16-year-old JENNIFER ECCLES when they arrived for a Concert in Scotland! It made it doubly nice that she had been a HOLLIES fan for several years and got to meet all the boys personally.
SHORT ONES: STEVE ALLEN has written a film script for the RASCALS which they hope to get before the cameras late this year . . . Celebrated composer IRVING BERLIN dug the new DIANA ROSS and the SUPREMES album so much he sent them a fan letter, which they promptly had framed. Speculation is still high that DIANA will be leaving the group to go into movie work very soon . . . For her new TV series on CBS, DORIS DAY lost 20 pounds . . . JOHN LENNON has written a song especially for TINY TIM to sing at his London concert at the Royal Albert Hall, sponsored by JOHN. The song will also appear on TINY'S next album . . .
VINCE MELOUNEY of the BEE GEES will sing his own composition on their next LP . . . PAUL REVERE just purchased a mountain cabin (and a jeep stationwagon to get there) just 40 minutes from his home in Boise, Idaho . . . DINO'S older sister, GAIL MARTIN was married in July to PAUL POLENA. Sisters CLAUDIA and DEANA served as barefoot bridesmaids for the ceremony in the MARTIN'S backyard . . . The entire COWSILL FAMILY moved from Rhode Island to Santa Monica, California in September . . .
Look for a solo album from former STANDELL drummer DICK DODD . . . THE DOORS are hoping to take a TV tour of Los Angeles because so many of their songs relate to LA . . . MICHAEL BURNS, currently filming "The Mad Room" is so groovy, his three female costars have all flipped over him . . . After co-hosting the MIKE DOUGLAS SHOW for one week, Peyton Place's RYAN O'NEAL received more fan mail than in his whole two years on Peyton Place . . .
CAROL BURNETT'S baby, which arrived in August, was gifted with a silver toothbrush by LUCILLE BALL . . . For the first time you'll hear all the SINATRA'S together when FRANK, FRANK, JR., NANCY and TINA join together to record a Christmas album for Reprise Records . . . MAMA CASS makes her solo nightclub debut at Ceasar's Palace in Las Vegas this month . . . Two ANIMALS have left the group: guitarist VIC BRIGGS and bassist DANNY McCULLOCH. VIC will produce DANNY'S solo records. ANDY SOMERS, formerly of the SOFT MACHINE, will replace VIC . . .
DESI ARNAZ bought his first car, an Aston Martin, which arrived in August just as he was leaving for a tour of Canada with DINO and BILLY . . . Young stars of "The Graduate," KATHERINE ROSS and DUSTIN HOFFMAN are in great demand. KATHERINE'S next film is a comedy in which she'll co-star with PAUL NEWMAN. After DUSTIN finished his wild role in the comedy-western "Midnight Cowboy," he began work on a Broadway musical called "Jimmy Shine," for which former LOVIN' SPOONFUL member JOHN SEBASTIAN is writing the music . . . ELVIS and PRISCILLA PRESLEY are buying a ranch in California . . .
THE CREAM will split up following their fall tour of the U.S. and ERIC, JACK and GINGER will each form groups of their own . . . THE DOORS' third album "Waiting For The Sun" became a gold record on the day it was released with advance orders well over one million dollars . . . DAN ROWAN and DICK MARTIN have signed a three-picture deal with MGM Studios. Their first will be "The Money Game" . . . SAJID really dug THE SUPREMES in their concert at The Forum!