Fort Myers, Fla.
---
My sister and I are great fans of both The Monkees and Paul Revere and The Raiders. We both know they work very hard to keep the teenagers happy, yet some of the teens write to mags and tell how they hate one of The Raiders or Monkees. How can they be so cruel to hurt them after all the groups have done for us? I like all of the Monkees and the Raiders, but Davy Jones and Mark Lindsay are my favorites. Please tell me why people are so cruel to them?
Cheree & Debby Elmore
Union Gap, Washington
---
Two weeks ago, Herman's Hermits movie "Hold On" came back to our theatre, and I took my 9-year-old brother to see it. I don't know where I've been for the last two years, but where have they been hiding that drummer, Barry Whitwam? The moment I saw him, I went completely out of my mind! He is really outasite! So, will you please tell me where I can write him? Thank you.
Carol Murray
Huntington, Indiana
You can reach Barry c/o Suite 306, 200 West 57th Street, New York, N.Y. 10019.
---
My brother is always saying that The Monkees don't play their own music. Please reassure me and my friend.
Leslie Wershily
Winston-Salem, N.C.
Your brother is wrong. Just catch The Monkees on tour this summer, and you'll be able to see for yourself that Micky, Davy, Mike and Peter throw themselves and their talents into the music they play.
---
In the June issue of FLIP, you said that Davy appeared on the same Ed Sullivan Show on which The Beatles were introduced. Well, I'm sure that lots of girls (including me) didn't see Davy for The Beatles. I want to know: Do you think that with enough letters, Mr. Sullivan could play that segment again? It's worth a try at least! Thank you.
Beth
San Antonio, Texas
The problem is that The Monkees are on NBC and Ed Sullivan is on CBS. But, you're right! It is worth a try, so why not send your letters to Ed Sullivan, CBS-TV Network, 51 West 52nd Street, New York, N.Y. 10019.
---
A couple of months ago in FLIP you mentioned a group of cars going to Sonny and Cher's house for their third anniversary to bring them cakes and anniversary presents. I am proud to say that I am President of the fan club that went!
Lark Baskerville
Granada Hills, Calif.
---
I have heard a lot of terrible rumours about the Monkees and they have me worried! Are any of them true?
Carole S.
Plain Dealing, La.
The dreadful rumours you mentioned in your letter (which we didn't print because that would make the people who started them happy) are ALL COMPLETELY UNTRUE! The Monkees are all in the best of health! Don't even listen to the unhappy people who have a bad habit of starting these scare rumours! If anything ever did happen to The Monkees (which we hope never does), you can be sure that every radio station, TV station and newspaper in the country would tell you about it. So, the best advice is to ignore them. As soon as no one listenes [sic] to them, these rumour-mongers have a way of quietly disappearing.
---
I hope you will print my letter. I felt I had to write something because "Where The Action Is" has given me so much happiness. I hope that some of the people connected with "Action" will read my letter in FLIP, so that I can thank them for all the wonderful feelings they've given me.
Kathy L.
Green Bay, Wisconsin
---
I want to compliment you on your new addition to FLIP. Your color pix are the greatest! They're the most realistic ones ever!
Alice Golias
Woodbury, N.J.
---
I like FLIP but I hate the cover on the June issue. I can't stand Davy Jones. I don't know why everyone makes a fuss over him. Peter and Micky (especially Micky) are a lot cuter!
C.K.
Holyoke, Mass.
---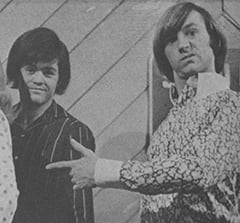 In the February FLIP, a girl talking about Micky Dolenz (who else?) said, "As far as I'm concerned, that guy has everything!" Then, in the April issue, a girl said about Micky, "Well, as far as I'm concerned that guy has more than everything!" Then in the June FLIP, a girl said, "Now it's my turn: As far as I'm concerned that guy is everything!" Well, I want to say once and for all that Micky Dolenz IS MORE THAN EVERYTHING! (Good, that is, natch!).
Denise Alonge
Rutherford, N.J.
---
I would like to see more about Neil Diamond in the near future in FLIP because Neil and FLIP are just great. (P.S. I met Neil recently and he was reading FLIP at the time.)
Mary Kate Parker
Raeford, N.C.
---
In your June issue, there was a letter from three girls. They wanted to know what ever happened to the bobby-sox era. I havy [sic] an answer—we happened to the bobby-sox era! We have more fun now than anyone had before. Boys are boys now, whether they have long hair or not. What's wrong with paisley-print shirts or flowered one's, for that matter? And what's wrong with the natural look instead of fire-engine red lipstick that makes you look like a stop light! Long hair is alright if it's clean and combed. And last but not least Mark Lindsay is more of a man than all of those bobby-sox-era stars could ever be! The same goes for the other Raiders! Thank God your kind are in the minority!!
Linda
Millbury, Mass.
---
Just because you three like crew-cuts on boys, fire-red lipsticks and bobby-sox, don't put down groovy guys and groups! You can live in your world of past days but don't try to take the rest of the world with you!
Kathy Wilferd
Battle Creek, Michigan
---
Bobby socks? Fire engine red lipstick? Come off it, you have just got to be kidding!
Cheryl Ansley
Mableton, Georgia
Your answers to that letter in the June issue staggered us! And not a single letter agreed with the girls who wanted a return to standards of a bygone age (which was groovy while it was happening, but pales in the face of the fabulous time we live in today!).
---
F = FLIP
L = LOVES
I = ITS
P = PEOPLE!
Luv,
Dawn Mousesian
El Centro, Calif.
Magazine: Flip
Published:
Publisher: Kahn Communications Corporation
Pages: 64–65