Colorado Springs, Colo.
No. Their on-stage clothes are usually very similar, which may explain the pictures you saw. But none of The Monkees share the same measurements, so that an exchange of clothes becomes impractical.
---
In your April issue, you had an article on the Hermits with some pictures. Was that Joey of the 3 ½ with them?
Sandy
Pittsburgh, Penna.
Yes, it was.
---
We are three girls aged 15, 16 and 18 and we think that long hair on both boys (???) and girls is disgraceful. Also, what happened to bobby-sox, fire engine red lipstick with coordinating nail polish and the good old days when boys were boys and were proud of it and didn't hide behind flowers and paisley prints like Mark Lindsay and the rest of the screaming banshees known as Paul Revere and The Raiders?
Gertrude, Frances & Elizabeth
Lexington, Kentucky
---
This is about a letter I wrote not too long ago to you asking people to help us get "Where The Action Is" back on. Well, it's back on BUT AT 7:30 A.M.!!! Will people please write to WMAL-TV and explain to them that there is a law requiring people to go to school?
Charlotte Lynch
Springfield, Va.
But there is sadly no law requiring TV stations to keep one of the most popular programs on the air! And "Where The Action Is" has been taken off the air by ABC, in your part of the world and everywhere else, as well. It's a ridiculous decision, and you ought to write to: Mr. Leonard Goldenson, ABC-TV Network, 1330 Avenue of the Americas, New York, N.Y. 10019 to protest! (There's a slight glimmer of hope, though, because it may be brought back as a once-a-week Saturday night show during the summer).
---
I received my FLIP COMB and love it. I have shown it to a lot of my friends and all of them liked it. Thank you.
Carla Jewett
Nelsonville, Ohio
Don't mention it, Carla. THANK YOU for helping FLIP become THE teen magazine! If you haven't got your comb yet, flip to page 62 for the details.
---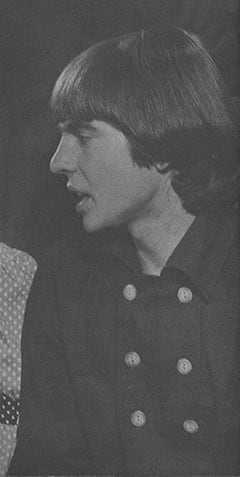 In the latest issue of FLIP, a girl said that The Monkees didn't belong on the music charts. She's wrong, and I know others will agree. The Monkees are wonderful singers and deserve to be on the charts. If she liked The Monkees as much as she said, she would not have said that. I just hope that none of The Monkees see her statement because they probably would be hurt. (P.S.—I know this is a little messy but I can't help it when I'm angry!).
Catherine Clark
Binghamton, N.Y.
Yours was one of many letters coming to the Monkees side. But you needn't worry. The Monkees, who read FLIP faithfully, saw last issue's letter and didn't blink an eyelash. They are used to the controversy and non-believers a new super-star group runs into. In England, where the anti-Monkee reaction was very loud, The Monkees overcame it in the only way they know how—by being their natural selves!
---
In the April issue of FLIP, a girl wrote that The Raiders couldn't care less about their fans. She ought to have her head examined! They care more about their fans than she ever cared about them! She ought to understand that they haven't all the time in the world to answer everybody that sends them gifts. I'd like to know why she sent the gift. I just wonder if she sent it to get a thank you from a star or as a real gift because she liked him. Maybe she's not a fan after all.
Debbie Huelskamp
Greensburg, Indiana
---
I love all of the publicity and the stories that are being written about The Monkees, but if it means less and less of The Rascals, I say less Monkees business and more Rascals! Thanx.
Chris Ishikawa
Honolulu, Hawaii
---
I'd like everyone interested in Bobby Sherman to write to me. I am the new National President of his fan club. Thank you.
Laurie James
1344 Hercules Street
Norwalk, California 90650
---
I am writing to let you know that I love the stories you are having on The Monkees. They are the greatest!
Judy Seager
Menasha, Wisconsin
---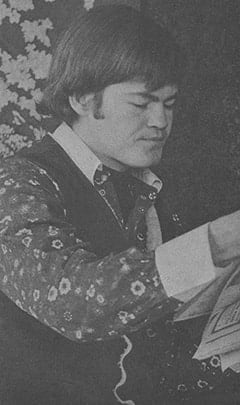 In the February FLIP, a girl who was talking about Micky Dolenz said, "As far as I'm concerned, that guy has everything!" and then in the April FLIP, a girl said about Micky, "Well, as far as I'm concerned that guy has MORE than everything!" Now it's my turn: As far as I'm concerned, that guy IS everything!
Melissa Traub
Castro Valley, Calif.
Magazine: Flip
Published:
Publisher: Kahn Communications Corporation
Pages: 64–65