Cypress, California
---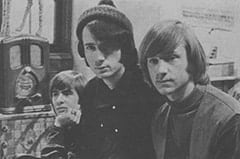 In your August issue, there were 56 pix of The Monkees and about 4 of The Beatles! Is that at all fair? Not everyone loves The Monkees! The Beatles are still THE GREATEST GROUP IN THE WORLD! Please read that sentence seven million times, and maybe something will sink in!
Ron Fehr
Winnipeg, Canada
---
Thank you so much for putting colored pictures in your magazine. On your Poll you asked: Is there anything you would like FLIP to add? And I wrote—Yes, colored pictures—and I'm sure that other people must have put that, too. Thank you so much for answering our requests.
Nancy Barker
Montrose, Colorado
It takes a lot of time, but we read every single answer to FLIP's Poll. FLIP is your magazine, so your requests means more to us than anything else in the world.
---
I want to thank you for the coolest birthday present I've ever had! Imagine, you couldn't even know it would end up as a "sort of birthday present." I'm talking about the July Birthday Calendar. My favorite pop star and favorite Raider, Mark Lindsay, was on it! I nearly fainted! Thank you a trillion times over again!
Margie W.
El Paso, Texas
---
I just read my August issue of FLIP, and WOW! I think Samantha Juste is the cutest girl I have seen in quite a while, and I am glad Micky likes her. I never thought I would write to a magazine and say that, especially if my favorite singer was the one who liked her. I hope they stay together. They are a very cute couple.
Not Jealous
Dennisville, N.J.
---
Recently, I was invited to a recording session by my favorite group, The Lovin' Spoonful. The amount of work these guys put in is unbelievable! Thank you for printing a magazine which shows the stars as human beings and not as a blunch of lovesick, stupid punks who are only out for the money. If you can ever get to see a group like the Spoonful work, it will be a most unforgetable experience.
A.S.
Scarsdale, N.Y.
---
I agree with a girl whose initials are C.K. I don't understand why so much is made of Davy Jones. Peter, Micky and Mike are much better than Davy. What ever Davy has, they have more!! I don't like superiority! If they are going to be a group, they should be a WHOLE group, not ¼ of a group, as it sometimes seems.
Stop Superiority
Mountainside, N.J.
---
To C.K.: I know loads of girls who aren't crazy over Davy. In fact, my best friend is completely gone over Micky, but she or any of them don't put Davy down just because they like Micky, Peter or Mike better. Also, they don't leave Mike out! "I'm A Believer" along with thousands of others that Davy, Micky, Peter and Mike are all Monkees, so let's not put anyone down for any reason. 'Cause when you put one down you're doing it to the whole group.
Karen Law
Detroit, Michigan
---
Here's my idea: I wish that they could have a TV channel which would only show programs for teenagers. Tell me if this is a good idea. It may make everyone happy.
Pam Cudy
Nokomis, Fla.
---
Older people are always putting teenagers down. Just because of long hair and wild and groovy clothes and dances. They say all the groups are terrible and can't sing. They had their fads whee [sic] they were young so I don't see why they won't let us have ours.
Lisa
Louisiana, Mo.
---
You really outdid yourself with that pic and story of Freddy Weller! He's got to be the greatest yet! Chocolate cakes forever!
Freddy Fan
Mentone, Ala.
---
Can you tell me whether The Monkees are coming back next season? Or are they going to take them off forever?
Sue
Colorado Springs, Colo.
Rest easy, Sue, THE MONKEES WILL BE BACK ON NBC-TV in the fall! And they promise even better shows than ever (if you can imagine such groovy happenings!).
---
There's a magazine which I like
If it ever stops, I'll go on strike
This magazine is really hip
I guess you know by now it's FLIP!
Connie Ribelin
Salisbury, N.C.
Magazine: Flip
Published:
Publisher: Kahn Communications Corporation
Pages: 64–65