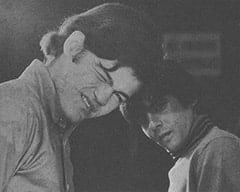 What's new with your favorites from coast-to-coast!
DAVY JONES' latest craze is playing bongo drums. Move over MICKY, here he comes! . . . Australia's LYNNE RANDELL and England's LULU are two of the luckiest girls in the world. The MONKEES picked LYNNE (who sings on EPIC Records) to do a number of their American concert bookings with them . . . BRIAN EPSTEIN picked LULU to open the MONKEES' concert series in England . . . Super-talented and super-sweet, the aforementioned LYNNE writes a column for Australia's TV Guide and also does record promos for all the top Australian radio stations. Her latest coup was to capture a RAIDER or two on tape when she met them during their Ed Sullivan stint in New York . . . Sensational TWIGGY is really a very charming and a funny slip of an English girl who's amazed at all the fabulous things that are happening to her—including the fact that all the dummies you see in department store windows will soon be modeled after THE TWIG! . . . DAVE CLARK is still bugged by rumors that he's going steady or about to get engaged. You better not believe it, babies, cos it just ain't true! . . . MADAME TUSSAUD had her hands full recently when she had to remodel her BEATLES' statutes [sic] to bring them up-to-date. When the act was completed, she had made one goof. See if you can find it.
Heavenly HERMAN got a little heavy with all of his mum's good home-cooking! Let's hope that he loses all his over-weight on his 55-day American tour this summer. . . . PETER TORK bought himself a little SAAB motorcar. He says, "It has no radio, no record player, no TV, no nothin'—it's just a car and I love it." . . . MARK "THE LONER" LINDSAY has decided to live alone and has rented himself a beautiful house in Beverly Hills. He and TERRY MELCHER are still the best of friends, and TERRY will still be A & R-ing all the RAIDER sessions . . . THE BYRDS, BUFFALO SPRINGFIELD, MAMAS & PAPAS, BEACH BOYS, RAVI SHANKAR, SIMON & GARFUNKEL and many others performed free at the first Monterey Pop Festival this mid-June. The Board of Governors include LOU ADLER, DONOVAN, PAUL McCARTNEY, SMOKEY ROBINSON and JOHNNY RIVERS . . . NEIL DIAMOND once studied to be a doctor. In a way, you could say that he made it—because he's sure helped cure a lot of what was wrong on the pop scene today. Don't know whether he's better at singing them or writing them. Just give him an A plus for both. . . . TONY & THE TIGERS (TONY SALES, leader; HUNT SALES on drums) have re-formed and appeared for two weeks at Montreal's Expo '67.
Lotza new faces for you this month. First and foremost, JAI JEFFRIES, the best sound in pop singing to hit the scene in many a year . Also love the great artistry of Okeh Records' WALTER JACKSON . . . Movin' groups: the 5TH DIMENSION; the TREMELOES (you can write to them in care of Dick Gersh at 200 W. 57th St., New York City); the BUCKINGHAMS (write to them in care of Columbia Records, 51 W. 52nd St., New York City) and the #1 (write to them in care of Kapp Records, 136 E. 57th St., New York City)—not to mention the MOBY GRAPE!
Dreams do come true. DYLAN lives!