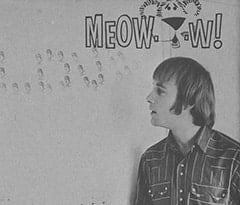 The never-before-told stories about your favorites from the gal who PERSONALLY knows them all—ANN MOSES
MONKEE MADNESS: DAVY JONES is an acknowledged practical joker; and he kept up his image when he returned from his vacation. THE MONKEES spent three weeks at RCA Studios recording their new album. One night after a session PETER invited DAVY over to his house and while PETE was getting something to eat DAVY pasted DAVY JONES Stamps all over his dining room wall! You can see PETE's best friend, STEVE STILLS checking them out on the left.
I stopped in one afternoon during the MONKEES recording sessions and I arrived just in time to hear several tracks they had just finished. During a break MIKE suggested we run down the street to Wallich's Music City to pick up a French horn for PETER. It seems PETER wanted to play it on their next track to be recorded.
I saw MIKE again that night when he came down to the "Galaxip" Club to see the IRON BUTTERFLY, an outstanding group whom all the other groups seem to be watching! Just a few who have stopped in to groove to their fantastic sounds are the BUFFALO SPRINGFIELD, HERMAN, THE STANDELLS, THE TURTLES, and members of many other top acts.
RAIDER RAVINGS: I went over to GENIE THE TAILOR's to pick up this month's article and found PHIL being fitted for his latest suit. "Pancakes are really where it's at," he began telling me. PHIL is currently on a pancake and waffle kick.
The official greeter at SMITTY's house is a darling little French lady named Brigitte. She's a little black poodle that welcomes everyone with loads of licks. On the current RAIDER tour SMITTY dresses up as a Hell's Angels member and comes on stage on a motor scooter. That's just one of the fantastic skits they've included in the new show.
The "Hullabaloo Club" put on a great double-bill the other night featuring the EAST SIDE KIDS, the YELLOW PAYGES, the MUSIC MACHINE and the SEEDS. It was my first glance at the MUSIC MACHINE and I came to understand their name, since they play non-stop music as if they were some kind of computer. THE SEEDS caused a near riot which made the show a knock-out!
It's a regular happening for groups to spend an afternoon answering the request lines at radio station KRLA, but when The NITTY GRITTY DIRT BAND came to the station they had so much fun they stayed from two o'clock until one in the morning. Disc jockeys had a ball playing their record "Buy For Me The Rain" because it's [sic] first two weeks out Southern California had a continuous rainy spell.
DAVE CLARK and MIKE SMITH visited us for three days last month to promote their fab single "You've Got What It Takes" and spent their evenings catching the acts around town. The first night they saw "THE FIFTH DIMENSION," who put on an outasite show. The next night they went to "P.J.'s" to see THE GORDIAN KNOT, whom DAVE hasn't stopped raving about yet.
I got a frantic letter from a HERMAN fan who asked "Who is NORRIE DRUMMOND, how long has PETER been going with her, etc., etc." I wrote a couple of months ago about PETE's vacation with NORRIE. To set things straight NORRIE is one of PETE's friends in London. HE is a writer for the pop music paper the "New Musical Express" in England; and HE is 21 years old.
THE SEEDS presented their new song "Can't Seem To Make You Mine" to the press at the "Daisy Club" in Beverly Hills and received a nice reception. Among the audience were DINO MARTIN, looking like he'd been to Hawaii he was so tan, JILL IRELAND, DAVID McCALLUM's ex, DAVID HEMMINGS, the star of "Blow Up" and JEFF HANNA of the NITTY GRITTY DIRT BAND.
THE RAINY DAZE have really happened. I've always loved Colorado and this is where the group originated, very near Denver. Besides having far out sound, these groovy boys are young and good looking. I'll be keeping you in tune with this group.
DO YOU SHARE A BIRTHDAY WITH A STAR? One year older this month are MIKE CLARKE of the BYRDS, June 3; GORDON WALLER, June 4; PAULEY McCARTNEY, June 18; PETER ASHER June 22; and BILLY HINSCHE, June 29.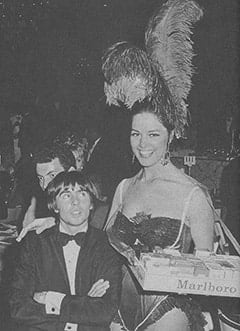 Have you heard "The Monkees Songbook" played by THE GOLDEN GATE STRINGS? It's a beautiful album and if you love the MONKEES and their songs, you should surely add this to your collection.
SHORTIES: CHARLIE COE of DON & THE GOODTIMES is a pistachio nut nut. A fan gave him an eight pound bag and he ate it all in a week's time!
For the filming of April's TV special the "Go Show", the groovy brown velvet jacket you saw DEWEY of the BUFFALO SPRINGFIELD wearing belongs to PETER NOONE.
Close friends and strong fans of MICKY DOLENZ are SONNY and CHER. Our photographer, BOB CUSTER and DAVY JONES ran into the couple at a club in London.
An interesting book you should surely see is the ASSOCIATION'S "Crank Your Spreaders." In it each member of the group was given several pages to do with what he wanted. It's a very creative and fun piece of work.
Groups I've heard good reports on—THE RATIONALS, who's [sic] slogan is "Let's RATIONAL-ize the world" and the SKEPTICS who's [sic] motto is "Help spread SKEPTICISM!"
For one day's shooting of the "Go" Show HERMAN and his HERMITS rode around in an orange and white polka-dot Camaro in Beverly Hills. During the lunch break PETER climbed to the top of one very tall hill and was amazed by the view.
Speaking of HERMITS, KARL GREEN wed his fiance of six months, JILL DAVIES, on March 20 in Manchester.
JON PROVOST is one of the sharpest dressed actors around and he told me he buys all his marvelous mod clothes at Rudnicks in Beverly Hills.
Can you believe the "celestial" sounds of THE BALLROOM on their first single on Valiant, "Spinning"? CURT BOETTCHER produced and sang lead on the beautiful song.