Jersey City, NJ
---
Frightening star
Your magazine is really great but I have never seen an article on my favorite actor, Stephen Geoffreys. He was in the movies Fright Night and Heaven Help Us. Any info you could print about him would be great. Also, more on Mary Stuart Masterson. Thanks, you are fantastic!
Karen Lechman
Uniontown, PA
---
Herman hero
I'm a TIGER BEAT reader from years ago—when I followed Herman's Hermits. I'm still an avid Peter Noone fan and belong to both of his fan clubs. I'd love to see a flashback section on him, or better yet, be able to get reprints of some of the major Herman issues. Thanks.
Kathy Porter
Livonia, MI
---
Pin-up people
I really love TIGER BEAT. I think it's a super magazine. Please include more articles and pin-ups of Michael Dudikoff, Maxwell Caulfield, Michael Pare and Nia Peeples. I would be very grateful.
Mandy
#1 Tiger Beat reader
---
Survivalist
I had to write and thank you for the great article and picture of Survivor in the March issue. They are one of the best bands around. I hope you continue to run articles and pictures of them. Thanks.
Pat Schoeder
E. Lansing, MI
---
Mad about Michael
I'm simply obsessed with Michael Inglese! I first saw him on Dancin' On Air and he sure caught my eye. I soon wrote to him and he wrote back. He is very nice and an excellent dancer. And, of course, he is gorgeous. I hope to see lots more of him in TIGER BEAT.
Cheryl Messen
South Plainfield, NJ
---
Give the New Monkees a break!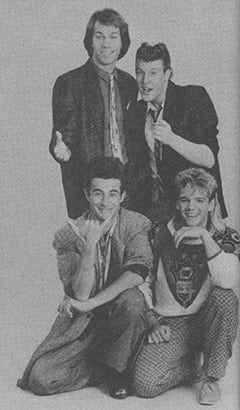 I am an avid Monkees fan and I love Pete, Micky, David and Mike, as I have noticed that many of your readers do. But I think that we should not be taking this New Monkees thing so personally. They are just four normal guys who are trying to break into the business. They should not be put down for this. I agree that the New Monkees may not be necessary and if they wanted to have a group like this they should have used another name. The original Monkees have fought hard for what they have now, and by all means they deserve it. Maybe there is not room for the two groups, but I feel we should not strike out at the New Monkees personally. Remember Peter's very special words, "We were born to love one another, this is something we all need."
Phyllis Carroll
North Bend, WA
---
Madonna rocks
I would like to see more on Madonna. She's a lot hotter than Duran Duran or a-Ha. Madonna rocks and don't forget that!
A True Blue fan
---
Ready for Ralph
I really like your magazine. It's the best, but you haven't been getting pin-ups of Ralph Macchio in the magazine. Please put more on Ralph in future issues.
Maria Miedema
Ft. Ritchie, MD
---
Looking back
Thank you so much for the beautiful color pin-ups of The Monkees, especially the pictures of Peter. I also enjoyed "Yesterday's Heroes" in the May '87 issue. It brought back lots of wonderful memories. Please continue to print lots of pictures of The Monkees!
Sheila
---
Cruising along
I'm a Tom Cruise fan. I am very upset about what a "Concerned Duran fan" wrote in the April issue. I'm glad there are rarely photos of Duran Duran. I'd like to see more Tom Cruise and less of Duran Duran. Could you please include more color pin-ups of him?
A Tom Cruise fan
---
Color favorites
Please include more color pictures of Madonna, Bruce Willis, and Don Johnson. I really enjoy reading about all the stars and doing the puzzles in your magazine!
Brandy Gorhann
Portola, CA
---
Morten magic
I am 14 years old, and I love a-ha. Thanks for so many articles on them. I especially love Morten Harket! Is is he ever so outrageously fine. Thanks so much.
#1 a-ha fan
Tomi McCumber
---
More Duran
I love Duran Duran, especially John Taylor. Could you please include more articles and pictures on my favorite band in the whole world? I would really appreciate it.
C.G.
Fair Lawn, NJ
---
All about Alyssa
I love reading your magazine but I don't think you put enough articles on female stars in your magazine. I think you should put equal amounts of articles on both guys and girls. I think you should include more on Alyssa Milano, Whitney Houston, and Stacy Q. But mostly, I would like to see more on Alyssa Milano. I hope you consider my idea.
A true Alyssa Milano fan
Dear fan
We hope you enjoy the article on page 39, in which Alyssa gives TB readers some special tips on guys.
The Editor
---
Let us know what you think! Send your letters to Tiger Talk, TIGER BEAT, 1086 Teaneck Road, Teaneck, NJ 07666.
Magazine: Tiger Beat
Editor: Michael Edrei
Published:
Volume: 23
Issue: 11
Publisher: D.S. Magazines, Inc.
Pages: 68–69