Growling for Glass Tiger
TIGER BEAT is great. I love the pin-ups and interviews, but you never have anything on Glass Tiger. Could you write some stuff on them and maybe print a picture? Thanks.
A Big Fan of Glass Tiger
Dear Glass Tiger Fan,
Hope you entered the special Glass Tiger Contest in the February issue.
The Editor
---
True fan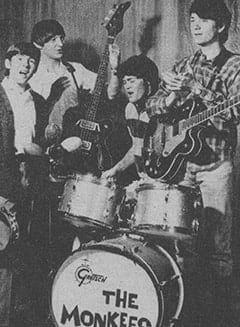 I am 33 years old and one of the original Monkees fans—unlike the girls that weren't even born during their original popularity. I went to their 20th anniversary concert and it was fantastic. I have every album, and 45; Monkee cards, and every recent article on them I could find. I would love to see more about them now in your magazine. I want to see photos of them and their families and information about what they are doing. I went to their concert at Cow Palace 20 years ago, and I have never stopped loving them.
My daughter loves your magazine. I buy it for her, and I take any articles on the Monkees out before she gets to keep it.
Donee Haugen
Fremont, CA
---
Original stories, please
TIGER BEAT is the best magazine there is. I have been reading it for a long time. I wish you would print more on the Monkees. I think it would be great if you could print old articles on the Monkees from old issues in 1966 and 1967 and more color photos. It would be greatly appreciated if we could hear more about them. They're the best!
Thanks,
True Monkees Fan
Marie Fazio
S.C.S., MI
Dear Marie,
Hope you caught the articles in the past few issues!
The Editor
---
Admiring Stamos
I am a John Stamos fan. I am in love with him. Please print a very sexy picture of him so I can admire it all day.
Thanks,
Jennifer Magie
---
No cruising
I am very upset about what "Cruise fan" wrote in the November issue. Personally, I'm glad that there is rarely a picture of Tom Cruise in TIGER BEAT. I want to see more of Duran Duran and less Tom Cruise.
A Concerned Duran Fan
P.S. Try to get some centerfolds and interviews of Duran Duran, George Michael, Bryan Adams and Val Kilmer. Thanks again!
---
More Monkees madness
You are great! You really pay attention to letters you are sent, and I think that is great!
I would really love it if you would put more pictures and info on the Monkees in your next issue. It would be great.
Great Thanks,
Megan Lowe
---
Gone ape for Monkees
I am 13 years old, and I love the Monkees! Would you please print pictures of how they looked when they were younger besides pictures of how they look now. Also, do they have a fan club? If so, could I please have the address?
A Monkee Fan Forever
Leeann Seger
Dear Fan,
You can write to the Monkees at their official fan club: Monkee Business, 2770 South Broad St., Trenton, NJ 08610.
The Editor
---
Let us know what you think! Send your letters to Tiger Talk, TIGER BEAT, 1086 Teaneck Roed. Teaneck, NJ 07666.