Q. I would like to know if McCartney is Paul McCartney's real last name. I read somewhere that he has a younger brother and his name is Mike McGear and that confuses me. I hope their real name is McCartney, because it's much better!
A. Rest easy, it's McCartney. Mike took on the stage name McGear so as not to rely on his famous brother's name to get ahead in show business. He wanted to make it on his own, as he has with his group Scaffold, and that's why Mike changed his name.
Q. Could you pelase [sic] tell me if Barry Gibb of the Bee Gees is married or not?
A. Barry was married, but is now divorced. He has a steady girlfriend named Linda Grey.
Q. In your July issue in the "Returning TV Faves" article you said that the new husband Samantha is getting on "Bewitched" is named Dick York. This is not so. The old husband she had was Dick York.
A. Please excuse our error. Her new husband's name is Dick Sergeant. Thanks for correcting us!
Q. How long has Davy been married and how old is his daughter Talia? Also, what was Linda's name before she married Davy?
A. David and Linda were married on December 15, 1967. Talia was born on October 2, 1968. Linda's maiden name was Haines.
Q. Does Jack Wild have any brothers or sisters?
A. Yes, Jack has one older brother who's 18. His name is Arthur and he writes an exclusive monthly column about Jack right here in Tiger Beat!
Q. Is Joe Jr. of Paul Revere and the Raiders married? Also, is Keith Allison married?
A. Yes, they are both married. Freddy and Mark are the only single Raiders.
Q. Could you please tell me in order, the names and characters of the six children on the TV show "The Brady Bunch."
A. Maureen McCormick is Marcia, Eve Plumb is Jan, Susan Olsen is Cindy, Barry Williams is Greg, Christopher Knight is Peter and Mike Lookinland is Bobby.
Q. I have been watching "Then Came Bronson" and I just adore Michael Parks. He has a fresh, new and exciting thing going for him. His singing adds to it. He has such a gentle, mellow voice. Is he going to make an album? I sure hope so!
A. You're in luck! Michael already has an album out called simply "Michael Parks" on the MGM label. Look for it!
Q. I recently saw in the news an article about Bobby Sherman and Patti Carnel, saying that Bobby may be here-comes-the-briding it himself? Can this be true or is it a rumor?
A. Bobby was terribly upset about this article. It's true, one of the girls he dates is named Patti Carnel, and as the article mentioned, she does ride in his Rolls Royce. But unlike the article, they couldn't possibly "share soda pop out of the custom-built bar in the back seat" because it's a writing table, not a bar and Bobby is the only one who drives his Rolls, he does not have a driver. Anyway, Bobby does not have marriage on his mind with Patti or any of the many other girls he dates!
Q. Did Tina Cole really have three boys on "My Three Songs [sic]?"
A. No. She has one little boy in real life.
Q. I would like to know if Jack Wild is 17. Thanks.
A, Yes, Jack turned 17 on September 30th.
Q. My pen pal wrote me that there was a rumor going around her neighborhood that Sajid Khan has been married when he was in India. Is this true?
A. No, it's just as you say—a rumor. Saj has never been married.
Q. Will David Jones' getting married interfere with his singing?
A. Certainly not! The Monkees recently released a new album and a brand new single, and they're currently working on another album.
Q. I think the "Music Scene" host David Steinberg is a doll. How old is he, where's he from and most important is he married?
A. David was born in Canada, he's 26 years old, and no, he's NOT married.
Q. Would you please tell me Mrs. Sherman's first name?
A. Certainly. It's Juanita.
Q. I heard that Glen Campbell was in the Campbell Soup Company before he went into show business. Is this true?
A. Glen joined his first band at age 14 and has been involved in show business ever since.
Q. Does Bridget Hanley have a fan club?
A. Not an official one, but she receives all her mail at Screen Gems Studios, 1334 Beachwood Drive, Hollywood, California 90028.
Q. Did Peter Noone marry Mireille Mathiew, the girl who appeared on "Tom Jones" and "The John Davidson Show" this year?
A. No, Peter's bride of last year was named Mireille Strasser. She is the daughter of a wealthy French company director and has never been involved in show business.
Q. I would like to know if Barry Livingstone "Ernie" on "My Three Sons" lives with his brother?
A. No, Stanley, Barry's older brother was married last year. He and his wife live in a Hollywood apartment. Barry lives with his parents.
Q. What's Luke Halpin doing now?
A. He's testing for parts in several movies. His most recent film is "If It's Tuesday This Must Be Belgium."
Q. I heard that Bobby Sherman is going to record "Seattle." Is this true? I hope so 'cause I'm dying to hear his singing again.
A. If you're a true Bobby fan, you've probably already picked up his new Metromedia album and heard his beautiful version of "Seattle" on the album. If not, what are you waiting for?
Q. I think that John Davidson and Bobby Sherman look a little bit alike. Would you please print a picture of both of them side by side?
A. Sure, look below.
Q. Some time ago, you printed pictures of the guys who starred in the movie "Devil's 8." Among them was a really groovy guy, Tom Nardini. Could you tell me what he's doing now?
A. Yes. Tom is currently filming a TV pilot for a series based on the movie "Cat Ballou." Tom will be recreating his role of the hip Indian, Jackson Two-Bears from the movie. If the pilot sells, you'll be seeing him weekly next season on TV!
Q. Could you please tell me where I could write to Jack Wild? I want to write to him desperately!
A. Get out your pencil and paper quickly! You can write to Jack at Krofft Productions, Paramount Studios, 5451 Marathon, Hollywood, California. You can also write to Mark Lester at this address, since he was recently signed by Jack's bosses, the Krofft brothers.
Q. Please tell me if Michael Cole wears contact lenses.
A. He doesn't.
Q. Will you please tell me if Nancy Sinatra has lost her voice. I've heard many say she has, so please answer me.
A. Nancy recently made a fantastic month's appearance at the International Hotel in Las Vegas following Elvis Presley's appearances there. Everyone who saw her said she was in great voice!
Q. Has Dack Rambo ever dated Priscilla Presley?
A. Definitely not!
Q. Could you tell me if Tim Mathesor of the "Virginian" is married. Also, how old is he?
A. Tim is married to actress Jennifer Leak. They were married on September 28, 1968. Tim will be 22 on December 31st.
Q. My girlfriend at school said that Elvis Presley was adopted. I don't believe it because I read that his twin brother died at infancy and after he joined the Army his mother died. Can you please help settle our disagreement?
A. Elvis was not adopted. You are correct—his twin brother died at birth and his mother passed away after he joined the Army. His father Vernon Presley is still alive and lives in Memphis.
Q. Does Bobby Sherman have a dog?
A. Yes. He has a darling basset hound named "Dopey."
Q. Are Michael Cole and Dennis Cole related?
A. No.
Q. Could you please tell me if Bobby Sherman is left handed, because whenever he writes Tiger Beat his writing is always slanted to the left.
A. No, Bobby is right handed.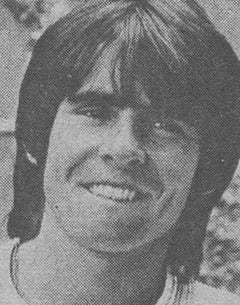 Q. Is it still possible to get back issues of Monkee Spectacular? If so, where?
A. It certainly is possible. Just turn to page 53 in this very issue!
Q. I read in a magazine that Stefan Arngrim's birthday was December 5th. Then I read it was the 23rd. Could you set me straight?
A. Stefan was born December 23, 1955.
Q. I read recently in a newspaper that Davy Jones only got 18 per cent of all the money he made and that because of that he's going back to England for good? Can this be true? If it is, please give me his address in England.
A. David is definitely NOT going back to England to live. He made a trip to London recently to film a "Tennessee Ernie Ford Show," but only stayed two weeks. He still lives in his home in Hollywood and plans to for quite a while!
Q. Was Elvis Presley ever in love with Ann-Margaret and when?
A. No. Elvis and Ann-Margaret made "Viva Las Vegas" together. but there was never any romance except on the screen.