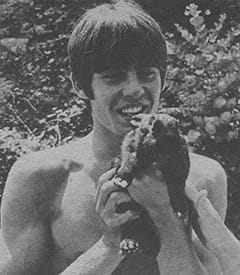 Everyone must know by now how DAVY JONES loves people, but I'm not sure everyone knows just how much he loves animals. Of course, there's his big German Shepherd "Susie" whom he loves to wrestle with in his pool and there are several goldish colored kittens running around his house and his other little dog "Simon." Now he's added three rabbits that are so cuddly and cute!
The rabbits are pets, just like the kitties and the dogs, and they run in and out of the house. One day the smallest grey and white bunny got his leg caught in the sliding glass door leading to the back yard and broke it. DAVY just couldn't stand to see her suffer, so he took her to the vet to have the leg set in a cast. Each bunny cost him $2.50 to buy. The bill for the broken leg $60.00. It's got to be real love!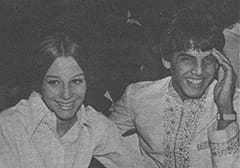 I hadn't seen PHYLLIS NESMITH'S younger sister JONE since I was on tour with the MONKEES last summer in Texas and I hardly recognized her at TINY TIM'S party. She's 15 ½ now and is such a doll! At the party she met SAJID and they hit it off right away.
The next night they went to a big party at PETER TORK'S house and later to the Factory (SAJ is a member). JONE left a week later to return to her parent's home in El Paso, but I've been told that SAJ has been calling her almost every night. What a gas!
TINY TIM'S gala midnight supper party followed his great concert debut at the Santa Monica Civic Auditorium. KHJ radio hosted the party to congratulate TINY that brought out many, many big stars to meet TIM.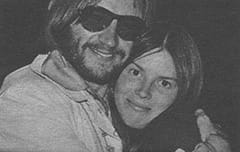 Just some of the groovy guests at TIM'S party and concert were: PETER TORK and his girlfriend, REN, PHYLLIS NESMITH, her sister JONE BARBOUR, SAJID KHAN, CARL and ANNIE WILSON, AL JARDINE, DENNIS WILSON, MAMA CASS, SALLY FIELD with JIM WEBB, DESI ARNAZ and BILLY HINSCHE, JOHN SEBASTIAN, LINDA RONDSTADT, TED BLEUCHEL, PAUL KANTNER and, such groovy TV people as ANDY PRINE, ADAM WEST and TINA LOUISE. It was a delightful evening, all around, thanks to the great planning of the KHJ people.
By now you should know all about the BEE GEE'S very good stage show with 30-piece orchestra and if you don't you'll probably be seeing them soon. But did you know that when the GIBB brothers first started working in Australia in their early teens they worked in night clubs? When the twins were just 12 and BARRY was 14 they played adult night clubs singing songs like "Bye, Bye Blackbird." Also on the show was their older sister who used to dance with snakes wrapped around her! After a few years, though, she left the act and is now married and has a darling little daughter.
It was very nice hearing from LYNNE RANDELL the other day when she phoned to tell me all about her new single. She's on a new record label, Silvercloud, and her first record for them is a knock-out called "The Right To Cry." LYNNE recently bought a new car complete with a stereo tape player. She got a great hint from DEAN MARTIN, SR.—he records the background tracks to his upcoming albums and then practices singing the songs as he drives around town. LYNNE said she was going to try it with the songs from her upcoming album.
JOHN LENNON'S favorite artist (and mine for a long, long time) is NILSSON. If you dug his single "Everybody's Talkin'" you'll dig his album "Aerial Ballet" even more! HARRY, which is NILSSON'S first name, got the name for the album cover by reaching into his own family history. Some of his relatives were circus performers who did ballet routines suspended from a ladder hanging from an airplane!
CELEBRITY OF THE MONTH: just has to be The King, ELVIS PRESLEY. If you're a fan of his, you already understand. If not, wait until you see his hour-long TV special on NBC on December 3rd, you will be. On that show, which I saw taped, he sings many of his old-time hits and a new song that is not only groovy because ELVIS is singing it, but because it's really saying it! The song, called "My Dream", talks of brothers walking hand in hand, love, and peace in the world. At the end it asks "if I can walk and talk and dream, why can't my dream come true right now?" If only it could!
Remember the McCOYS who sang "Hang On Sloopy" so well not too long ago? Well, they're looking groovier than ever and are soon to star in a full length movie called "Venus and Adonis." It's all about a super-star rock group and a fan who follows them around. The movie will be shot on location in New York in both color and infra-red light. The infra-red parts will be used in some of the fantasy-like scenes.
Other movie news: HERMAN'S HERMITS will begin work on their third major movie—possibly a murder thriller—on location in both England and America in November. Following their tour, which ended August 24th, the HERMITS took a week's vacation in Hawaii before returning to Britain for a tour there.
MICK JAGGER spent last month working on location in London in his first solo acting role in the movie "Performance." MICK plays a has been entertainer living in a life of seclusion.
SHORTIES: LULU played a week's engagement at Disneyland along with PAT PAULSEN in July. DAVY didn't even know she was in town . . . PAUL MCCARTNEY was a Hollywood visitor in July also. He was alone, no one knew why he was here, but he stayed a couple of days, went to see blues guitarist, ALBERT KING, at the Whiskee-a-go-go all by himself, then split . . . DAVY JONES went to one of the BEATLES' recording sessions while he was in London. They were recording their new single at the time . . . house guests of PETER TORK in July were GEORGE HARRISON and RINGO STARR . . . lead singer KEITH RELF has left the YARDBIRDS . . . GOLDIE HAWN works out at a gym every day to keep fit.
DWIGHT BEMENT of the groovy UNION GAP tells everyone members of his family were originally horse thieves in France. The other guys in the UNION don't believe him, but he plays six instruments, so they let him stay in the group!
If you've been wondering about PHIL VOLK'S family, he and TINA named their first son, CHRISTIAN. Rumor has it that another baby VOLK may be on the way. SMITTY and his wife are also expecting another addition to their family, this time they're hoping for a girl.