From Gloria Stavers
I want to assure each and every one of you who writes a letter to me at 16 Magazine that your letter is delivered to me personally. I want to assure you too that I read every single letter I receive, that I'm grateful to you for writing to me and that I appreciate every suggestion and criticism you address to me. There isn't enough space in 16 Magazine for me to publish every letter I receive and there isn't enough time for me to answer every letter personally—but please keep writing and look for your letter and my answer each month in You're Telling Me!
Address all of your letters as follows: Miss Gloria Stavers, c/o 16 Magazine, Business Office, 745 Fifth Avenue, New York, N.Y. 10022.
---
Chris crazy!
Dear Miss Stavers,
I have seen CHRIS CROSBY on The Merv Griffin Show many times, but I have never been able to find any of his records in the stores. Can you help me? I am crazy for CHRIS!
Lilla Whitley
Stowe, Vt.
Dear Lilla,
CHRIS has just signed with Columbia Records and his records will soon be in your neighborhood record store. You can write to him at Columbia Records, 51 W. 52nd St., New York City. Meanwhile, here's a snap of CHRIS to hold on to.
---
Jody Lee
Dear Miss Stavers,
Recently, on NBC's The Doctors, I saw a groovy guy who played the role of Jody Lee. Would you happen to know anything about him?
Linda Dillon
Big Bend, W. Va.
Dear Linda,
You bet your stethoscope I do! The part of Jody Lee Bronson is played by O.C. COURTNEY. You can write to him at NBC-TV, Rockefeller Center, New York City.
---
Flips for badges!
Dear Miss Stavers,
You sure know how to please! I ordered your All-Star Badges, and when I got them I flipped! They're adorable!
Maggie Jarvis
Cleveland, Ohio
Dear Maggie,
You're adorable for writing! All other 16-ers, take a tip from Maggie—see Page 29!
---
Herman on Sullivan?
Dear Miss Stavers,
When-oh-WHEN will I get to see HERMAN and the HERMITS on my favorite evening TV show, The Ed Sullivan Show?
Charlotte Napier
Brooklyn, N.Y.
Dear Charlotte,
If you want HHs on The Ed Sullivan Show, why not write to ED and tell him so. His address is The Ed Sullivan Show, CBS-TV, 51 W. 52nd St., New York City.
---
Andy Kim
Dear Miss Stavers,
Wow! ANDY KIM is fab! Where can I write to him?
Josephine Cantu
Temple, Texas
Dear Josephine,
ANDY records on Steed Records (address: Box 1123, Radio City Station, New York City) and his latest LP How'd We Ever Get This Way is a groove!
---
Love & peace
Dear Miss Stavers,
I feel so sad every time I read an unkind letter about one of the performers in your magazine. We were all put here to help each other out, not to drag each other down. If people would never say the word "hate" again and would stop and pause to let the loveliness of life catch up with them, we'd no longer have insane killings, misery and unrest. Instead, we would have love and peace.
Gail Gilbert
Simsbury, Conn.
Dear Gail,
Thanks for your beautiful thoughts. Let's hope they are contagious. Well, here's one reader the "love bug" hasn't bitten yet! Guess she's entitled to her opinion—even if she is in the minority.
---
Hates Dark Shadows
Dear Miss Stavers,
Ugh—how can you print pictures of those creeps on Dark Shadows in 16—especially that awful JONATHAN "BARNABAS" FRID? Please stick to the pretty boys and leave the stiffs out—or I'll quit buying 16!
Wanda Collins
Detroit, Mich.
---
Zilch swings!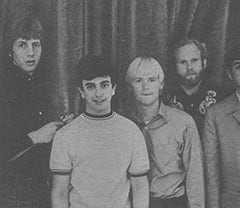 Dear Miss Stavers,
Recently, I saw a picture of JEFF NEAL with the UNION GAP. The picture was taken at Zilch, so I got my mother to take me there—hoping I'd meet some stars. Man, did I make out! Here's a snap I took of JEFF with HARPER'S BIZARRE—and JEFF gave me one of Zilch's glitzy catalogs!
Anne Villela
Kew Gardens, N.Y.
Dear Anne,
Glad you had a good time at Zilch. Any of you 16 regulars who can't get there, but who want to know what it's like, can get a zingy Zilch catalog by sending 25¢ to Zilch, 217 Thompson St., New York City. Be sure to print your name and your order clearly.
---
Love letter
Dear Miss Stavers,
I just couldn't resist writing to thank you for my copy of 16's All-Star Address & Fax Book! I never realized there was so much I didn't know about my fave stars until I read this book! I love it!
Candy Leverett
Phoenix, Ark.
Dear Candy,
Love you for saying so! Everybody else—flip to Page 39 and read how to get your copy!
---
Quicksilver quick!
Dear Miss Stavers,
I really dig the QUICKSILVER MESSENGERS and would like to write to them. Help!
Terry Atlas
San Francisco, Calif.
Dear Terry,
You can write to the QUICKSILVER MESSENGER SERVICE at Capitol Records, 1750 N. Vine, Hollywood, Calif.
---
Wagner-thief
Dear Miss Stavers,
You goofed. ROBERT WAGNER's series is called It Takes A Thief—not To Catch A Thief. Is this show returning next season?
Linda Nagel
Allentown, Pa.
Dear Linda,
I sure did goof! Sorry about that! ROBERT as "Alexander Mundy" is in reruns all summer and will return to your TV screen anew in the fall.
---
Loves Osmonds
Dear Miss Stavers,
I saw the OSMOND BROTHERS on The Andy Williams Show, and I fell in love with all of them! Can you tell me something about them?
Rachel Lyons
Raleigh, N.C.
Dear Rachel,
Here's a pic of the OSMONDS (left to right: MERRILL, ALAN, DANNY, JAY and WAYNE). They are real brothers and you can write to them at Barnaby Records, 1816 N. La Cienaga Blvd., Los Angeles, Calif. 90069. Their current single is Candy Dew.
---
Ga-ga for Gary
Dear Miss Stavers,
I'm wild for the BEARDSLEY FAMILY from Yours, Mine And Ours—especially GARY GOETZMAN, who played Greg. Where can I write to him?
Mary Newland
Ft. Worth, Tex.
Dear Mary,
You can write to GARY (and all the rest of the YM&O gang) in care of United Artists, 1041 No. Formosa, Los Angeles, Calif.
---
Digs Glen
Dear Miss Stavers,
I really dug GLEN CAMPBELL on The Summer Brothers Smothers Show, and I'd like to write to him.
Judy Hazelwood
Kingston, Tenn.
Dear Judy,
You can write to GLEN at Capitol Records, 1750 N. Vine, Hollywood, Calif.