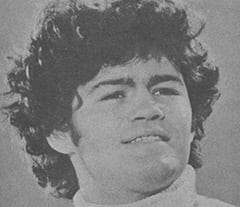 Dear Readers,
For this month's issue I've tried to fill Monkee Rumors with answers to all the great questions you've been asking. Sometimes this meant quite a bit of research, but we found the answers. Not all of the questions were rumors, but we want to keep you well informed on all the Monkees' lives and I can't think of a better way than right here.
Love, Ann Moses
Davy is always being linked with one girl or another, but still he has no steady. He and Sally Field are no longer dating, though.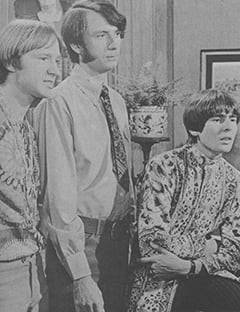 Q. What song did the Monkees sing at the end of the December 25, Christmas show? Micky sang the lead and was really great.
A. The song the Monkees sang so beautifully on their great Christmas show is a 15th Century Spanish chant or carol called "Riu Chiu." It was first recorded by the MFQ, whose one-time members Chip Douglas and Henry Diltz, brought it to the Monkees' attention. For the show the carol was arranged by Chip Douglas.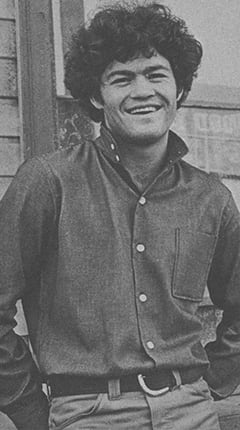 Q. Recently my friend and I saw a Monkee show and Davy Jones was wearing an earring. My friend said it was pierced. What is the truth about this?
A. The truth is, Davy's ears may have looked pierced, but it was only because the make-up man did a good job. Davy does not have pierced ears!
Q. I just saw the "Music Man" re-run on television and I could have sworn I saw Micky Dolenz. He looked like he was five or six years old. Am I sick?
A. You're not sick, you're just a Monkee nut and like the rest of us, you sometimes envision the Monkees in just about everything you see.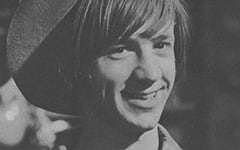 Q. Can you tell me what a moog synthesizer is? It's listed on the back of the Monkees' latest LP as one of the instruments used. I'm curious as to what it is.
A. A moog synthesizer is a completely electronic instrument or machine that can duplicate almost any sound imaginable. It's a very complex instrument and the sounds are determined by plugging in different wires (it looks something like a huge telephone switchboard) and playing the big keyboard.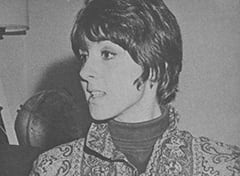 Q. I read that Davy was dating Dean Martin's daughter Gina. Is this true?
A. No, it's not true. Gina is only eight years old. Davy is dating Deana Martin who is 19 years old.
Q. I hate to say this but I heard in school that Davy Jones is going steady with you. Please tell me if this is true and how long have you been working with the Monkees?
A. No, it's not true. Davy and I are not going steady and I have never dated any of the Monkees, because we are all just good friends. I first met Micky Dolenz at the Screen Gems press party in September of 1966. I met Davy, Peter and Mike for the first time on the promotional train trip "The Last Train To Clarksville," the day before their series started on NBC-TV.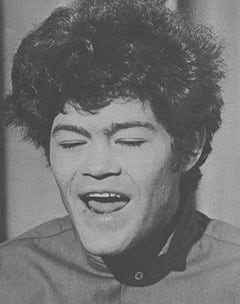 Q. Recently I read in Monkee Spectacular #10 something that puzzled me. It was a question in your Monkee Rumors column asking what Micky Dolenz' father's name was. Your answer stated that it was Dr. Robert Leroy Scott. Also, in the same book there was an article by Coco Dolenz. Could you please tell me what Micky's real name is and how his father's and his name happen to be different.
A. Micky's paternal father's name was George Michael Dolenz. Micky was named after his father. Micky's father passed away when Micky was in his teens and his mother later married Dr. Robert Scott, who is Micky's stepfather.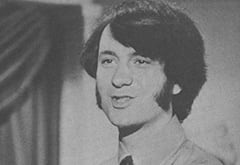 Q. I have several questions about Davy: 1. Did Davy record "It Ain't Me Babe" on his solo album before or after the Turtles recorded it? 2. Does Jennifer Baker have a black sapphire ring identical to Davy's? 3. How many cubes of sugar does Davy use in his tea?
A. 1. The Turtles recorded the Bob Dylan song, "It Ain't Me Babe," before Davy. 2. Jennifer Baker, who is a good friend of Davy's and lives in England, owns a ring similar, though not identical, to Davy's. The similarity is purely coincidence. 3. Davy uses one and a half teaspoons of sugar in his tea.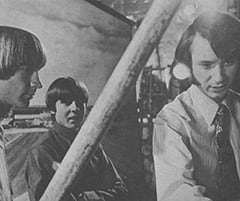 Q. Recently I was looking through some Monkee Spectaculars and I came to some pictures of Davy's dressing room. I noticed that in one picture he was writing with his left hand and in another with his right. Could you please tell me if he is left or right handed?
A. What probably happened is that one of the pictures you saw had been "flopped," which means the negative was printed backwards. Davy is right handed.