Huntington Beach, Calif.
---
In the February issue of FLIP you stated that Monkee Davy Jones is "probably the most popular personality in the world." You may be right if you are speaking of people under 14 years of age, but you're dead wrong otherwise. In early November of 1967 a sophisticated report was published listing the 10 most popular people in a world-wide study and there were no Monkees anywhere on the list. Now please stop insulting the intelligence of those over 14. Older people do buy FLIP, you know.
Cheryl Hoke
Dayton, Ohio
---
I can't believe that a magazine would print more on The Monkees than The Beatles or Stones. (I dare you to print this letter!!)
Mike Ward
San Diego, Calif.
---
Answer me just one little question. What have you got against The Dave Clark 5? You remember them, don't you? Ed Sullivan 13 times, 14 gold records! Well, I just wanted to let you know that they ARE still around. But to read your magazine, you sure wouldn't think so.
Kathy L.
Dearborn Heights, Mich.
Here's hoping that you'll flip over pages 10 and 11 in this issue!
---
Mark Lindsay is the most beautiful person alive. He deserves every good thing that happens to him. And me, like millions of other girls, know Mark Lindsay does not act superior to anyone. And if he did, he has a good right to! Davy Jones and the other Monkees are just too ugh and should be banned!
Mark Lindsay Lover
Springfield, Illinois
---
I am a fan of the fab Monkees. As a matter of fact, I have 61 different colored pictures of them on my wall and I have 245 other pictures collected. One night while sitting in my Monkee pic world I was listening to my Monkee music and decided to take a little poll for myself. I took four top magazines and counted the pictures of The Monkees and you know what?? Your magazine had 73 pictures of them and that is the reason I think you are the grooviest people on earth (except for The Monkees)!
B.J.C.
Five Points, Alabama
---
I recently read in a mag that Davy Jones has a girlfriend named Lynne Randell. I'd like very much to know whether this is true or not. Please tell me. (P.S.—I hate to bug you with the same old questions about The Monkees, but I've just got to know).
Monkee Lover
Tuskegee, Alabama
Lynne is just one of many girls Davy dates. Sally Field, "The Flying Nun," is another. Davy is not going steady with any one girl.
---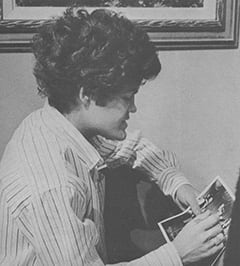 To Micky:
Roses are red,
Violets are gray,
I think you better
Get some Curl Free TODAY!!
Jane Teter
Streetsboro, Ohio
---
What are the new Monkees songs coming to? A few of the songs in the third album are pretty good but the rest in that album and all of the fourth album are absolutely terrible. Why can't The Monkees start singing good songs like they did in the first and second album? Now most of the songs don't even make sense and they repeat themselves too many times. I like a song that says something.
Analyn Meehan
El Cajon, Calif.
---
I read in a magazine that Micky is getting married to Samantha. Is it true?
Robin
Maplewood, Mo.
NO! That magazine is making headlines when there is no news! Micky has no intentions of marrying Samantha or anyone else in the near future.
---
Why doesn't Mike appear on the show as much as he used to? I like all four of The Monkees and I want to see them all on TV, instead of only three.
Dee Buck
Euless, Texas
Magazine: Flip
Published:
Publisher: Kahn Communications Corporation
Pages: 64–65