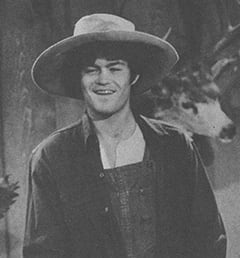 IF YOU WERE STUCK ON A DESERT ISLAND—What ten records would you like to have with you? We asked JAY NORTH that question, and here are the ten albums he'd most like to be marooned with:
"Louie Louie"—Kingsmen
"Headquarters"—Monkees
"Break On Through"—Doors
"Sgt. Pepper's Lonely Hearts Club Band"—Beatles
"December's Children"—Rolling Stones
"All Summer Long"—Beach Boys
"Reach Out"—Four Tops
"KRLA 21 Solid Rock"
"Al Hirt Dixieland Album"
"The Bee Gees"
SUPER SCOOPS—Yes, it's true, that girl who's been seen around Hollywood looking like SAMANTHA JUSTE is Sammy, visiting Hollywood and spending some time with her favorite Monkee, MICKY . . . Part of the money which was raised at last summer's Monterey Pop Festival was donated to a SAM COOKE Memorial Scholarship . . . KEITH RICHARD, of The Stones, recently visited Hollywood . . . THE BEATLES almost attended the funeral of OTIS REDDING, who died so suddenly and sadly in a small plane crash . . . Did you see "Dating Game" when JOE, JR. was on? . . . MARK LINDSAY now uses the same word Spanish bullfighters use to describe their pony tails . . . BUFFALO SPRINGFIELD are looking for new managers . . . HOLLIES may have some trouble getting back into this country . . . ERIC BURDON & THE ANIMALS had to return home because their visas expired . . . MONKEES TV rating have been getting stronger . . . MAMA CASS has discovered a group called "3's A Crowd"—which naturally has six members!
CHRISTMAS IN FEBRUARY—As you can see with the new address we've added to all our coupons and everything, FLIP has just moved to brand-new offices. You've made our move possible by making FLIP the fastest-growing teen magazine in the world! Our new offices are in the heart of New York City. We're only blocks away from all the TV networks and record companies, all of whom have their headquarters in New York, and we have much more room to work in. If you're ever in our part of the world, we'd be flipped to see you and say hello!
Anyhow, we moved just after Christmas, putting everything into boxes, throwing away lots of old things we kept just because we wanted to (not because we needed them) and otherwise getting organized. But we decided to save some of the Christmas cards we got from the stars for you.
Tell us why you'd like your favorite group or person's Christmas card, and you might win it. Monkees, Raiders, Association, Rascals, etc. Just send your card or letter to: Christmas in February, FLIP Magazine, 405 Park Avenue, New York, N.Y. 10022.
Good luck and Merry . . . Christmas . . . February!
LAST-MINUTE MADNESS—COWSILLS will have a TV series on the air in the 1969–70 seasan . . . How's that for thinking ahead? . . . MONKEES series now being seen all over the world . . . DICK CLARK still the most important teen TV genius in the world . . . His HAPPENING '68 and AMERICAN BANDSTAND shows make Saturday afternoons the most exciting afternoons of the week! . . . CAROL DECK, FLIP's Hollywood Editor, loved being on HAPPENING '68 and thanks for your letters after her appearance on the show!
Speaking of TV, we'll be back at the same time, same groovy station, next month! F-L-I-P! March 12th! Thanks for listening!