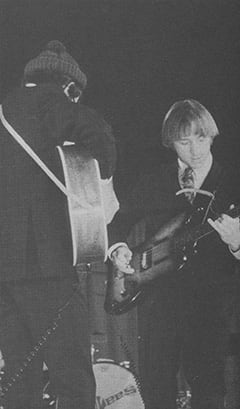 If you're ever in Hollywood, be sure to hang around RCA recording studios!
Thanks to my many sterling qualities, namely sneakiness, I spent some time at RCA this month (casually disguised as a Christmas candle). First I lit up a Monkee session:
Enter Micky (the plot thickens). "Hi Trace. What's that flame on top of your head? I mean, besides your gorgeous flaming red hair?"
"Mick, ole buddy o' mine, I am casually disguised as a Christmas candle, ho, ho, ho."
"Oh, I see. In that case I'd best tell you straight off that I'm building a gyroscope in my basement, which is turning out to be huge. The thing is so huge that in order to get it outside for the test flight, I'll probably have to take it apart!"
Enter Peter. "Why Trace, my fave-rave girl reporter, what on earth is that flame doing on your head?"
"Petey, my precious, I am casually disguised as a Christmas candle, ho, ho, ho."
"Hmmm, yes, I should have known. Well, then I'd best tell you straight off that I have just heard from my good pal David Crosby, formerly of the Byrds, who has purchased a 52-foot sailboat and is currently off the Florida coast. He plans to sail it round the Gulf during the spring and then head for Tahiti this summer. Ah, would that I could accompany him, but my first duty (and my first love) is my work, my music, my fans. I love them all, each and every one."
Enter Davy and Mike. "Why Trace, there appears to be a flame on top of your lovely red-haired head," exclaims Mike, while Davy, never at a loss for words, rushes out the door, grabs a fire extinguisher and rushes back in, only to be stopped by the rest of us shouting, "I am (She is) casually disguised as a Christmas candle, ho, ho, ho!"
By this time Chip Douglas, their producer, had come in with a business air about him and as the Monks get jealous when I drool over Chipper, I bade them all a fond farewell and strolled across the hall toward studio B to find the AIRPLANE.
The Airplane are very clever and always on the watch for sneaky little people like me, so my disguise had to be good. I sat down on an amplifier and thought. Jorma, the JA lead guitarist, sat down next to me.
"Hey, Trace, what's the hang-up?"
"Jorma, friend of my youth, delight of my middle teens, comfort of my early adulthood, I'm trying to think of a clever way to get into the Airplane session without the 'Planes discovering me, so that I can pick up bits of newsy-news for my mini-readers."
"Ah, it will be tricky, you know, the 'Planes are very sharp. Perhaps you'd fit into my guitar case. That way, you'd be right by my side as I tell the gang about my new Morgan and my lovely, former-model bride Margaretta, who is a redhead like you."
"An excellent plan. If only I could fit into your guitar case!"
"Hmm, yes, well." he said.
No sooner had he gotten up to leave when Marty appeared at my side. Noticing my forlorn look, he inquired, "Oh dear, what can the matter be?"
"Oh Marty, I want to outwit the clever Airplane and learn news of their goings-on without being caught."
"Oh, they're a clever bunch," said Marty. "Maybe you could go in Jorma's guitar case."
I could tell that I was getting nowhere, least of all into the Airplane session, so I left RCA, stopping along the way to chat with Grace about her new Indian and African clothes, with Spencer about his new short haircut, with Paul about his new position as lead songwriter with the group, and with Jack about his beauty, making sure that each one was put to work trying to think of a way for me to get into the Airplane session—they're a clever bunch, I said to myself.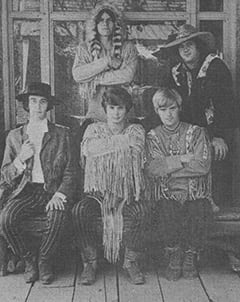 My mind at ease, I pulled my hat down over my eyes and headed out for them Western skies: Ledbetter's, the folk nitery owned by Randy Sparks of New Christy Minstrels fame. And what better group to see in the West than the Lewis and Clarke Expedition (Roy Rogers was booked up). They were having a press pow-wow, so I dressed in news-blue and settled back to be entertained by the raucous sound of L&C. They not only knocked out the news media, but a Monkee or two, as their patron saint, Mike, came by to smoke the old peace pipe, and, promoting Anglo-Western relations, Davy arrived as well (or better).
NOTE TO NEILER: Did you see her in the river? She was there to wave to you.
NOTE TO STEVIE: There's a woman that you ought to know.
NOTE TO KEITH: Take care of Derek et famile.
NOTE TO JESSE, JERRY, BANANA, AND JOE (known affectionately as the Youngbloods): Welcome to the West!
Well, when we last left the Buffalo Springfield, all five originals were back together, four of them living in Malibu. Well, cancel Neilie's living out there with Stevie, Brucie and Dewey. He changed his name to Neiler and moved back to his palatial canyon cabin (just over the hill from us, heh, heh). And then he celebrated his 22nd birthday by playing with the boys in the band at the Shrine in LA, a most fantastic set, followed by an exclusive, by-invitation-only-champagne-buffet-birthday party.
CORRECTION FROM THE JANUARY ISSUE: I asked the typesetter what "musical take-outs" are and he said, "It's when you call up the Buffalo house and order a musician to go."
On the bill with the Buff was a new SF group called the Blue Cheer, another bunch of Clancy's old friends. There's only three and if you like loud, rowdy, rock and roll, and if you like boys' hair pretty freaky, then let's hear a Cheer.
I just got a phone call. From Paul Kantner. "Hi, Trace. Hey I thought of a way you can get into the Airplane's next session."
"Well thanks Paulie, but is it really, really clever and sneaky?"
"Yes, I made it a very cunning plan, as the 'Plane is a clever group."
"Well, then?"
"I thought you could crawl into Jorma's guitar case and then you would be right by his side when he…"
That's it till next month, when I'll be broadcasting direct from Jorma's guitar case.