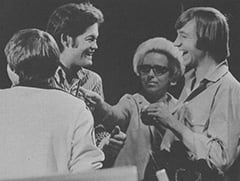 "I could have danced all night…".
Wow, I have just returned home from the fabbest party ever (until my wedding reception). You see, Genie the Tailor was going to Europe for a month and she threw a party so that everyone could come at once and say goodbye to her. Her invitation read, "Come and see your fave star," so I did and did he look beautiful! Miss Genie the Tailor had made Peter a red velvet jacket and a white lacy shirt and gorgeous black bellbottoms and it was all I could do to restrain myself.
No sooner had I swallowed my pride and dimmed the leer in my bulging eyes, when Micky strolled by, hair curlier and cuter than ever, saying, "Wow, after all these years of hating my curly hair, I really dig it now." So do I. He spent most of the evening discussing philosophy with anyone who looked like they could pronounce "cosmic reality" and "quasi-existentialism."
And then, as if two Monkees weren't enough for one party, Davy came as well. While Micky and Pete were in the back room singing along with John, Paul, George and Ringo, who were there on record, Davy played basketball on Genie's tiny court outside.
After a few minutes of watching the three and talking to them, I just couldn't take it. It had been a long time since I had seen them—nostalgia overcame me. I went into the front room and there, lo and behold, was my fave favorite star. Blond hair streaming down to his broad, strong shoulders, baby blues smoldering behind his dark glasses, sultry lips pouting, throaty voice turning everyone on was JEFFERSON AIRPLANE Jack Casady with Norma, Paul and Osley's girlfriend. I went back to Davy.
On my way to the room where Sgt. Pepper was grooving, I stumbled onto the basketball court and got hit on the head by a toss from Merry-Go-Rounder Joe Larson to MGR-er Gary Kato. Joe picked me up off the cement (feet first), so I fixed him a chocolate almond Coke float.
Speaking of the Buffalo Springfield, you should know by now that Neil is back with the group. As a matter of fact, by the time you will read this, he will have been back with the group for oh, say, about four months. His explanation? "I only did it to foul you up, Trace. I knew that if I worked it right, I could make your column inaccurate for four months running." Well, it worked, Neil, she said, still scraping the mud off her face.
Accurate or not, I'm still a Grade A Buffalo fan, Badge number two (I try harder) and flipped out like everyone else when Neil came back and when we saw, for the first time since last December, the entire original Buffalo at the Cheetah. Their new album could be out now—I won't guarantee it 'cause who knows what tricks they have up their Gibsons.
In answer to the many letters I've received about the Buff, Neil does really think he's an Indian. He always wears leather and suede and fringe and beads and greets everyone with a warm, welcoming "How?" He's moved into the Buffalo house at Malibu where Stevie, Dewey and Brucie have been living (He's changed his name to Neilie) and where their [sic] are musical take-outs with people like Peter Tork and Mike Bloomfield. I am currently trying to wangle an invite to the next one, just so that I can tell you all about it.
NOTE TO NEIL: Your flower is ready.
NOTE TO STEVIE: I've ordered the invitations. Now…
NOTE TO DORF: It's good. And we all know it. The Beatles know it. The Byrds know it. Scott McKenzie knows it. And we're glad. That you're glad. And that's good.
As I know, you have been carefully memorizing every golden word of my column since its humble beginnings, you will remember that I have mentioned Penny Nichols and Jackson Browne, saying that they are fab. Well, just to keep you up-to-date, some of Jackson's songs are on the new Nitty Gritty Dirt Band album (I don't mention how groovy he looks until later), and Penny is recording an album for Buddah Records, a new subsidiary of Kama Sutra. So keep your ears and eyes and hands out for these elpees and keep some love in your heart for P & J. And of course, your ol' pal,
TRACY