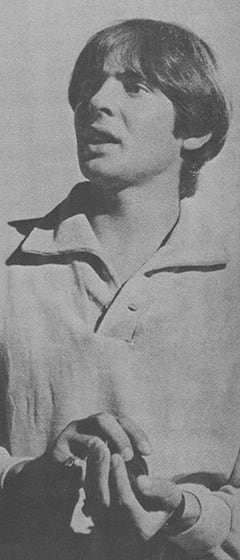 This column is dedicated to Eddie Brigati, the Fillmore Auditorium and road managers everywhere.
Greetings from Sick Bay City! That's right, all the cold and flu germs in Southern California attacked me one night and won. My first thought was, "Oh no, how can I get newsy news for my mini-readers if I am sick in bed and unable to go out in the world?" Clancy patted me on the shoulder and gave me another cup of chicken soup. Good old Clance, I thought, always there with & cheery word or two.
I resigned myself to my fate and answered the telephone. "Hello?"
"Hello, Sir. This is David Jones. Is Miss The Groovey Girl in?"
"Davy, it's me!"
"Oh, sorry luv. What happened to your voice?"
I went into a long list of my infirmities and when I was through, Davy said, "Well, when you're back on your feet again, you'll have to come out and visit me at my new ranch."
"Your new what?!"
"My new ranch. It is in Malibu Canyon and there's acres and acres of land for riding horses and a pool or two and a big house with lots of room for everyone. And there's a huge fireplace in the living room, where we can all sit around and drink hot chocolate and roast marshmallows…"
"Davy, I feel better already!"
"Outtasite! Dig ya later!"
A few minutes and a bowl of chicken soup later, the mail arrived with a card bearing the inimitable handwriting of Mark Lindsay. "Trace," it read, "I heard you were under the weather, so I thought I'd send my condolences, as Micky wasn't available. Paul and I are working day and night on our television show, "Happening '68" Don't forget to watch it!" Not & chance, Mark, I said to myself, turning on the TV.
I sent Clancy out as my replacement to all the concerts and openings. Herewith follows his report: Procol Harum at the Whiskee a Go Go—outasite; Buffalo Springfield at the Santa Monica Civic—OUTASITE; Big Brother and the Holding Company at the Whiskee—groovy; Judy Collins and Phil Ochs at the Santa Monica Civic—GROOVY!
NOTE TO CHAS BEAL INSTEAD OF NEIL:
NOTE TO STEVIE: When the dream came…
The Hollies came into town and I watched them on all the local TV shows. Their appearance on the Joey Bishop was the best, I thought. Actor Ross Martin was on the program, too, discussing his favorite charity, CARRIE. Well, the Hollies couldn't resist a name like that, after their big hit "Carrie Ann," so they donated their earnings that night to the cause.
Remember Smokey Mims, the little frizzy-haired songwriter from New York that I told you about last year? (No, not Bob Dylan!) Well, he and his sister are back in action recording this month in the Big City. Claudine Longet, Andy Williams' wife has recorded one of Smokey's tunes, "Creators of Rain," which was number one in Hawaii last year.
In my groups to watch section, keep your baby blues ready to look at the Styx, a Canadian quartet from Toronto, whom Clance befriended. At this writing, they're not signed to a recording contract, but you'll be hearing from them soon. Like tomorrow.
And from me as well, your lovable old TRACE.
PS: I didn't die after all.