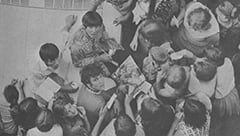 DID THEY LIVE UP TO 'EM?—Here are the New Year's resolutions which THE MONKEES made in FLIP exactly a year ago. "I will not make any more stupid New Year's resolutions."—MICKY. "I will wash my hat whether it needs it or not."—MIKE. "I will faithfully resolve (or have I already?) to be a better musician and less of a loudmouth."—PETER. "I'll save my money if I have it or not. I'll take two showers a day instead of one."—DAVY.
MARK LINDSAY'S DOODLES—Last month, MARK drew some doodles which CAROL DECK, our Hollywood Editor, cheerfully analyzed. This month, that precious sheet of doodles can be yours! Just tell us why you'd like it, and you may become the winner of this mini-contest! Mark will personally inscribe the doodles to the winner, and mail them directly to you! Send your letter to: Doodles, On The FLIP Side, 1010 Third Avenue, New York, N.Y. 10021.
SUPER SCAM—Christian Duval Nesmith should have a brother or sister before Christmas, but MIKE and PHYLLIS haven't come up with any names yet . . . The most exciting store in New York is ZILCH, the Greenwich Village emporium which DAVY JONES opened . . . He and PETER flew into New York to open the store . . . If you need an Indian robe, ZILCH is the place to get it . . . Hare Krishna . . . DICK CLARK decided not to buy that West Coast teen newspaper, after all . . . GROOVE-OUT! . . . Remember that name! . . . PAUL REVERE is trying to catch up with MIKE NESMITH, who owns seven cars . . . With his brand-new Rolls (exclusive pics on page 11!), Paul now has three cars . . . Paul, by the way, considers New York the absolutely worst city in the country to live in, followed by Pittsburgh . . . But he's fair about his dislikes because his third most-disliked city is Los Angeles, where he currently lives! . . . THE BEATLES are now all vegetarians, except for RINGO, who still eats meat . . . As we were going to press, THE BEE GEES still weren't sure whether they were going to be allowed to remain in England . . . THE MAMAS & THE PAPAS may be away even longer than they expected . . . What was that name to remember? . . . GROOVE-OUT! . . . The happening thing! . . . DINO, DESI & BILLY just signed to do singing commercials for a large soft-drink company . . . Fans looking for JAY NORTH and SAJID KHAN surprised not to find 'em in Hollywood . . . "MAYA" is actually shot in India! . . . By the way, SAJID KHAN and FLIP's own STEVE KAHN aren't related . . . FLIP's groovy Art Director, MARTY HARRISON, who managed to get his birthday on our October Birthday Calendar, wants to thank all those groovy FLIPers who noticed and sent him Birthday cards . . . DAVY JONES has been seeing a little bit of SALLY FIELD.
GROOVE-OUT!—GIANT COLOR POSTER MAGAZINE! ORIGINAL! OUTASITE! COMING! JANUARY 30TH!
SPEC SCOOPS—Want to meet MARK LINDSAY somewhere at 2 o'clock? Better tell him to be there at 1. But that probably wouldn't help, either. "He'd show up at 2:30," says PAUL. "Mark is always late." . . . JEFFERSON AIRPLANE finally finished their third album . . . PROCOL HARUM now recording for HERB ALPERT'S A&M Records . . . A group to watch: GROUP THERAPY . . . A girl to watch: SUSAN MORSE . . . A guy to watch: NILLSON . . . JOE, JR. got very homesick during THE RAIDERS' recent stay in Hollywood, and was anxious to either go home or go on the road . . . More happenings next month . . . FLIP on sale January 9th!