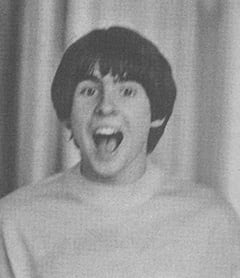 SCOOPS AS WE WERE GOING TO PRESS—The decision by THE MAMAS & PAPAS to take at least a year off was kind of unexpected. All sorts of plans for the next couple of months had already been scheduled when DENNY, CASS, JOHN and MICHELLE made their surprise announcement. Joining them at their island hideaway will be their manager, LOU ADLER, SCOTT MCKENZIE, and maybe some other close friends . . . Turns out that FLIP was the last magazine to take pics of them as a group . . . They made their decision right after FLIP'S CAROL DECK and BOB YOUNG visited JOHN and MICHELLE at home . . . SALLY FIELD is taking her new recording career seriously . . . Look for her first album . . . THE BEATLES are planning to make a couple of TV specs . . . First one will probably be released for American TV next spring . . . THE MONKEES are scheduling between 30 and 50 concerts for next year, but probably won't have as intensive a summer tour as this year because, at the end of it, MIKE, DAVY, PETER and MICKY were wiped out!
STAR SCAM—PETER NOONE has put on about 35 pounds . . . For the first time ever, someone called HERMAN "chunky" . . . RAIDER JOE, JR. is a jazz buff, and loves to swing out with that unpredictable style of music . . . While recording in Hollywood, JEFFERSON AIRPLANE are staying in the same house THE BEATLES used when they visited Los Angeles . . . MAMA CASS is OK again after a nasty fight with pneumonia . . . MICKY and SAMANTHA have cooled it somewhat . . . THE YOUNGBLOODS have moved from New York to San Francisco . . . MARK LINDSAY's a fan of fishnet stocking on girls . . . "They keep out the flies," he says . . . THE MAMAS and PAPAS are having a very personal feud with a teen magazine . . . It started because of politics, and hasn't stopped yet!
ROLLS-ROYCE RAVE—It started with RINGO STARR. He bought the Rolls-Royce, the world's most expensive and exclusive car, a couple of years ago. Then he sold it to LOU ADLER, the man who discovered THE MAMAS & PAPAS. Lou then sold it to BEACH BOY BRIAN WILSON, who only wanted it temporarily (until his own custom made burgundy Rolls-Royce arrived). Now that it's arrived, Brian is looking to sell the older Rolls. And, at last word, NEIL DIAMOND was thinking of buying it. Now . . . that's a car with an outasite history!
AIRPLANE ACTION—JA taking more time with their third album than with first two albums combined! They'll probably call it "After Bathing at Baxter's"—if they ever finish it. AIRPLANE also had a tough time with Hollywood Bowl officials during their appearance at the famous stadium. Marty invited the audience on stage to dance, but the officials were scared that the stage (which is partly on top of a pond) would collapse. So they stopped the show early. But it was still quite a show! Surrounding the Airplane on stage were a weather vane, cigar store Indian, stuffed seal, globe, rocking horse, large hour glass and a cat with a strange head!
MONKEES AND MORE—See you next month for all the outasite action right here!