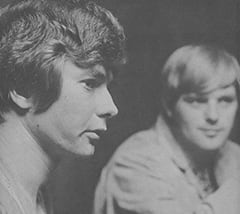 MEET THE LEWIS & CLARKE EXPEDITION!
My full name is Owens Boomer Castleman and I'm 20 years old. I was born in 1947 in Westwood, Calif.
I moved to Texas when I was two months old—my feet got itchy. I lived in Midland, Texas until I was six, with my family—didn't have an apartment by myself yet.
Then I moved to Dallas, Texas and became interested in music when I joined a choir there. I was a soprano in that choir, which I was in for some nine years.
Then I went to Woodbury Forest School, where I took up ukulele, played ukulele for two weeks and then graduated to guitar.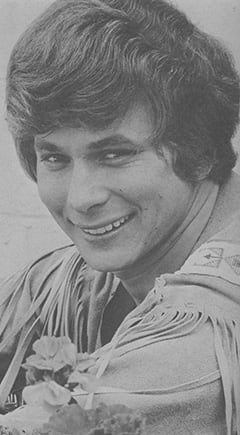 I also joined the Woodbury Forest mens choir and was a member of that for three years, so I've been singing in choirs for 12 years I guess.
When I was 18, Travis and I formed a group there, when I was on vacation from Woodbury Forest. We formed a group called the Lost River Trio during the folk craze. That was very fleeting.
Then I came to California at the end of the folk thing and joined a Randy Sparks group and played at a Latin American folk club called Ledbetters.
Travis and I were in a group called the New Society and then the Survivors. We didn't survive, so we branched off and started writing country material.
I was attending Occidental College with my major in diplomacy, but that didn't work out so I left and Travis and I wrote more country music and signed with Colgems Records the summer of '66, just before the Monkees had their first release.
We did the Nashville scene and then decided to have a more popular oriented show, so we acquired the other three members of the group and that's what we've been working on ever since.