HERE WE COME! WITH OUR LIFE STORIES!
STARTING IN THIS ISSUE! FLIP'S EXCLUSIVE LIFE STORIES OF THE LEWIS & CLARKE EXPEDITION!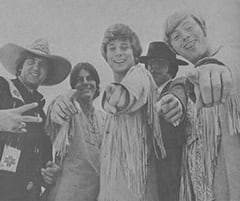 I don't like to tell my real name, so if you don't mind I'll just say that my name is Travis Lewis, if you won't think that's too phony.
I've been called Travis for quite a while now. We were once called Boomer and Travis, before we became the Lewis and Clark Expedition.
I got my name from a friend of mine who's a great guitar player. At the time I had a very Irish-Catholic name that I didn't like at all, so I figured if parents can give children their names then children should be able to change their names so I changed mint [sic] to Travis and then Travis Lewis.
I was born in Dallas, Texas and I'm 20 years old. I had a fairly normal childhood. I didn't start playing the guitar until I was 16 years old.
Until then I had really no interest in music except my father banged around on the ukele a little bit, like it seems all fathers do.
I went to a place called Adamson High School in Dallas where you can sneak in and find my legal name if you really want to.
I was a pretty good student there, participated in a lot of sports. At the time I wasn't really interested in professional entertainment at all.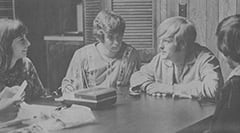 Then I got a hold of a guitar my grandfather gave me and it was all over. I started playing and I liked folk music and then I met up with Boomer and he taught me to play the guitar right.
We used to pick a lot. We hung around a little place in Dallas called the Rubiyat. That was the time when beatnik place and we played there even though we weren't really beatniks, we were just kids. But it was a non-alcoholic place so everything was OK with our moms and dads.
In the summer of 1965 I came out here to California just to visit and see what it was like, 'cause Texas was a little too hot, and I really dug it.
I went to UCLA and I really dug that and wanted to go there. I'd been going to a place called North Texas State University which was a slightly sheltered place to say the least. There were a lot of courses I wanted to take that I couldn't get there so I transferred to UCLA and that's where I met Ken Bloom, our instrumentalist, and everything's been just beautiful ever since.