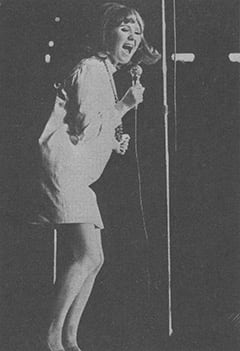 As you discovered with "To Sir, With Love," LULU is quite an entertainer. Although new in America, British teens have flipped for her for a couple of years. She can sing, dance and act—and entertaining is her whole life.
When The Monkees did three shows in Britain's Wembley Stadium, LULU was on the show with them. She saw a good deal of Davy, and she got to know Peter, Mike and Micky, too. In London, FLIP's Keith Altham talked to LULU about The Monkees…
"Davy is not exactly my idea of an 'instant Monkee' said Lulu. "He has a background of acting and stage appearances behind him which stand him in good stead on stage. I like to see someone who has taken the trouble to think about his act and does not consider that just by standing there in front of a microphone he is doing enough for the fans.
"To be quite honest I had a preconceived notion that Davy might be a bit big-time and sure of himself because of his professional attitude. I was wrong. When I got talking to him as Wembley I soon realized that he is overwhelmed by it all and just a little bewildered and before he went out to face the audience on the second night with all his relations down from Manchester to see him, he was as nervous as a kitten.
"He introduced me to his siter [sic] on that evening and we spent some time talking together about him. The family is immensely proud of him and the way he helps his father. He obviously has a very deep attachment to his family."
Of all the Monkees, Lulu nominates Peter as the most instantly likeable although their first shopping outing down London's Kings Road with Micky Dolenz and Sammy Juste proved something of a disaster.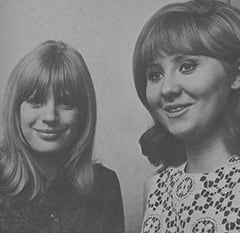 "Peter can get incredibly wound up about a subject," said. Lulu, "And suddenly right in the middle of our shopping spree he got involved in an argument with Micky about fate and whether our lives are all mapped out for us. Fortunately, it was not too serious and a clash of opinions like this is soon over.
"Peter is one of those people who have a natural gift for helping keep the conversation going—Mike, for example, does not and if he is in an untalkative mood you won't shift him.
Lulu found Mike a difficult person to understand and said so.
"Mike is a lot more deep than you realize—there's a little piece of himself which he is keeping to himself and no one is going to get a look at. He was always polite and very much the Southern gentleman and he has a wicked dry sense of humor but you don't very often get past the door marked 'Private,' in his mind."
Mickey [sic] was the comedian in the group as far as Lulu is concerned.
"Micky is really lovely," said Lulu, "He's a marvellous ham at times and just clowns around the whole day. To watch him handle the press is a treat—he turns an embarrassing question with a good humored crack and immediately gets the reporters on his side."