Greensboro, N.C.
At the Oaks Motel in her hometown, FPC-er Sally grabbed this exclusive close-up of Monkee Micky signing autographs!
By Mary Underwood
Jackson, Mississippi
Mary spotted Herman outside his room at the Sheraton Hotel in Jackson, and quickly snapped this prize-winning pic!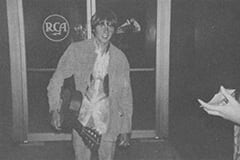 By Sherry Kaltschnee
La Crescenta, Calif.
Sally took this candid of Davy when she luckily ran into him as he was leaving the RCA Victor recording studios. "He stopped and posed for me," Sherry reports, "and talked to the few of us fans who were there for about 20 minutes. He's really groovy!"
By Susan Cavalieri
Framingham, Mass.
Backstage at the Carousel Theatre, Susan took this interesting pic of Simon and Garfunkel.
It's easy to join the FPC!

Permalink
All you've got to do is have a lively interest in meeting pop people! If you do, then just send us the application with one dollar and you'll be "in!" You'll get your "AUTHORIZED PRESS IDENTIFICATION" Card plus your SECRET FPC CODE and the opportunity to participate in a year-round series of For-Members-Only activities!
SEND TO: FPC MEMBERSHIP, FLIP MAGAZINE, 1010 THIRD AVENUE, NEW YORK, N.Y. 10021
Magazine: Flip
Published:
Publisher: Kahn Communications Corporation
Page: 60