Dallas, Texas
Mike Smith wants Layne! That's the way it looks as the lead singer of The DC 5 looks Layne's camera right in the eye!
By Cher Arango
Glendora, N.J.
As The Turtles wandered in Willow Grove, Pa., Cher stopped Mark Volman and Jim Pons long enough for this candid photo!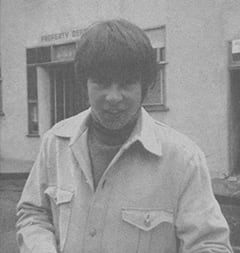 By Nanci Northrop
San Diego, Calif.
How lucky can a girl get? As lucky as FPCer Nanci meeting Davy Jones, and snapping this prized and prize-winning pic!
It's easy to join the FPC!
All you've got to do is have a lively interest in meeting pop people! If you do, then just send us the application with one dollar and you'll be "in!" You'll get your "AUTHORIZED PRESS IDENTIFICATION" Card plus your SECRET FPC CODE and the opportunity to participate in a year-round series of For-Members-Only activities!
SEND TO: FPC MEMBERSHIP, FLIP MAGAZINE, 1010 THIRD AVENUE, NEW YORK, N.Y. 10021
Magazine: Flip
Published:
Publisher: Kahn Communications Corporation
Page: 60