Would you believe? Fried carrots and onions and baked potatoes supplied the menu at a super-groovy party at Genie the Tailor's semi-mansion! Seen beating out rhythms to "Sgt. Pepper's Lonely Hearts Club Band" or munching potato chips and chattering were Craig Smith of the Penny Arkade, Drake Levin, Jeremy Clyde, Chip Douglas, Ann Moses, Jefferson Airplane and your three rave faves Davy, Micky and Peter.
Almost everyone was dressed in East Indian clothes that are so popular. Peter tried on a beautiful red velvet coat that Genie had made for him and everyone was talking about it all evening.
It was the first time I'd seen Micky's wild, new hair style up close and, you know? It's really outasite! All evening I could hear the strains of Genie's elf-like voice above the roar, "Anyone want a banana split? Please! I've got seventeen gallons of ice cream here!"
Watching the Monkees film their show is totally outasite! Sure, the guys work hard, but there's never a dull moment because their funny remarks and frantic antics give the stage crew a laugh a second!
When a scene is filmed, it's usually done several times before it comes out just right. With the Monkees, each time is different because Davy, Micky, Mike and Peter throw in their own ad-libs instead of sticking to the script. That's why we love the show—'cause it's spontaneous.
The fab four spent much of the day in pajamas for a part of their show. Peter's were orange and like a bunny-suit and Davy's were black with huge pink and orange polka-dots. I've seen some groovy Monkee garb, but that had to win the prize!
After a hard morning's shooting, everyone adjourned for lunch. Micky, Coco (who drove down from Los Gatos to visit for a few days), Ric Klein and his wife Frew, David Pearl and I hopped over to the Copper Skillet for burgers and fries, which grew cold on the platter because Micky and Coco kept breaking us up with their jokes and gags!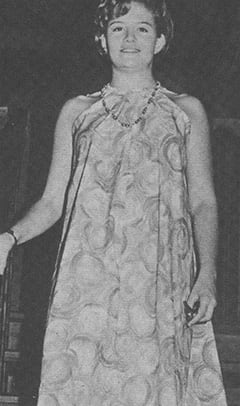 Coco, who always wears outasite outfits, had on a beautiful yellow shift and love beads, of course. The whole Monkee-clan wears love beads anyplace, anytime—often several strands of colors at once.
When we got back to the set, there was Peter in a flowered print East Indian-style shirt, a Love pendant around his neck, and moccasins that came up to his knees. Super-groovy!
And what do the Monkees do between takes? Micky thumbs through piles of color pics he took on tour. Davy plays gymnast on the Roman rings hanging from one of the sets, and blows bubbles! Peter, a la Sherlock Holmes, gazes at visitors through his twelve-inch magic magnifying glass. Mike? I don't know. He just takes his wool hat and disappears!
I got to meet the Monkees' groovy English chauffeur-turned-road-manager, Brendan Cahill, and we talked for awhile. His English accent really turns me on!
Exciting things are happening with Angela Cartwright. First, a lifelong dream came true when she recently got a set of drums! She's always wanted to play them, so finally Mike Zide, a friend of her sister, Veronica, loaned her his set. She's been flailing away but, says Angie, her neighbors don't much groove her new hobby.
To make good things even better—Angie was on "Dating Game" and she and her date, Joe Landon, a student at the University of California, flew to Buenos Aires, Argentina, for three fantastic days of sightseeing.
Mike Nesmith, the Monkee who makes dreams come true, is taking flying lessons! He's spending most of his free moments at pilot's school at a San Fernando Valley airport. By the time you read this, he should just about have his solo license. Then he can fly his own plane to Colorado, where he's looking for a weekend ranch to buy. Leave it to Mike to set up such great fun times for his family.
Jay North's been home catching up on his football-viewing and Mexican food-eating. Says Jay, Indian food is like Mexican food in some ways but there's just nothing to compare with real tacos, enchiladas and burritos. And it's hard to find any place where these goodies are better made than in Los Angeles, which was part of Mexico a long time before it became part of the U.S.
Herman's Hermits and The Who played a Southern California concert and some very exciting things happened that most fans weren't even aware of. The very most was that Davy Jones and Peter Tork sat practically in front of the bandstand. They were perfectly visible, but since none of the fans expected them to be there no one recognized them!
Rodney Bingenheimer got mobbed as he tried to leave the auditorium. Fans gave him all sorts of stuffed animals which he carefully took home to decorate his apartment in Hollywood! A few nights later, Rodney, our man about town, showed up at Micky Dolenz' party. Other guests included The Cream, the Buffalo Springfield and The Who.
I was supposed to studio interview Tommy Boyce and Bobby Hart. Instead, they called and asked if I'd like to spend the day at Griffith Park. What they didn't tell me was that it was a picnic with all the recording artists from A&M Records!
So, I munched chicken, fruit, cheese and a lot of other groovy things with Herb Alpert and the Tijuana Brass, the Merry-Go-Round, Claudine Longet, Liza Minnelli, the Sandpipers . . . and more! After everyone had eaten, we rode the merry-go-round.
The Monkees are busy recording and, as always, there are scads of people at the sessions, mostly long-time Monkee friends, including Chip Douglas, their producer, Marcia Strassman, Davy's friend from way, way back, and Airplane member Jack Cassidy.
DOTS AND DASHES . . . Davy's dressing-room bulletin board has the word "LOVE" on it in big thumbtacks and his house is almost wall-papered in psychedelic posters . . . Peter has just bought a new black 4-door Mercedes, so Hollywood fans, start watching! . . . Davy has a new dog named Suzie. She's part Basset Hound, part Chihuahua and part Iranian Pliki Pooch! Aw, c'mon, you've got to be kidding! . . . What member of a famous English duo had his ears "pinned back" by plastic surgery?
FLASH! Just as this goes to press, Tina Mason's marriage was announced. The former "Action" dancer is now Mrs. Phil Volk! Lucky Tina!