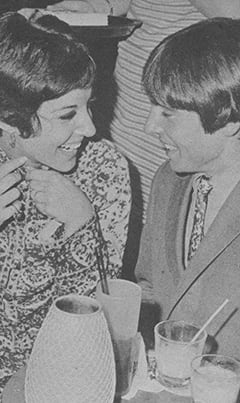 Deana Martin can make it on her own and big! Sure proof of that is her new group, "The Chromium-Plated Streamline Baby," which opened with some totally outasite sounds at the Whiskee-A-Go-Go recently. Dressed in a super-gorgeous East Indian-type gold pants suit, she was the talk of the evening. The group played all types of music, from their own special brand to such faves as "Sgt. Pepper." Brother Dino threw a blast to help celebrate, and long-time friend Davy Jones was among the guests dancing up a storm onstage.
The Cowsills are catching the music world on fire! This newest and freshest of music groups today includes not only four groovy brothers, Bill, Bob, Barry and John, but also Mom Barbara and eight-year-old sister Susie. Bill calls their kind of music "Popocrat", meaning "follower of pop." They know more than five hundred songs and have written over sixty themselves.
Seen at a press banquet for the Cowsill clan at the super-swanky Century Plaza Hotel in Beverly Hills were such faves as Mike Nesmith, Jay North, Sajid Khan and the Standells. When the group performed for the several hundred press people that P.M., there was no doubt in anyone's mind—the Cowsills have that special combination of sincerity and talent that'll fly them to the top!
To celebrate the unveiling of their first album, the Lewis and Clarke Expedition opened the doors of Hollywood's coffeehouse-type folk club Ledbetter's to their friends and staged their fantastic act. As a spur-of-the-moment surprise for the evening, I got to take rave fave Sajid Khan along as guest! Other Expedition friends there were Mike and Phyllis and Davy Jones.
Speaking of Sajid (let's do, by all means!), can you imagine spending a day at the beach with him and his U.S. "family"? Too much! He had to try out the waves and give surfing a go, so he spent much of the afternoon on (and off) his surfboard. For his first time riding the waves, he's very good!
Sajid naturally attracts children, so there was always a trail of them behind him wherever he went. But he was never too busy to sign an autograph or romp in the sand with them. When we stopped for lunch at the Malibu Inn, the first things he ordered were two hot dogs and chocolate milk. It seems that's about all he eats over here—he can't get enough of those American specialties!
All sorts of crazy happenings took place on the Monkees set my last visit. Part of the day was spent at the Columbia Ranch. One scene called for the guys to ride motorbikes. Mike is considered to be the best of the bike-riders, but they're all pretty close to expert.
"Lightning" Jones got a little carried away though. As Davy got to the end of the road where he was supposed to stop, he spun around by mistake. Whoosh—and Mike was covered with mud from top to boot tip! What could he do but stand there and shrug his shoulders?
Anything that moves, Davy will ride—especially if it's got four hooves and a mane! While filming a western segment, he disappeared between takes and no one could find him for about twenty minutes. Finally he came galloping up on his trusty steed, after having had a breezy run around the lot.
Davy pulled all sorts of stunts on his horse for the filming, from riding backwards in the saddle to mounting from the back and flying right over the horse's head into a bale of hay. Only an expert horseman like Davy could get away with such tricks and come out all in one piece!
Groovy dress for the day included Peter in his blue flowered shirt and fave boot-type moccasins with love buttons pinned to them. He even wandered around with an Indian headband with a feather stuck in it! Davy had on a beige high-collared coat that came almost to his knees and flared pants to match.
Micky was in a tan leather coat with fringe hanging from the sleeves and everywhere! Even in his western garb, Micky's most at home in his white sneakers. Although the Monkees probably have more fab outfits than anyone, there are always a few favorites that they feel most comfortable in so they wear these whenever they get the chance.
Peter never seems to stop making music, whether it's singing "Pleasant Valley Sunday" at the top of his lungs, plucking the guitar on the ranch lawn, or strumming the banjo while the whole crew stands around hand-clapping and toe-tapping.
Sometimes it's hard to tell what Peter's up to. Like during a scene rehearsal, all of a sudden, he said "Wait a minute," stepped to one side, did a whole Karate bit with the jumps and yells, then calmly stepped back into character before anyone knew what hit! Things may have been getting a little tense and he thought it needed livening up a bit. Well, whatever, I'm sure you have your reasons, Peter!
A guest that day was Sally Field, who dropped by to say "hi" to her Monkee friends between "Flying Nun" scenes. Davy had to leave early because he was flying back to New York for the opening of his Greenwich Village store, "Zilch." Peter and Sally Field were there, too, to help it all happen. The shop boasts the most up-to-date gear and the grooviest part is that it's all so reasonably priced!
Ted Leplat, former "Action" dancer, is now making it on his own in the acting field. He just took over the part of "Ted Kenodunck" in the satire "Macbird" which has been running successfully in Hollywood for many months. The part he's playing is supposed to be Ted Kennedy. All Ted Leplat did to snag the part was try out for a small walk-on part. The audience dug him so much the first night that he was offered his present part the very next day! Although Ted loved dancing on "Action" he always knew he'd go back to the stage when it was all over because that's what he wants most!
Walt Disney's new movie "Jungle Book" premiered at Grauman's Chinese Theatre and all kinds of superstars were on hand to view the film—faves Paul Petersen, Sonny and Cher and Kurt Russell, as well as well-known celebs Charlton Heston, Annette Funicello, James Garner and Carol Burnett.
DOTS AND DASHES . . . Greg and Gary of Gary and the Hornets are experts on the trampoline . . . Paul Revere's white pups have some groovy homes—Mark Lindsay and Davy Jones are each proud owners of the part Samoyed-part German Shepherds . . . Coco Dolenz wants to be either a singer and actress or a minister!