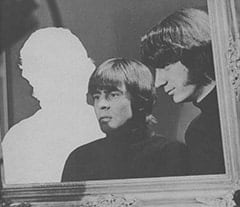 You asked for it… back-to-back contests… so that you can enter two contests at a time, without interfering with anything else in each outasite issue of FLIP!
After you've worked out this contest, just flip the page for another contest!
And then send us both contest entries just as easily as if they were one! Most important of all, your copy of FLIP remains undamaged!
Pretty as a picture!
But the pic's incomplete!
Know who the missing Monkee is?
Groovy!
Just let us in on your star shadow secret, and we'll put you in the raving running for ten outasite prizes!
SEND TO: OCTOBER STAR SHADOW, FLIP MAGAZINE, 1010 THIRD AVE., NEW YORK, N.Y. 10021