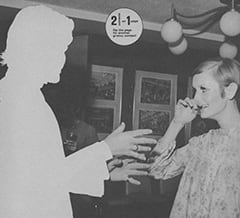 The most talked-about model of the year is chatting with one of the most talked-about super-stars of the year!
Who's the star in the shadows with Twiggy?
He's an American, even though the pic was taken in London. He's been linked with another British girl, not Twiggy. And he's come back for a couple of visits since this pic was taken.
Know who he is
Let us in on it, and you'll be in the running for ten outasite surprises!
SEND TO: DECEMBER SHADOW CONTEST, FLIP MAGAZINE, 1010 THIRD AVENUE, NEW YORK, N.Y. 10021