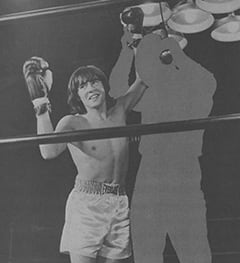 The winner and still champion! "Slugger" Jones—the hard-fighting champ from Manchester!
But Davy's not the object of this contest! The mystery man who's holding up his glove in victory is!
Know who he is? Then let us know, and if you're one of the ten winners, we'll let you know!
Go into your corners… and come out flipping!
SEND TO: SUPER STAR, FLIP MAGAZINE, 1010 THIRD AVENUE, NEW YORK, N.Y. 10021