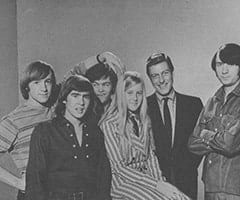 WIN A LETTER FROM THE RAIDERS—On five different pages scattered all through this issue of FLIP you'll find groovy personal letters from each of THE RAIDERS. How would you like to have one of these original letters?
Without even waiting for your answer, this is how it can happen for you. Just tell us whose letter you would like: MARK, PAUL, FREDDY, CHARLIE or JOE, JR. Then we'll divide the letters into five mailbags, and STEVE KAHN will pick a winner blind-folded from each category. That means you won't be competing against everyone, just those who want the same letter you do.
It's a fun mini-contest! Just send your entry to: RAIDERS MINI-CONTEST (Put Name of Raider Whose Letter You Want), FLIP Magazine, 1010 Third Avenue, New York, N.Y. 10021. The Raiders are rooting for you!
SUPER SCAM ON SUPER STARS—BOB LEVINSON, the guiding genius behind the success of DON & THE GOODTIMES, showed he's a good guy by sending us a photograph we'd never seen before . . . It's a pic of THE BEATLES reading FLIP last summer right in the middle of their press conference . . . Wonder whether they answered the questions after checking with FLIP first? . . . Just before their summer tour, each of the DAVE CLARK FIVE took well-deserved vacations: DAVE headed for the resort of Acapulco in Mexico . . . MIKE picked Portugal for his hideaway . . . DENNIS splashed in the sun and surf of Jamaica . . . LENNY took it easy at home in England . . . and RICK roared his shiny new Jaguar XKE into the Scandanavian countries for a highpowered vacation.
STOP WORRYING ABOUT DAVY: His Army worries have ended! He will receive a hardship deferment, as expected, because he is the sole support of his family.
Speaking of THE MONKEES (and we do, all the time) . . . The word is that THE LOVIN' SPOONFUL were once considered for the series before THE MONKEES were created . . . A British group called THE SPECTRUM is trying to follow in The Monks' footsteps . . . They've just been signed for a TV series and hope to take off in the same way . . . Another TV show about a group, THE PICKLE BROTHERS, was considered by ABC-TV for the new season, but was finally rejected . . . The producer of that show, by the way, would have been ED SULLIVAN, who's given so many groups so much time on his show.
WANT A PEN PAL?—There's a non-profit organization up in Boston called the International Friendship League, which promotes "understanding among the youth of the world through personal pen friendships." Which means that if you want a pen pal anywhere in the world, IFL will get one for you.
If you'd like more information about this interesting group and its ability to get you a pen pal, write to: Pen Pals, 40 Mount Vernon Street, Beacon Hill, Boston, Mass. 02108, and ask for their Registration Form.
MORE SUPER SCAM—GARY LEWIS is a father-to-be . . . Congratulations! . . . PROCOL HARUM have one of the fastest-selling records in the history of recording in England . . . SPANKY & OUR GANG stayed on a houseboat in Sausilito [sic] when they performed at San Francisco's the hungry i . . . PETER TORK will talk to you about politics at the drop of a country . . . His favorite magazine, by the way, isn't FLIP or any other teen magazine, but a hard-hitting political magazine named "Ramparts" . . . MICKY DOLENZ is proud of the fact that he made every inch of his unusual American Indian outfit himself . . . JIMI HENDRIX is currently the wildest performer in the world! . . . CAROL DECK, FLIP's Hollywood Editor, says that it's downright dangerous to sit close to the stage when either JIMI or THE WHO are performing because you'll never know what they are going to throw at you! . . . THE MONTEREY POP FESTIVAL, by the way, was an exciting event for FLIP . . . As you'd expect, we had more reporters and photographers there than any other magazine . . . One of our reporters was KEITH ALTHAM, our London Editor, and it brought him together for the first time with CAROL DECK, TRACY THOMAS and the rest of our West Coast staff . . . It was KEITH's first trip to our part of the world, and he loved every flipped-out second of it . . . Except for the fact that his vaccination acted up, and kept him under the weather for a couple of days . . . In Hollywood, KEITH was the personal house guest of SONNY & CHER, who became two of his closest friends when they visited London.
FLIP'S RECORDS OF THE MONTH—THE BEATLES' "Sgt. Pepper's Lonely Heart's Club Band," if you don't have it yet . . . JOHNNY RIVERS' "Rewind" . . . THE TREMELOES' "Here Comes My Baby" . . . MOBY GRAPE, by the exciting group of the same unusual name . . "Release Me" by ENGLEBERT HUMPERDINCK . . . Any of these action albums would be groovy additions to your collection.
MORE NEXT MONTH . . . In the outasite issue of FLIP on sale September 7th . . .