INTERNATIONAL POP FESTIVAL—That's what's happening this month up in Monterey, California, where the greatest names in pop music are getting together for three excitement-jammed days. If everybody who promised to perform shows up, THE MAMAS & PAPAS, SIMON & GARFUNKEL, JOHNNY RIVERS, THE BEACH BOYS, THE BYRDS, THE BUFFALO SPRINGFIELD and JEFFERSON AIRPLANE will perform. And DONOVAN, BOB DYLAN, THE WHO, THE LOVIN' SPOONFUL, THE ROLLING STONES and THE YOUNG RASCALS will try to make it if it's at all possible.
All the money will go to some kind of a "Pop Foundation" for the betterment of youth—the stars' thank you to you for making it all happen for them. On the Board of Directors of the festival is PAUL McCARTNEY. In between all the music (which probably won't stop for a second during the three flip-out days!), there will be workshops during which all the stars in attendance will talk about the potential dangers and delights of a career in pop music.
It should be quite a wild weekend . . . and FLIP, of course, will be there!
ANOTHER MINI-CONTEST—A couple of issues back, we got into the habit of slipping kinda private contests into this column. And since you've flipped for the idea, there's no fun in stopping a good thing!
So, this month's mini-contest will offer you a "Do Not Disturb" sign from one of New York's biggest hotels signed by HERMAN & THE HERMITS. It's the sign they had on their door during their last trip to New York. Before leaving, they signed it, gave it to STEVE KAHN, and asked FLIP to give it to a FLIP-er with their love!
Would you like it? If you would, just write us a card or letter (or whatever else you can come up with) and tell us why. The most original plea will win! Send your entry to: ON THE FLIP SIDE, 1010 THIRD AVENUE, NEW YORK, N.Y. 10021.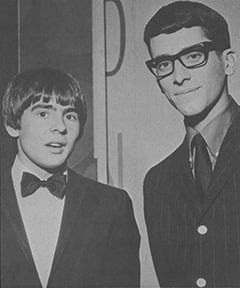 SUPER SCAM ON SUPER STARS—They've admired each other for so long that they were almost speechless when they met for the first time . . . We're talking about DAVY JONES AND GARY LEWIS, who had stepped out of uniform for the night . . . DAVY, like all of us, wished GARY nothing but happiness in his recent marriage . . . Another first-time meeting between super-stars took place in Los Angeles . . . That was when MARK LINDSAY was introduced to PETER (HERMAN) NOONE . . . One of the happy results of that meeting was the groovy FULL COLOR PORTRAIT on page 27 of this issue of FLIP . . . THE WHO won a lot of fans during their trip to New York, and will be back this summer . . . THE ROBBS have groovy hopes for the future with a new haircut, a new record and new people supporting them . . . TWIGGY is all over the scene . . . The most talked-about model in years, she's probably also the the skinniest! . . . And she is also part of the FLIP SCENE, having just cut a record for Capitol . . . Probably in answer to the record "Twiggs," which THE SEAGULLS, a new group on Columbia, had released and written in her honor!
FLIP RAVE-OUT—Usually we only talk about records we've raved about, but this month we've also got a very special movie to talk about. It's called THE FAMILY WAY, and it stars a brand-new kind of HAYLEY MILLS. And it's the first movie that PAUL MCCARTNEY (alone, with JOHN, who was making another movie at the time) has written the music for. It is not an easy movie, or even a movie that everyone will like. But, it is a very sensitive movie about the problems a newlywed British couple and the kind of a movie you should see on a day you're prepared to laugh and cry a little.
This month's record raves are: The BLUES MAGOOS Electric Comic Book . . . MITCH RYDER'S "Sock It To Me" . . . "Happy Together" by THE TURTLES . . . HARPERS BIZARRE "Feelin' Groovy" . . . and an unusual record, "Speak Her Name,". by a very talented singer named WALTER JACKSON.
SUPER SCAM—PART TWO—CHRISSIE SHRIMPTON is the talked-about sister, but model JEAN has just made her first movie "Privilege," with PAUL JONES . . . DICK CLARK looking for a male rock 'n' roll lead for a new TV show he's planning . . . DAVY JONES' new record label looking for new talent . . . NEIL DIAMOND currently the busiest and most successful pop songwriter in the world . . . JEFF BARRY, the producer of many of THE MONKEES records, just signed two contracts which will bring him a million-and-a-half $$$ over the next few years . . . Some letters have come in asking about the people behind THE MONKEES and the show . . . There are two of them, and their names are BERT SCHNEIDER and BOB RAFELSON, and they are the producers of the show . . Two bright young guys just past 30, it was BERT and BOB who convinced everyone that THE MONKEES were worth a half-hour of NBC's time every week . . . And they deserve all the credit for the show, though, like the good people they are, they don't often get their names into the papers . . . If it's possible, they promise that next season's shows will be even more exciting and original than this season!
And we promise that the next issue of FLIP will be even more exciting and original than this one . . . It'll be at your favorite newsstand bright and early on July 11th . . . Until then . . .