Linda Joyce knew Davy when he lived in New York and was starring on Broadway in "Oliver!". They often saw one another, and Linda kept a diary of all these events. Now that Davy is one of the world's greatest super-stars, these early happenings take on a very special and important meaning. In this issue and in future issues of FLIP, Linda will share them with you.
Last issue, I told you some stories of David's kicky sense of humor long before he ever thought of becoming a Monkee. There's one I forgot about. Once, during the finale of "Oliver," the audience could faintly hear the words of The Beatles' song "Twist and Shout" coming from the stage. Instead of singing the closing song, David had decided to change the script slightly!
Here are some more personal memories of David during his New York days…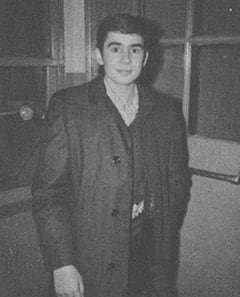 One afternoon, after a matinee performance of "Oliver," David and I went to one of his "haunts," the Paramount Coffee Shop. He and I sat down at the counter, and he ordered a cup of tea. When his tea arrived, David tapped the waiter and said, "I don't like your tea… it's not as good as ours, y'know." "Well, David," answered the waiter, "what can I tell you?"
David proceeded to dunk the tea bag, and soon there was tea all over the cup, the saucer and the counter! Deciding the tea was dark enough, David picked up the tea bag, held it high up, quietly said "Here goes!" to me, and splashed it on the counter. Everyone looked surprised, but he just put his best innocent look which said, "Oh, my, it must have slipped!" But nobody really minded. Even then, David had that certain something.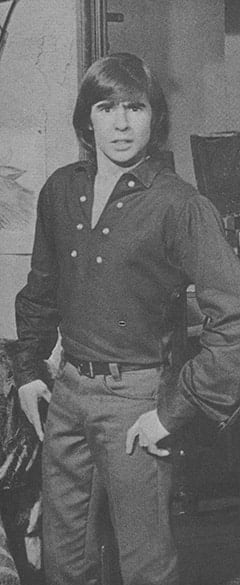 "David, help me!" cried out one of the boys in "Oliver!" As he turned around to see what was the matter, water sprayed David in the face. There was a water pistol fight going on backstage, so "our hero" grabbed a water pistol and squirted back with all he had! In the process, he got quite a few innocent bystanders and fans soaked! He loved the water pistol fights, and probably started as many as he ended.
The upside-down autograph

Permalink
"I can't come out dressed like this," David replied to a group of fans one day. As it was, he had only his slacks (knickers) and a little vest on, and he was clearly embarrassed. They kept on asking for his autograph, so he sent a friend to the stage door to get their autograph books. He signed the books upside-down (which is British for Good Luck) and then asked his friend to give the autograph books back to the girls. His buddy couldn't understand why David didn't want to be seen, and so, blushing a bright red, David went to the door himself, mumbled an embarrassed "here y'are," stuck his hand out the door, almost dropped the books, and ran backstage!
David's pre-Monkee records

Permalink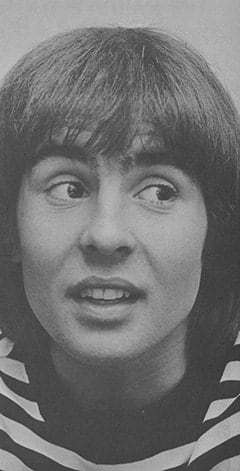 After my first story in FLIP, you wrote me a lot of letters (which I'm still trying to answer) asking all sorts of questions about David. One of the questions which kept coming up was what records, if any, David had recorded before he became a Monkee. The facts are that David recorded three single records and one album.
The singles were: (1) Dream Girl/Take Me to Paradise, (2) What Are We Going to Do/This Bouquet, (3) Girl from Chelsea/Theme For a New Love.
The album was called "David Jones," and included these songs: What Are We Going to Do/Maybe It's Because I'm a Londoner/Put. Me Amongst The Girls/Any Old Iron/Theme For a New Love/lt Ain't Me, Babe/Face Up To It/ Dream Girl/Baby, It's Me/My Dad and This Bouquet. The album was half pop songs and half show-type tunes.
It's happened again! I'm out of space for this month. But I'll have more answers to your questions about David in the next outasite issue of FLIP. It will be on sale September 7th. See you then.