What's new with your favorites from coast-to-coast!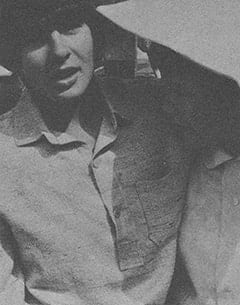 DAVY JONES was voted Rave Star Of The Year by one of England's top teen magazines, shutting out such English idols as SCOTT ENGEL, STEVE MARRIOTT and CAT STEVENS . . . MONKEE future plans include a trip to the Orient next year plus a movie. MONKEE producer-director BOB RAFELSON will probably write the script. DAVY, by the way, was on hand to greet sweet SALLY FIELD when she turned up at the Screen Gems' "ranch" to film a Flying Nun segment . . . Souvenir collectors stole the THORKELSON mailbox from in front of their Connecticut home shortly after PETER's parents, along with CHRIS and ANNE, moved from Canada back to the farm . . . SONNY & CHER expect their first baby next February. CHER wants a girl and SONNY wants a boy. Next April, CHER will star in Chastity, a movie written and produced by SONNY and directed by BILL FRIEDKIN . . . Hit songwriter GARY GELD and his adorable wife KARYL became the proud parents of a baby boy, ADAM MILLER. Monterey Pop Festival standouts were fantastic. RAVI SHANKAR—who held the flower people spellbound for two hours—SCOTT MCKENZIE and, of course, the MAMAS & PAPAS . . . The grooviest new men's clothing store in New York City is called The Different Drummer (address: 790 Lexington Ave., New York City, if you want to drop by there or send for a catalog). DD owner EDDIE RABKIN, a 23-year-old Canadian, is also a record star. His latest release is a new cut of the old favorite, Sweet Dream Baby. Don't miss . . . LUKE HALPIN suffered minor cuts and a concussion when his Mustang ran out of control near Englewood, Florida. He recuperated with friends in St. Thomas, is in the best of shape and plans to do a movie this fall . . . Singled out for stardom—handsome PETER LEWIS of the MOBY GRAPE… JON PROVOST had the pleasure of meeting one of his idols, LEONARD NIMOY, when they both appeared on the same charity show recently in Hollywood . . . JIM VALLEY has signed a recording contract with Dunhill Records and is now cutting his own material. You can write to him c/o Dunhill Records, 449 So. Beverly Dr., Beverly Hills, Calif. . . . ZAL YANOVSKY left the LOVIN' SPOONFUL and will soon be recording on his own. The parting was a friendly one and he has been replaced by JERRY YESTER, brother of JIM YESTER of the ASSOCIATION.
Amazing statement made by Time Magazine: that A&R man GEORGE MARTIN is really responsible for the BEATLES hit records. Time states that the BEATLES come in with basic ideas and lyrics, but that MARTIN does all the rest. Gee, that's kinda hard to believe—in fact, I don't believe it . . . GeeGee recommended LPs this month include the Hollies' first release for Epic, The Evolution; Every Mothers' Son on MGM; Kim Fowley's Love Is Alive And Well on Tower; Dave Clark 5's You've Got What It Takes on Epic; The 4 Seasons' Present Frankie Valli Solo on Phillips and Ravi Shankars classical East Meets West on Angel . . . and quel surprise for everybody but us 16 regulars! Warners finally released the original Mugwumps' LP. It features Zal Yanovsky (late of the Lovin' Spoonful), Jim Hendricks (of the Lamp of Childhood), and Cass Elliott and Denny Doherty (and you know what group they're with). GeeGee predicted two years ago that the Mugwumps were two years ahead of their time—which turned out to be true!
True love and romances: looks like HAYLEY MILLS really is going to marry her not-so-new beau, producer ROY BOULTING . . . Meanwhile, YOUNG RASCAL FELIX is getting engaged to his Pelham, N.Y., home-town steady girl friend ADRIENNE, who is 18 . . . And guess which two top stars (neither are with groups) are happily married and have one child each? . . . By the way, don't miss MIKE ALBER's super-funny book, Your Alma Mater's Moustache. It's all about a chimp who goes to college. Come to think of it, a lot of them do!
Stay peaceful, stay loving and keep giving away all those beautiful flowers. The flowers are Love, you know.