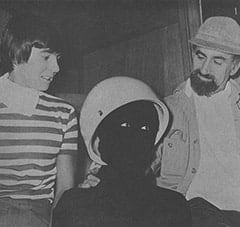 That's Davy, of course, on the left, and one of the directors of the show, bearded Mike Elliot, on the right.
The question is: Who's the Mystery Monkee in the middle?
The hair dryer isn't the usual hat he's seen with.
His hair is probably the most difficult Monkee hair to tame.
And this is the only picture ever taken of him in this very personal pose.
Know who he is?
Great!
Just flip your answer to us.
And, if you're one of the ten winners, you'll have a groovy prize quicker than you can say, "Aunt Grizelda!"
Send to: MONKEE MYSTERY CONTEST, FLIP MAGAZINE, 1010 THIRD AVENUE, NEW YORK, N.Y. 10021