Pomona, Calif.
We were thinking of your health when we gave Peter the whole front cover in FULL COLOR! And, to make sure that you won't feel any pain at all, we've crammed this issue full of exclusive Monkees scoops! But, Lori, there's no known cure for Monkee-itis! So, enjoy it!
---
We have started a very unusual club. A fab new fad has been launched. Bushjumping! N.A.B. (National Association of Bushjumpers) is dedicated to enlighten the lives of bushes! And it's good for the figure! All those who want information, please send a stamped, self-addressed envelope to:
N.A.B.
c/o Chrissie Fuchs
309 10th St., N.E.
No, Canton, Ohio
---
This note may not make any changes in the minds of those who say they can't stand The Stones, but here it is. During the holidays, I received a letter from my favorite Stone, Keith. I will never forget the kindness he put into the letter. He even thanked me for writing. So, please print this letter, so that their fans can see how much kindness The Stones do have for their fans.
Mary Ann Rosalez
La Puente, Calif.
---
Is it true that Mike Nesmith is secretly married?
Cheryl Little
Fayetteville, N.C.
It's no secret, Cheryl. Mike is the only married Monkee. His wife's name is Phyllis, and they have an adorable 2 year-old son named Christian.
---
I don't see why everyone makes a fuss over Davy! I think that Micky and Peter are a lot cuter (no offense to Davy). And another thing… why is NBC taking The Monkees off the air? Heaven knows the show gets enough viewers.
Diane Grandelis
Franklin, Penna.
NBC has no plans to take The Monkees off the air. After poor early ratings, the show has come up with ratings which almost guarantee that it will be back next season! And the sponsors are overjoyed by the response to the show. You can always put in a good word, though, by writing to: NBC Television Network, 30 Rockefeller Plaza, New York, N.Y. 10020. Although the show comes from Hollywood, all the network decisions are made in New York.
---
I just love Dino, Desi and Billy. And every time I find out that they'll be in a magazine look forward to that issue. In your February issue you said that they were going to be in the March issue, but I didn't find any trace of them in that issue. Please tell me what happened.
Disappointed Dino Lover
Chicago, Illinois
Tracy, our Girl in Hollywood, was so busy with The Raiders and The Monkees that we asked her to postpone her exclusive feature on D D & B for a little while. But she's on it now, and so is FLIP fotog Bob Young, D D & B's favorite photographer. Look for their scoops soon! And we're very sorry about the delay.
---
Please print this. It is in reference to a comment Mark Lindsay made in the March issue, and it is for him: Mark, you said that you would want to change your birthday until the middle of the year. Born March 9th, you are under the sign of Pisces. Under Pisces, you are warm, gentle and romantic to those you love. Also some of the greatest songwriters are under Pisces, a quality you have proven to all. Some hang-ups you may have as a Piscean are extreme nervousness, always fiddling with something and an overly sensitive nature. Now if your birthday had been in the middle the year, you would have been either Cancer or Leo and neither of these suit you at all. So, Mark, be happy to be a Pisces. You are under one of the most intelligent, talented and versatile signs of the zodiac.
Carolyn Stacy
Scottsdale, Arizona
---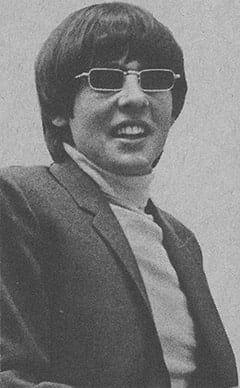 RON RILEY and JUNE MACK, our columnists who are missing in this issue, will both be back next month. Ron is on a well deserved vacation, and June is readying a bright new format for her Canadian column.
---
I'm worried. In the February FLIP you have an article on Paul Revere, Mark Lindsay and Phil Volk telling what they plan to do in ten years. Are Paul Revere and The Raiders going to fall apart before long?
Doris Sharp
Oak Forest, Ill.
Stop worrying. The Raiders were just having some fun looking into their crystal balls. Their present plans are for TOGETHERNESS as long as you'll have them.
Magazine: Flip
Published:
Publisher: Kahn Communications Corporation
Pages: 64–65