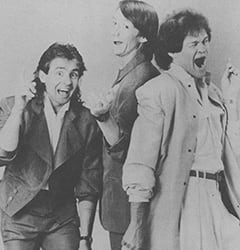 YOURS FREE! CLIP & SAVE IT!
The Monkees are back and swinging again! Can ya believe it? Micky Dolenz, Peter Tork and Davy Jones, the original late '60s music idols dubbed The Monkees, have returned to the spotlight! They first won fame along with Mike Nesmith in 1966 with their first album and a hit TV series. They continued to delight audiences with chart-topping tunes like "Last Train to Clarksville," "I'm a Believer," and "Pleasant Valley Sunday." Now, two decades later, Micky, Davy, and Peter have gotten together again and have marked the reunion with a 20th anniversary tour, the return of their TV series, an MTV Monkee marathon, a top single, "That Was Then, This is Now," and a new LP! So, if you're a believer, don't monkey around—read the following SuperTeen pages to get the lo-down on The Monkees!
The Monkees' life story!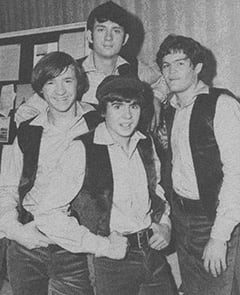 The band which made millions go ape began in 1965 when two producers placed an ad in a newspaper seeking "insane" actors. The idea was to create a pop band modeled on The Beatles in A Hard Day's Night. After auditioning hundreds of performers, the producers finally settled on struggling folk musicians Mike Nesmith and Peter Tork and former child actors Micky Dolenz and Davy Jones to become The Monkees.
Taking tunes from music veterans such as Carole King, Neil Diamond, and Boyce and Hart, the four boys were a sensation. Recalls Micky, "The fantasy became the reality." With "Last Train to Clarksville," their first hit single, The Monkees were established as superstars.
Their first TV show aired in September of 1966 and was a goofy, comedic pop series which won two Emmys. In the show, they went off on zany adventures. They couldn't discuss drugs or politics—they were the clean-cut pop alternative
In 1967, "I'm a Believer" was the year's longest-running Number One single, and Monkees records sold up there with The Beatles and The Rolling Stones.
Says Micky of their television success, "The humor wasn't based on the news and it didn't require any special knowledge on the part of the audience. It was light, slapstick, visual stuff." Their show ended in 1968 because audiences got tired of watching a program about musicians when only two of the four were really playing the instruments. However, this wasn't the end of The Monkees!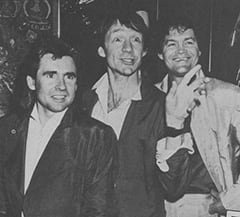 In the 1980's, they're in Monkee business again!
Promoter and producer David Fishof first approached Peter about a summer reunion tour. Peter agreed, then called Micky to ask if he'd be interested. Says Micky, "I said 'no' initially because I've been living in England for the last 10 years working as a producer and director of TV films, commercials, and music videos. I couldn't see how I could break away from what I was doing. But they made me an offer I couldn't refuse."
Meanwhile, Davy was appearing in a theatre production of Godspell in London. He, too, soon agreed. Mike couldn't do the tour because he was too busy producing videos and films for his Pacific Arts Video Company. (He'd also inherited $25 million from his mother's "Liquid Paper" typewriter-correction-fluid fortune.) But three of the original quartet were willing and able!
While Fishof was convincing the boys to do the tour, MTV presented 45 Monkees shows back-to-back one weekend and received such an overwhelming response that they repeated the Monkeethon several times. Now all 58 of The Monkees shows have returned to nationwide syndication. The old Greatest Hits album reclimbed into the Top 100, they've had a very successful 20th anniversary tour, and Columbia Pictures Television is presenting a new bunch of Monkees for an all-new show to begin in the fall.
But that's not all! Besides the reissue of albums like The Monkees, More of The Monkees, Headquarters, and Pisces, Aquarius, Capricorn and Jones, the foursome has recorded a new album, Then and Now: The Best of The Monkees which has three new songs on it. Already, "That Was Then, This Is Now," a cover tune by the New York band The Mosquitos, has bulleted up the charts and already, the album has sold tens of thousands of copies.
Twenty years after the birth of The Monkees, Peter, Micky, and Davy are still too busy singing" to do anything else! It seems that The Monkees are definitely back and ready to go bananas once again!
15 secret fax you should know about The Monkees!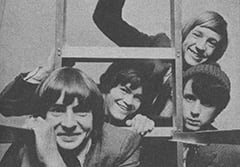 1. The original Monkees show ran from 1966 to 1968 on NBC-TV.
2. Mike Nesmith is now a devoted husband and father, while managing his video company and producing film projects.
3. Their first hit single was "Last Train to Clarksville."
4. The one thing the four boys wanted to do together off the set was buy a $100,000 boat, but the day before they signed the contract for the TV series, it went out in Los Angeles harbor and sank.
5. Mike Nesmith inherited millions from his mother's Liquid Paper typewriter-correction-fluid fortune.
6. Only Peter and Mike were actually musicians when the group got together.
7. Peter often sings on the college circuit.
8. Recently, Micky starred in a film, a black comedy called How to Get Ahead in Advertising.
9. The Monkees had their first live concert in 17 years on Memorial Day, 1986 when they played the Concord Hotel in New York.
10. Among the 437 people who auditioned to be Monkees were musicians Stephen Stills and Paul Williams.
11. The Monkees won Emmys for "Outstanding Comedy Series," had four No. One albums and nine Top 20 singles.
12. Davy now streaks his brown shag haircut with red.
13. The Monkees became so famous that they forced another singer named David Jones to change his last name to Bowie!
14. Says Micky, "Things tend to come around again. The music has sustained because of the high quality of the songs."
15. Peter loves to listen to jazz and classical music.
The Monkees from head-to-toe!
Micky Dolenz!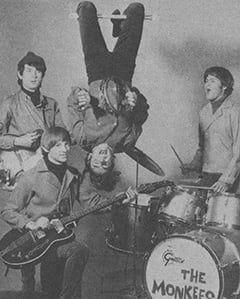 FULL NAME: George Michael Dolenz
BIRTHDATE: March 8, 1945
BIRTHPLACE: Los Angeles, California
FIRST JOB: At age 1(Likely a typo; Circus Boy premiered in 1956), he appeared in the NBC-TV series Circus Boy, in addition to appearances on Peyton Place, Route 66 and Mr. Novak
FAVE SPORT: Tennis
PASTIMES: Fox-hunting, cars and horses
OTHER PROJECTS: He produces, directs and writes for TV in England
CURRENT RESIDENCE: Withrop, Nottinghamshire, England
FAVE MONKEES SONGS: "Pleasant Valley Sunday" and "Sometime in the Morning".
MARITAL STATUS: Married to wife Trina Dow, he is the father of three daughters
Davy Jones!
FULL NAME: David Jones
BIRTHDATE: December 30, 1945
BIRTHPLACE: Manchester, England
FIRST JOB: At age 11, he read plays over the radio in England
FIRST TV ROLE: Ena Sharple's grandson in Coronation Street, an English TV show
FIRST AMBITION: To be an apprentice jockey
FAVE SPORTS: Horse-racing, football, tennis, boxing
RECENT PROJECT: Host of the popular English series Puzzle Trail
OTHER ACCOMPLISHMENTS: He is a reputable horseman and holds an amateur jockey license
MARITAL STATUS: Married to second wife Anita, he is the father of three daughters
Peter Tork!
FULL NAME: Peter Thorkelson
BIRTHDATE: February 13, 1942
BIRTHPLACE: Washington, D.C.
FIRST JOB: Performing with the Phoenix Singers in Greenwich Village, New York
EDUCATION: Carleton College, a liberal arts school in Minnesota
INSTRUMENTS PLAYED: Ukulele, banjo, acoustic guitar, bass guitar, French horn, piano
PRESENT RESIDENCE: Upper West Side of Manhattan, New York
FAVE SPORT: Baseball
PASTIMES: Watching the Mets, working out and keeping up with political affairs
OTHER PROJECTS: He formed a cult-status band called the Peter Tork Project, has toured Japan, and teaches music
GIRLFRIEND: Fabric artist Jennifer McLeod
Mike Nesmith!
FULL NAME: Michael Nesmith
BIRTHDATE: December 30, 1942
BIRTHPLACE: Houston, Texas
FIRST JOB: Part of a band called Mike and John with bass player John Lundgren(John London)
WORST MEMORY: While in the Air Force, he tipped over a general's airplane one time
PASTIMES: Fixing things, playing with The Monkees when he has the time.
CURRENT PROJECTS: His Pacific Arts Video Company, and managing the fortune left to him by his mother.
HOBBIES: Jogging, car racing
MARITAL STATUS: Married to wife Phyllis, he is the father of two children
The do's and don'ts of winning their hearts!
Do's!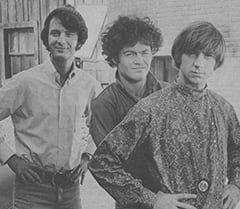 Do know all The Monkees' hits.
Do watch their TV show.
Do be honest and down-to-earth.
Do like horses—Davy and Micky love to go to horse races!
Do tell them how happy you are that they're together again.
Do buy their new album, Then and Now: The Best of the Monkees.
Do love New York—it's The Monkees' favorite city!
Do believe in keeping fit—the guys keep in shape with a lot of sports!
Don'ts!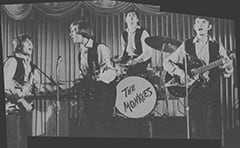 Don't do drugs or smoke.
Don't compare them to The Beatles.
Don't be phony.
Don't forget their TV show or their albums.
Don't forget that Mike Nesmith is a famous filmmaker in England.
Don't neglect the fact that both Peter and Mike are real musicians.
Don't miss out on any of their concerts.
Don't be afraid to have fun—The Monkees do!