WHAT'S HAPPENING HERE, THERE, EVERYWHERE!
Walter Koenig and his lovely wife Judy became the happy parents of a six-pound and nine-ounce bouncing baby boy. Joshua Andrew Koenig made his debut on August 17, 1968. Walter is as pleased a proud papa as ever rode the U.S.S. Enterprise. Congratulations!
Jon Provost graduated—and waved goodbye to high school days forever. After addressing the students, parents and faculty (Jon was student body president, you know!), he returned home for a graduation party. Here's Jon, his sister Francille, his uncle Fleming, Mrs. Provost and his brother Bill.
Derek Leckenby of Herman's Hermits married Leonie Rosenbloom, 21, at the All Saints Registrar in Manchester, England. Fellow Hermits Karl, Keith and Barry held umbrellas to protect the newlyweds from a summer rainstorm. Peter Noone (now the only remaining bachelor in the group) was unable to attend cos of a bad case of the flu. Congratulations, Derek and Leonie!
The Rascals were presented with six gold records at a party in their honor thrown by Atlantic Records. They received a gold disc for their singles People Got To Be Free and A Beautiful Morning and their LPs Rascals Greatest Hits, Groovin', Collections and The Young Rascals. (Left to right, in the back row are Mr. and Mrs. Brigati, Dino, Mr. Caveliere and Mr. and Mrs. Cornish. Down front are Eddie, Felix and Gene.)
Tito Gaona, a brown-eyed, black-haired, 20-year-old aerialist, is racking up the female fans with his headline trapeze act in the Ringling Bros. Barnum & Bailey Circus. Tito performs the most difficult aerial stunt of all the triple somersault. Tito, his father, brother and sister are all members of The Flying Gaonas. Look for them when the circus comes to your town!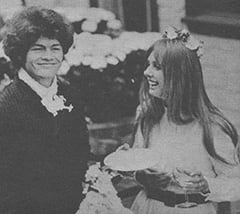 Monkee Micky Dolenz was felled by cupid's arrow on July 12, when he married his long-time girl-friend Samantha Juste at his Hollywood Hills home. The wedding was attended by Micky's family, Sammy's family, Peter Tork (and gal pal Ren (Likely Reine Stewart)), Mike and Phyllis Nesmith, Neko, David Pearl, "Alf" (Possibly Alf Weaver), Brendon Cahill, Tad Wolf (Likely Henry Diltz) and Lynne Randell.