What's Happening Here, There, Everywhere!!
There've been no "dark shadows" in the path of success for Philips Records' Original Music From ABC-TV's Dark Shadows album! Robert Cobert's music is as haunting as the assorted ghosts and ghouls on the spook serial—and just about as popular! Pictured here are Jonathan "Barnabas" Frid, Bob Reno, Director of Recorded Product for Mercury Records (Philips is a subsidiary of Mercury), and David "Quentin" Selby—gathered together to celebrate the LP's success. Jonathan and David are featured on the album, which contains the beautiful Quentin's Theme and Josette's Music Box. Be sure to get a copy!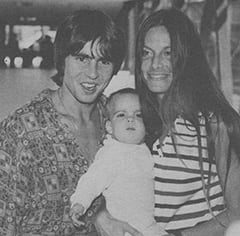 Monkee Davy Jones posed for this family portrait in London's Heathrow Airport. Davy, his wife Linda and their one-and-a-half-year old daughter Talia Elizabeth, were recently in England on a combination business-pleasure trip. While Davy kept busy making a show for British TV, Linda shopped for some groovy mod clothes and took Talia to see Big Ben, Buckingham Palace and other famous London sights. It was a fun trip, but everyone's happy—especially 16 SPEC—that the Jones family is back in the U.S.!
Elvis Presley thrilled fans from all over this summer when he made his first live appearance in more than 13 years! A star-studded audience (including his proud father, shown here) cheered the King's performance at the luxurious new International Hotel in Las Vegas, Nevada. Elvis proved that he was worth waiting for—his talent and unique style are more firmly established than ever! Welcome back, King—let's hear more!!
The Bee Gees—Maurice (left) and Barry Gibb—recently finished filming a one-hour color special to be shown on British TV late in 1969. (Don't worry—there are plans for the show to be on American TV early in 1970!) The special is being called a Tudor-style Laugh-In—complete with medieval dueling scenes, wrestling, fun fighting and horseback riding! There are also some comedy sketches the boys wrote themselves—Barry plays the King of Cucumber and Maurice is the King of Jelly!! There'll be music, too—and four new Bee Gee songs will be introduced! Some exciting guests have also been lined up, including Mrs. Maurice Gibb—alias Lulu! Sounds like a dynamite show!!
Congratulations are in order for Led Zeppelin—the electrifyin' British group who recently received a Gold Disk for a million-copy sale of their first Atlantic LP Led Zeppelin! The mind-blowin' musicians are (left to right) Jimmy Page, John Paul Jones, John Bonham and Robert Plant. Their second LP Led Zeppelin II has just been released and it's super-good! Don't be surprised if more gold comes to these groovy guys!!
Tommy Boyce (bottom) and Bobby Hart are excited about their upcoming engagement at the Flamingo Hotel in Las Vegas, Nevada. They'll be there for three swinging weeks beginning January 8. The talented twosome have another reason to be pleased—their new Aquarian single I'll Blow You A Kiss In The Wind is a sure-fire winner! Watch for Boyce and Hart on future segments of The Della Reese Show and The Barbara McNair Show! (Be sure to check your local newspaper for times and dates of these programs!)
Robert Brown and his new bride Anna Gonyaw almost didn't make it to the Los Angeles County Clerk's office to pick up their marriage license! On their way over, their car konked out and they had to hail a taxi—which got them there barely seconds before the 12:30 P.M. closing time! Robert and Anna were long-time sweethearts before they tied the knot. They met over ten years ago, but they didn't start dating steadily until about a year ago. Congratulations, Robert and Anna—and best wishes!!
Richard Chamberlain has hung up his "Dr. Kildare" jacket for good thanks to the rave reviews he received for his portrayal of Hamlet in an English stock company production of that play. Dick, whose previous Shakespearean experience was two lines in King Lear at college—was the first American to play Hamlet in England since 1929! Presently, he is working on a new, contemporary film for Universal called All The Men Are Lonely Now. Keep your eyes and ears open for more news on the film—and on Dick!!