Young brothers are a worry. If you've got one, you know what I mean. If anyone is going to embarrass or scandalize, you can bet it's a young brother. Mine is no different—even though he is called David Jones!
Up to about five years old I suppose you could say he was a little angel. Most of the time he was a very quiet and shy boy. I remember when he was three he was chosen to be a pageboy in a pageant at Sunday School. All he had to do was walk hand in hand with a little girl down the schoolroom. We drilled and rehearsed him for weeks until he was perfect and on the big day, there he was, in a white satin suit, looking beautiful. Then, as the entrance music started, he wouldn't go. Dad had to carry him!
The next time he was chosen to be a pageboy was for me. I was the Church Rose Queen and I had to wear a long dress and train. I chose David and one of his friends to hold my train up as I walked down the Church. The train was firmly fixed to my shoulders and David and his friend had hold of the other end. I should have known what would happen. David wouldn't start, so to get us going I lurched forward dragging them behind me. And that's what we did all down the Church. Stop—tug—start—stop—tug—start.
Off to school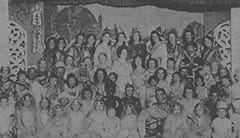 David went to school shortly after this and discovered football, cricket and athletics, at least this used up some of his energy and brought him out of his shell. He still had enough energy to climb up onto our back wall, fall and bite the end of his tongue off when he was eight. It needed three stitches. Soon after he had an argument with another boy and he came home with his ear lobe hanging off. That was another three stitches. Not all his escapades ended in tragedy but most of them ended up with David getting dirty, so when he was chosen to play the part of a magician with a blackened face in the school pantomime, he jumped at it. It was what you might call type casting. He had to have his face and neck covered with black make-up every night for a week. Most days Mother said, he didn't need make-up, he could just walk on stage and no one would tell the difference. This was what led to most of the trouble. David didn't see why he had to come home from school and have a wash just to go to the pantomime and have his face blackened. Needless to say mother always won.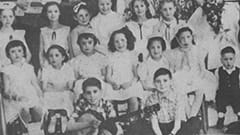 Around this time skiffle groups were going strong, so when the next Sunday school pageant came along, David announced that he and his friends were going to form a skiffle group to entertain. They called themselves the Congo boys and their instruments were all home made except for a large banjo which Dad used to play, and which David had got hold of. The group used to rehearse at our house and that was when we all found excuses to go out. The only way you could tell what they were singing was by listening to the words. Anyway, on the day of the pageant, they excelled themselves and even the family clapped.
Davy the carpenter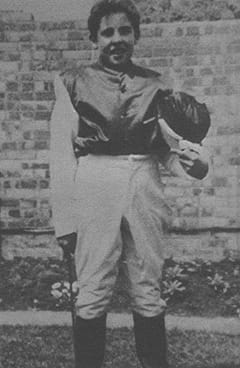 When David was eleven or twelve he got interested in woodwork and in easy stages, over about three months, he constructed a pair of stepladders. They were very solidly built and as I was soon to be married he presented them to me. I've still got them and they are as good now as when he made them. The only catch was that I had to pay for the wood.
We had a bit of bother at this time over a fancy dress dance we were all going to. David had decided he would cut a dash as a jockey and his costume was duly arranged. What he hadn't realized was that it would be made of satin and be very colourful. On the way to the dance we had to walk all 'round him so no one would see. He soon got over his embarrassment, won a prize and later on, of course, he really did become a jockey.
Out to dinner
Shortly after he went into "Oliver", David had to have his tonsils removed. After the operation he came to stay with me for convalescence. He chose a bad time because we were moving house. However, like all good brothers he lent a helping hand. When we got moved into our new house we found that the electricity hadn't been turned on so David took us all to a restaurant for a meal. That was the first time he had taken us out for dinner and you can imagine what we all looked like after moving house.
David went to America and was a big success in "Oliver". Then he went into "Pickwick". One way and another he saw a lot of America and so did we, because he took endless movies of everywhere he went and sent them home to us. After finishing in "Pickwick" he telephoned home and said he was due for a holiday and could we all go with him to Majorca. We said Yes of course and that was when he said, "Well, you have five days before we set off." Fortunately David's agent, Hugh Alexander, was arranging tickets and hotel reservations, otherwise I don't think we could have been ready in time. As it was, on the day we were due to fly out Dad ordered the taxi and when it arrived David hadn't even started to get up.
We did get to Majorca and had a wonderful time. The hotel we stayed at had a swimming pool which closed at midnight. One night David decided to have a late dip. He climbed over the pool fence and he had a happy hour or so splashing about. The moment he decided he had had enough was the moment the Hotel porter and the local policeman decided to sit down by the pool fence for a chat. As they settled down David threw his wet towel over the fence before he climbed over himself. Of course it had to land on the porter. Fortunately they were very understanding and after a word or two let David go to his suite.
As I said, young brothers are a worry.