Davy shares his secret diary with you and tells you all about a tense and thrilling day in mid-June—the most important day in his entire show-business career!
There was an unusual amont [sic] of tension in the air as I went onto Stage 7 at Screen Gems today. A great array of music "play-back" equipment had been wheeled onto the stage and the entire Monkee production staff—minus all the Monkees but me—had gathered on the set to watch today's shooting.
Super-nervous
As I strode across the large set towards my dressing room, everyone said "hi" and I waved back—but things weren't as they usually were. I was trying to figure out who was more nervous—me or the crew! Today was probably the most important day in my entire show-business career. Today was the day we began to film the big musical production number I perform in the Monkees' new movie. I had chosen the song called Daddy's Song, not because it's sentimental (in fact, it's quite the contrary, so don't misinterpret it when you hear the lyrics), but because it's such a good tune that I feel it will be an instant hit.

All last week, The Monkees costumer Gene Ashman and I had worked together designing two groovy outfits for me to wear in this sequence. One is a black tuxedo with a long, flared jacket, and the other is a white tuxedo styled exactly the same way. With the black tuxedo, I wear a white shirt—and with the white tuxedo, I wear a black shirt. The two shirts are exactly the same design, ruffled at the neck, cuff and down the front. They're almost a line-for-line copy of the beautiful yellow batiste shirt Gloria Stavers had made for me and gave to me a little over a year ago. That shirt, by the way, is still one of my favorites. I only wear it on special occasions.
While I was in the dressing room getting ready, choreographer Toni Basel [sic] came in to greet me. We had been rehearsing together for two weeks, and now she explained to me that she thought it would take us (Toni appears in the movie in my big song-and-dance number with me) about two and a half days to shoot the Daddy's Song sequence. Those two weeks with Toni were real educational, let me tell you! I found out that it requires more effort to get into perfect physical shape to do a dance routine than it does for a jockey to get into shape to ride in races! Mr. Fred Astaire has my profound respect.
Black, white & no rain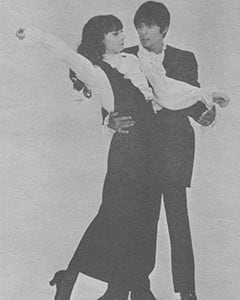 Our sets were designed in a very stark and unusual manner. During the first half of the song, I'm in black—so we dance on white tiles with totally white backdrops. During the second half, I switch to my white tuxedo—and then the tiles and backdrops turn black. The scene starts with me singing (the tune was written by Harry Nilsson)—
"Years ago I knew a man
He was my mother's biggest fan.
We used to walk beside the sea
And he told me how life would be
When I grew up to be a man."
Later on, the lyrics tell how this little boy's father left him (see, I told you it wasn't like my real life at all!), and the little boy gets bitter and decides that when he grows up his son will never know that sadness. I sing this song slow at first, and the only prop that enters is an umbrella which flashes on when I have one line, "It was such a rainy day…"
After I have sung the song slowly, Toni dances onto the set and we do our big duet together. I hope you like it, my little sunshines, cos your boy Davy lost ten pounds learning to get it all down just right for you!! After the dance sequence, I suddenly appear in the white outfit and do the tune up-beat—and do a fast dance with it for the grand finale.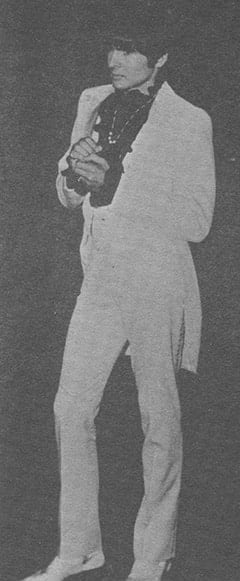 I don't "suddenly" appear at all, of course. As you know, when the action stops the camera stops—and I go to the wardrobe, get my clothes, change, and come back and wait for my cue to begin again. When the action starts once more, the camera picks up right where it left off—and later the whole thing looks like magic! Daddy's Song, by the way, will be included in a brand new Monkees LP which Micky, Mike, Peter and I are working on. This LP will be released about the time the movie comes out in August and it will contain all of the songs in the movie.
Well, the day went very nicely. We did a perfect dress rehearsal and it looks like it will all be finished off within the next couple of days. I think I got one of the finest compliments I have ever had in my relatively long show-business career when I was leaving the set. When everyone was finished, I went to my dressing room, changed to my own clothes and started to leave. As I walked out, one of the hairdressers—a lady who has been watching stars come and go at Columbia for the last 20 years—walked over to me. She placed her hands on my shoulders and said, "Davy, I have seen a lot of things in all the years I've been here, but the performance you just gave was one of the greatest things I've ever seen."
Then I saw that there were tears in her eyes. I really was speechless. So I leaned over and kissed her on both cheeks. We smiled at each other and I left: It's a moment I'll never forget.
Here I am at the bottom of the page again, so it's time to say good night. Thank you all for your letters, cards and gifts. I'll see you right here in the September issue of 16. It goes on sale July 23—so reserve your copy now!