He was my mother's biggest fan.
We used to walk beside the sea
And he told me how life would be
When I grew up to be a man."
Later on, the lyrics tell how this little boy's father left him (see, I told you it wasn't like my real life at all!), and the little boy gets bitter and decides that when he grows up his son will never know that sadness. I sing this song slow at first, and the only prop that enters is an umbrella which flashes on when I have one line, "It was such a rainy day…"
After I have sung the song slowly, Toni dances onto the set and we do our big duet together. I hope you like it, my little sunshines, cos your boy Davy lost ten pounds learning to get it all down just right for you!! After the dance sequence, I suddenly appear in the white outfit and do the tune up-beat—and do a fast dance with it for the grand finale.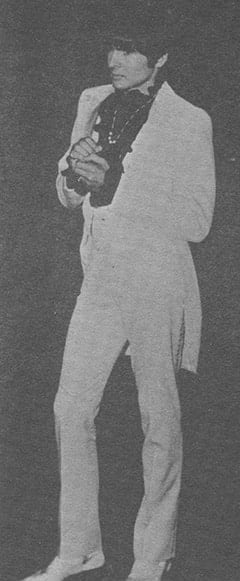 I don't "suddenly" appear at all, of course. As you know, when the action stops the camera stops—and I go to the wardrobe, get my clothes, change, and come back and wait for my cue to begin again. When the action starts once more, the camera picks up right where it left off—and later the whole thing looks like magic! Daddy's Song, by the way, will be included in a brand new Monkees LP which Micky, Mike, Peter and I are working on. This LP will be released about the time the movie comes out in August and it will contain all of the songs in the movie.
Well, the day went very nicely. We did a perfect dress rehearsal and it looks like it will all be finished off within the next couple of days. I think I got one of the finest compliments I have ever had in my relatively long show-business career when I was leaving the set. When everyone was finished, I went to my dressing room, changed to my own clothes and started to leave. As I walked out, one of the hairdressers—a lady who has been watching stars come and go at Columbia for the last 20 years—walked over to me. She placed her hands on my shoulders and said, "Davy, I have seen a lot of things in all the years I've been here, but the performance you just gave was one of the greatest things I've ever seen."
Then I saw that there were tears in her eyes. I really was speechless. So I leaned over and kissed her on both cheeks. We smiled at each other and I left: It's a moment I'll never forget.
Here I am at the bottom of the page again, so it's time to say good night. Thank you all for your letters, cards and gifts. I'll see you right here in the September issue of 16. It goes on sale July 23—so reserve your copy now!
Magazine: 16
Author: Davy Jones
Editor: Gloria Stavers
Published:
Volume: 10
Issue: 3
Publisher: 16 Magazine, Inc.
Pages: 58–59