DAVY'S PARTY
MIKE'S BABY
NBC-TV WANTS THE MONKEES FOR FOUR ONE-HOUR SPECTACULARS THIS COMING SEASON! ABC-TV ALSO WANTS THEM AS A REGULAR WEEKLY SERIES! IF THE MONKEES ARE SAVED (AND AT PRESS TIME IT LOOKS LIKE THEY WILL BE) ALL THANX GOES TO YOU WONDERFUL & LOYAL 16-ERS WHO BOMBARDED THE NETWORKS WITH "SAVE THE MONKEES" LETTERS!!
DON'T let anybody tell you that SAJID KHAN is anything but a doll! Frinstance, his newest, grooviest habit is calling up the 16 office just to say "Hi!" (And a couple of fans, who happened to be visiting 16, got to say hello to His Royal Highness!) Didja know that KHAN really is a royal title? It is the Moslem designation for PRINCE. So Prince Charming SAJID really is a Prince! . . . DAVE CLARK and his 5 look super-fantastic in their new English TV series Hold On—It's The Dave Clark 5! Hope some State-side network is bright enough to pick up on this . . . Headed straight for stardom is MIKE McGEAR—PAUL MCCARTNEY's brother. He's really stunning—and didja know he is two inches taller than PAUL!? . . . Another face to watch is that of LIZ TAYLOR's handsome son MICHAEL WILDING, JR., not to mention his oh-soo-cute brother CHRIS . . . Flash! DESI ARNAZ is going to win next season's TV stardom sweepstakes when he starts appearing as a regular on his mom's famous Lucy Show on CBS-TV . . . The COWSILLS stole the show at the Grammy Awards when sweet SUSIE had to be hoisted up to the mike so's she could read the award given to GLEN CAMPBELL for best male singer . . . DICK COWSILL enlisted in the Army!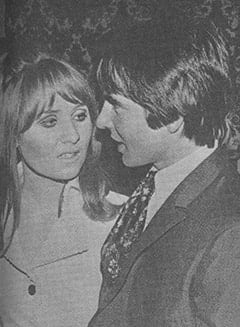 MICKY DOLENZ went out and bought himself a submarine. Honest. It's one of those do-it-yourself kind. Hope he tries it out in DAVY's pool before he puts out to sea in it! . . . PETER TORK is looking for a new home. Guess he wants to get a bigger house for that enormous "family" of his. PETER's "family" consists of all humanity . . . JAY NORTH and SAJID are still the best of friends. On SAJID's 16th birthday, JAY paid him a surprise visit and taught him how to sing our famous Happy Birthday To You! . . . Did you catch handsome DAN LOSBY on The Ed Sullivan Show? If not, you missed something good. Try to see his flick How Sweet It Is . . . Also try to catch GIL ROGERS in Yours, Mine And Ours, starring LUCILLE BALL—and costarring 16 Magazine! . . . PETER ASHER is in charge of talent research and record production for the BEATLES' new record company, Apple. Send your demos, lead sheets and ideas to PETER, c/o Apple, 95 Wigmore Street, London W1, England . . . Rat Patrol-er CHRISTOPHER GEORGE stars in Project X for Paramount . . . Love DONOVAN's beautiful message to all of us—"I call upon every youth to heed the quest to seek the sun…" Love RICHARD CHAMBERLAIN's new hair-do and new look, which he unveiled on Portrait Of A Lady on English TV, followed by appearances on DAVE CLARK's series Hold On etc. . . . DINO, DESI & BILLY will appear at the famous Steel Pier in Atlantic City July 20 and 21 . . . LUKE HALPIN was "won" by a lucky girl on Dating Game—so he took her skiing for a weekend! Hope you caught his guest appearance on Judd For The Defense.
GeeGee recommended LP's: Traffic's Mr. Fantasy on U-A; Boogie With Canned Heat on Liberty; Classics IV's Spooky on Imperial; Human Beinz's Nobody But Me on Capital; Fireballs' Bottle of Wine on Atca; Tom Rush's The Circle Game on Elektra; Mothers Of Invention's We're In It Only For The Money on Verve; and (my fave of all!) the Bauls Of Bengal on Elektra—some of the wildest, most exciting and mindblowin' music I have ever heard! Itza don't miss . . . TV News: probably cancelled are Lost In Space, Cowboy In Africa, Rat Patrol, Second Hundred Years, Garrison's Gorillas (see Page 64) & I Spy.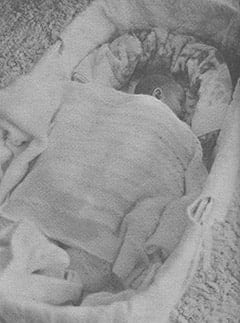 MIKE NESMITH happy as can be now that his "rock symphony" recorded by the WICHITA TRAIN WHISTLE is going to be released as an LP by MGM records. And here's the flash to end 'em all—the very first picture of MIKE and PHYLLIS new son JONATHAN DARBY every printed anywhere!
DAVY's Zilch I is becoming the all-star store of America! Recent shoppers there include the RASCALS, CHRIS CROSBY, BRENDON BOONE, BUFFALO SPRINGFIELD, the TURTLES, the ILLUSION, GLORIA STAVERS and, of course, PETER TORK, LYNNE RANDELL and DAVY JONES himself . . . Recently, DAVY and his gang showed up ringside to cheer England's lovely LULU on her success on her recent Coconut Grove nightclub appearance in Hollywood . . . BILLY MUMY has been practicing singing and playing the guitar. Let's hope the next step will be a single record. Meanwhile, another Space regular, pretty ANGELA CARTRIGHT, is beginning to do guest dramatic appearances on other TV shows. You can write to BILLY and/or ANGELA at CBS-TV, Hollywood, Calif.
Magazine: 16
Editor: Gloria Stavers
Published:
Volume: 10
Issue: 1
Publisher: 16 Magazine, Inc.
Pages: 60–61