HIGH, true-believers! My name is "Dreamy"—and I'm the extraterrestrial ticket-taker and groovy guardian of the golden gates of Dreamsville. Behind these gates lies one of the most fantastic and exclusive clubs in the whole universe—and it's reserved for each and every 16-er who believes that dreams can come true!
This month I have seven comfy-clouds reserved for seven lucky 16 readers! Sneak a peek at the next page and see if you are one of the ticket-holders! If you are—step right in and make yourself at home. If you aren't—don't despair—there's room for all inside!
If you'd like to know how to get to Dreamsville—just read the E-Z instructions below.
What is Dreamsville? Chickadee, Dreamsville is that place way up yonder where dreams come true like they were never fulfilled before—and the pure ecstasy might just flip you out and onto a cloud so high you may never make it back to mother earth again!
If you're ready to make the trip, hang on—and heed this! Write a letter—a simple, easy, one-page letter—to 16 Magazine telling exactly what special delight you are longing to get from your very favorite teen star. If we possibly can (and be assured: 16 stops at nothing!), we'll see that you get exactly what you dreamed about!
Hard to believe? Well, then, just take a look at the facing page. Each girl whose name and home town is printed there is a 16 reader who made a wish, dreamed a dream or yearned for something very special—and got it when 16 hauled her aboard our jet express to Dreamsville.
You can wing off to Dreamsville just as easily! Just write a short letter (on one side of the sheet only!) telling what you would dearly love to have. Could be a personal phone call—or a personal letter—from your favorite star. Could be a personal keepsake from your dream guy. Could be a pin-up portrait personally autographed by your grooviest group. Could be a whole set of recordings from the top of the charts. Could be any number of delicious things. It's your request—so you name it. Jot it down on a sheet of paper and mail it to the address below. All it costs is just one 5¢ stamp—nothing else! Your Dreamsville gift is absolutely free!
"Dreamsville"
16 Magazine
Box 218
Brooklyn, N.Y. 11202
After you've mailed your letter, don't fail to get every issue of 16 Magazine and watch the Dreamsville answers page—because that's where you'll see the glorious news that everything you wished for, dreamed of, longed for has come true!
LEAPIN' LIZARDS! Here's a mindzapping new section of Dreamsville. It's reserved for 16 Magazine readers with BIG, BIG dreams! So, if you've been holding back asking for "something extra-special" cos you thought it would be impossible for even Dreamsville to fulfill—hesitate no more! Everything your happy hearts desire (television sets—stereo record players—tickets to "sold-out" concerts—etc.) awaits you within! Welcome to THE IMPOSSIBLE DREAM—COME TRUE!
The very first winner in THE IMPOSSIBLE DREAM COME TRUE is PATRICIA NOLAN OF JAMAICA, N.Y. PATRICIA has been in a constant state of the blues ever since the family television set gave up the ghost. She's been missing the Monkees, Star-Trek, Garrison's Gorillas and all her other faves! She'll miss no more—cos groovy Gloria Stavers sent her a portable TV set—for her very own! (Gloria also sent along a free full-year's subscription to swingin' 16 Magazine to read between shows!) Dreamsville goes all the way—for you!
Reserved for Sharon McGarry of Philadelphia, PA.—by Sajid Khan:
Step right up, Sharon! This fluffy, pink cloud is all yours—thanks to sensitive Sajid Khan. Sajid made super-sure that you would enjoy your stay by sending along a BIG autographed picture of himself, a handwritten personal note and a gift from exotic India that he handpicked with you in mind. (Sajid was going to send Maya, the elephant, along too, but he was too big for the gates!) Dreamsville does it again!
Reserved for Debbie Bennett of Elkins, W.VA.—by Peter Tork: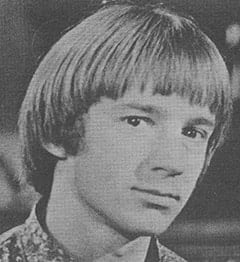 Welcome to Dreamsville, Debbie. Perky Peter Tork personally picked this comfortable cloud for your pleasure! He left a few cloud-warming gifts for you, too! Peter took his pen in hand and autographed a script used on The Monkees show, picked several large pictures of himself (and signed them!), and, so that you'll never forget your trip, he added a Kodak Instamatic camera! (Be sure to send me some prints of the pictures you take, Debbie!)
Reserved for Shirley Moore of Fallbrook, Calif.—by Mark Slade:
Come on in, Shirley. Mark Slade, star of NBC-TV's High Chaparral, roped and branded a very special cloud just for you! Mark also autographed a large picture of himself, sent along a bottle of heavenly perfume, and added a pocket-size portable radio for your listening leisure-time! (You can turn it up as loud as you wish, Shirley! There's no need for restraint in Dreamsville!)
Reserved for Cynthia Cole of Albion, Maine—by Walter Koenig:
The starship Enterprise stopped off at Dreamsville on its way to Venus—and guess who reserved a cloud? Walter Koenig, that's who! Wild Walter went all-out for you, Cynthia. He autographed an astral picture of himself, wrote a personal note, and picked out a surprise gift that should put you in orbit for quite a while! The sky's the limit in Dreamsville!
Reserved for Eileen Bartkowski of Brooklyn, N.Y.—by Desi Arnaz:
When dashing Desi Arnaz heard that you "tried a trillion times" to get to Dreamsville, he rushed out and bought you a first-class ticket, Eileen! Desi also sent along an autographed picture, a pair of his very own drumsticks and a sterling-silver Christopher medal. So climb onto your cloud—relax—and enjoy your stay! Anyone who writes "a trillion" letters deserves the best!
Reserved for Wanda Monbleau of Harwich Port, Mass.—by Tom Nardini:
Tom "John Henry" Nardini, of ABC-TV's Cowboy In Africa, is personally responsible for your excellent Dreamsville accommodations, Wanda! He stopped lassoing lions (perish the thought!) long enought [sic] to autograph a picture of himself, send along a souvenir from Africa, and (as a special bonus) send an authentic American Indian beaded medallion! (Wow, is there anything that Dreamsville can't do??)