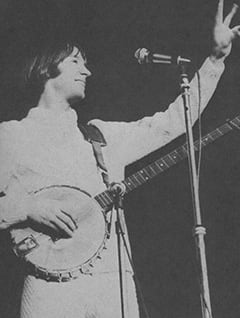 LONDON—Following an exclusive private party given by The Beatles at London's Royal Lancaster hotel (Peter Tork and Davy Jones just happened to be staying there) at which a folk group called the MacPeakes performed, John Lennon took an intense interest in the Irish-bagpipes being played by a member of the group. We can expect to hear more of them on the Beatles' next album!
Eric Burdon disappointed when "Monterey" was not released in Britain as a single . . . Beach Boy Bruce Johnston seen trying to hurl teddy-bears under London buses during his recent trip here . . . Georgie Fame, confronted by a leopard in French publicist's studio, was not amused to have it leap on his back—"It's not my kind of cat," explained Georgie . . . If Engelbert Humperdinck makes the transfer to films he may turn out to be another Elvis . . . Clem Curtis, lead-singer with the Foundations, a former boxer until he broke his hand . . . Steve Marriot of the Small Faces was an actor long before he turned to pops—among the Faces' friends on the U.S. scene you can count Sonny and Cher . . . Keith Moon of the Who lately moved to Highgate Village where he lives on credit—permanently!
Donovan owns a Daimler which he regards as his "flash car" but more often travels in large van driven by his road manager . . . Carl Wilson in my unofficial fan club for Bill Cosby as are Jimi Hendrix and Mike Nesmith . . . Which reminds me, how about putting thumb to typewriter Mike, or was it something I wrote . . . Rolling Stone Charlie Watts an Alan Price fan . . . Bee Gee Maurice Gibb and Lulu are close friends . . . Dave Clark Fiver Lenny Davidson who sang lead on their British hit "Everybody Knows" recently blessed with a second son . . . Stones' "She's A Rainbow" was originally titled "She Comes in Colours" until Stones discovered Love had already written a song with this title . . . Beatles' fan club record sleeve was designed in part by John Lennon's five year old son Julian . . .
Met up with Donovan at Gipsy Dave's house in Wimbledon recently for the first time in about six months and we just sat around talking, drinking tea and playing 'Padgy'—a Morrocan game which is an advanced form of 'Ludo' played with dice and counter. I lost convincingly but it was nice to find that Don is now very anti-drugs and pro-Mahareshi.
Brian Jones has a beard at time of writing but they come and go . . . Beach Boy Mike Love claims to be able to receive English pop shows on his "super-radio" in Los Angeles . . . Ringo appearing on British TV as a solo artist in Cilla Black's Show is the first Beatle to do an independent appearance on another artist's program . . . The core of the Beatles new moves may be Apple . . . Mick Jagger back from the U.S. with fifty copies of Bob Dylan's new album—six went swiftly when Keith Richard arrived on the scene, four were acquired by Brian Jones, the rest were snapped up by friends, relatives and I'm awaiting my copy! . . . Question: Do Long John Baldry's friends call him Long for Short—oh well, just a thought . . . Yardbirds offering a reward for the recovery of equipment stolen from their van just outside Cricklewood-London.
Peter Tork is really far too intelligent to allow himself to become the star attraction at another record company press reception like the last one here. He was blessed with a set of journalists whose questions consisted of enquiries about his beard (bristle by bristle) and was he married? Sorry I could not stick around until after the sideshow, Peter, as you asked, but the brain damage was too much. Next time you start taking photographs of the photographers you might as well put the questions to the reporters. Sometimes I realize why Dylan treats them all like a circus!
Pete Townshend is my kind of pop star: He claims to like doing interviews on a ladder so that he can talk down to people! . . . Kink Dave Davies superstitious when it comes to the number 13 . . . Brian Jones claims that for the Stones "communication is everything and entertaining is a bore" . . . I'll write to you if you'll write to me, Cher . . . 'cos I haven't got your new address, that's why . . . Mitch Murray, who penned "Bonnie and Clyde" hit wrote several big ones for Freddie and the Dreamers . . . Carl Wilson likes honey-tea, Lulu's "The Boat That I Row," and the Who's "I Can't Explain" . . . Traffic have a road manager known as Count Albert . . .
Which reminds me: Where have all those star "roadies" of yester-year gone. There was "Stu" who drove the Stones and opened the back doors of their van one night to have Keith Richard roll out on top of him unconscious. The result of his legendary braking ability in the van which often sent the boys crashing through the roof of the vehicle. Where is "Tappy" who drove the Animals through fair and foul and once presented his father with my best suede boots, which his dear old Dad promptly wore down a coal mine in Newcastle. Where is "Sam" who drove the Kinks and professed to have taught the Shadows all they know? All moved on, alas, to more exalted things.
Jonathan King doing well here now with his own TV show—remember his big hit, "Everyone's Gone To The Moon" . . . Paul McCartney has produced an album for his brother Mike's group The Scaffold . . . Tim Andrews—the eighteen-year-old Battersea boy who almost became a Monkee but missed out when the powers decided one English boy was enough in the group, now going solo on disc here . . . So, while we're all walking around in the grey light of London with flu and shivering with cold, back from South America with smiles and sun-tans came Herman and the Hermits! . . . I am not buying a Rolls Royce with black windows . . . Tremeloe Rick West has taken to wearing a bar of soap on a piece of string round his neck—apparently in support of a campaign to clean up pop!
Cheers!