YOUR PRIZE PICS OF DAVY, FELIX, MARK & MICKY!
With membership in the FLIP PRESS CLUB closed, members now have a better chance than ever before of having their pics published! No one has been admitted to membership since the beinning [sic] of the year, which gives all members a groovy opportunity to win Six Dollars as a monthly FPC winner! Get your pics in now, to: FPC, FLIP Magazine, 405 Park Avenue, New York, N.Y. 10022. Maybe you'll even be as lucky as Debby and Lin, the double-winners on this page, who become the first FPCers to ever have two pics published in the same issue!
By Janice Holton
Moline, Illinois
"I've got my fingers crossed that you will print this picture," Janice said in her letter. You can uncross them now, Janice, because you came up with a winner—a candid of Mark Lindsay!
By Debby Hargas
Richmond Heights, Ohio
Lucky Debby won a radio station contest to spend a day with Davy in Hollywood! It was a dream come true for Debby, who didn't lose her cool, and managed to snap some super shots of Davy while spending her day with him.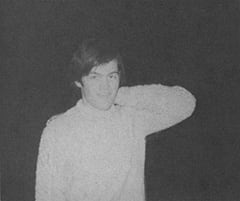 By Lin Carlson
San Lorenzo, Calif.
Lively Lin gets around with her FPC Card! Here are her scoops of Monkee Micky and Rascal Felix! In her part of the world, Lin is wherever the action is!