Newark, N.J.
Ellie is President of Mark Lindsay's East Coast fan club, but she wins with this groovy pic of Uncle Paul! She says she will donate her six dollar prize to the club treasury for "the betterment of Mark's club."
S.A.C.
By Charlene Mueller
Missoula, Montana
Charlene snapped this pic of Randy and George when the Strawberry Alarm Clock came to her town. "I thought they would be really tired and not want to talk to anyone," she wrote, "but they were just as nice as they could be!"
Dino Danelli
By Marilyn Anzai
Wailuku, Hawaii
Marilyn thinks Dino looked groovy in his flower lei during the Rascals' recent trip to Hawaii. Her pic of him is groovy, too!
Bobbie Gentry
By Sarah Holland
Chapel Hill, N.C.
Bobbie Gentry was signing autographs after her concert at Chapel Hill when Sarah snapped this prize-winning pic!
Peter Tork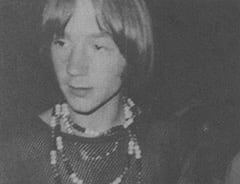 By Saralyn Smith
Glen Cove, N.Y.
"As you can see, I love photography!" Saralyn wrote when she sent in her pics… and she proved it with this groovy snap of Peter and his love beads!
Paul Cowsill
By Diane Prete
Byram, Conn.
Diane went all the way into New York this spring to see the Cowsills and snap this pic of Paul to share with you!
Magazine: Flip
Editor: Steve Kahn
Published:
Publisher: Kahn Communications Corporation
Page: 52