Scarboro [sic], Canada
Dear Kim,
Yes, indeed it is. And here's some more news for you: jazz composer and trumpeter Shorty Rogers and I have been working together in the studio recording a new orchestra which I'm calling The Wichita Train. I guess the resulting LP could be called the first genuine rock 'n' roll symphony! By the time the album is released, it will have set me back $70,000—I hope you dig it!
MIKE
---
Groovy guys
Dear Monkees,
This letter is more like a great big thank-you—from us to you! A while back in December, we had a Toys For Tots show here and some of the groups played at the show free of charge. The price of admission was one new toy. These toys were later given to children in hospitals and to underprivileged children. The people in charge of the show sent a note inviting the Monkees to appear and you wonderful guys wrote back that you could not make it, but that you were sending some toys. Shortly thereafter, ten crates of toys came from the Monkees! I think that was the nicest thing anybody could do!
Sarah Fritschner
Louisville, Ky.
Dear Sarah,
Thank you for your thank-you! It was an honor and a privilege to help.
DAVY, MICKY, PETER and MIKE
---
Family ties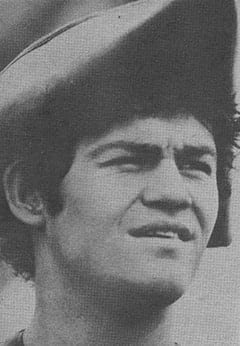 Dear Micky,
I read that your father's name is Dr. Robert Leroy Scott. Why isn't your last name Scott?
Linda Mofford
Montreal, Canada
Dear Linda,
My real father, George Dolenz, passed away a number of years ago. He was an actor and we all loved him very much. A few years ago my mother married the Reverend Dr. Robert Leroy Scott of San Francisco—and, of course, we all love him very much too! I hope this answers your question. Thank you for your interest.
MICKY
---
Girls galore!
Dear Davy,
Is it true that you prefer tall blondes instead of short brunettes? We are asking because we are short brunettes—help!
Susie and Danette
Dear Susie and Danette,
First off, thank you for that colorful envelope. Second—now who on earth made you think I have preferences when it comes to girls? I like all females—short, tall, dark or light. Consider yourself luvved by me!
DAVY
---
LP news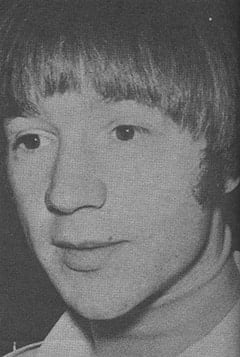 Dear Peter,
I just heard the bad news—that you are going to quit making mono records and only make stereo. I have a mono record player. What am I going to do?
Dawn Roberts
Minneapolis, Minn.
Dear Dawn,
Don't panic! The records we cut in stereo can also be played on a mono set. There is a new way to cut records now and all of the companies are using it. You will find that our stereo records sound better than mono on your mono record player.
PETER
---
Who Frodo?
Dear Micky,
I found a Frodo Lives button and I love wearing it—but when my friends ask me what it means, I don't know what to say!
Barbara Sue Water
Ludlow, Ky.
Dear Barbara Sue,
Thanks for the Dracula postcard—it's really flash! Frodo is Bilbo Baggins' nephew from the Tolkien series of books. Frodo tries to save the world by preventing the Lords of Darkness from capturing a magic ring which would enable them to rule all of Middle Earth. Does that clear things up?
MICKY
---
Corn flakes king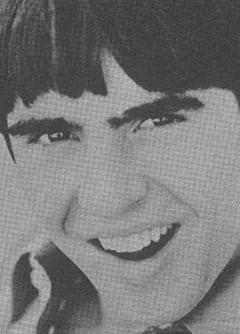 Dear Davy,
I have always loved your way of eating corn flakes backwards. I really didn't think it would work, but I tried it this morning—and I didn't spill a drop!
Lynn
Downey, Calif.
Dear Lynn,
Why didn't you write your last name—are you bashful? We now make you the Official Corn Flakes Backwards Eating Queen!
DAVY
---
Save The Monkees!
Dear Micky,
I have just heard that The Monkees may not be renewed next season. Is there anything I can do to help?
Heather Jones
Minneapolis, Minn.
Dear Heather,
Write to the Program Director, NBC-TV, Rockefeller Center, New York City or to the Program Director, NBC-TV, Hollywood, Calif.—or to both of them, if you want to. Or write to the sponsor Kellogg Co., Battle Creek, Mich. Just tell the man in charge that you would like for The Monkees to be continued through the 1968–1969 season. Thanks for your baby pictures—they're adorable!
MICKY
---
Movie news
Dear Monkees,
I hear that you are making a movie. Is this really true? What is the name of it and when is it going to be released?
Julie Geile
Raleigh, N.C.
Dear Julie,
Yes, indeed—we are making a movie. In fact, we're just finishing it! The working title is Changes and we expect to release the film in August.
PETER, MIKE, DAVY and MICKY
---
Special Monkee thank-you's this month go to
Feeda Laposs; Cheryl and Karen of Tampa, Fla.; Terry Maziarz of Buffalo, N.Y. (and her mom); Denise Shadle of Lancaster, N.Y.; Lyn Skjoki of Hinckley, Ohio; Kim O'Neil of Washington, D.C.; and to Mary Ann Sykes and Frances Kyles, both of Tennessee.
That's all there's room for this month. If you want to write to us, either as a group or as individuals, send your letters to The Monkee-Mailbox, 16 Magazine, P.O. Box 1056, Brooklyn, N.Y. 11202—and your letters will be promptly forwarded to us personally wherever we are. Then be sure to get each and every future issue of 16 Magazine and look in The Monkee-Mailbox for your letter and our answers!
Magazine: 16
Author: The Monkees
Editor: Gloria Stavers
Published:
Volume: 9
Issue: 12
Publisher: 16 Magazine, Inc.
Pages: 52, 54